Clean-up campaign launched as CDC warns of dengue fever in Pingtung City
The Center for Disease Control warned the public about an outbreak of dengue fever in Pingtung City, raising its alert level to six as two more locally-contracted cases of the disease were reported in the city's Changan borough yesterday.
The man who was the first reported case has been hospitalized, health officials said. His wife and a neighbor, the other two new cases, are also under medical care.
"If anti-mosquito measures cannot be strictly observed, an epidemic may hit Taiwan as hard as it did two years ago," warned Shih Wen-yi (施文儀), the center's deputy director-general.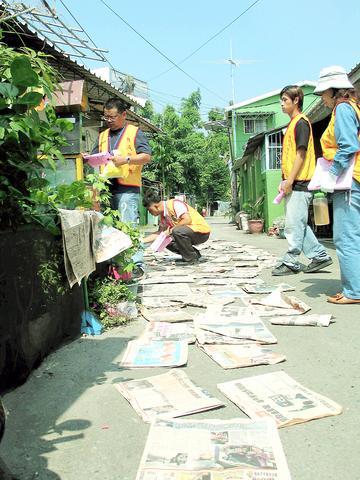 Officials from environmental and health agencies in Pingtung City mobilize yesterday for an education, clean-up and fumigation campaign after the first cases of dengue fever in the city were reported in Changan borough yesterday.
PHOTO: CNA
To contain the spread of the mosquito-borne disease, the center said it and local health bureaus will start to fumigate the area and step up medical surveillance.
The center called on borough residents to empty flower pots, discarded tires and other containers where stagnant pools could provide a place for virus-carrying Aedes mosquitoes to breed.
The 2002 epidemic, which took 21 lives in the south of the country, was a grim reminder of the disease's lethal potential.
According to Shih, this country is at risk to such epidemics because the south harbors the particular type of mosquitoes that transmit dengue.
The increase in travel by Tai-wanese to dengue-infected South-east Asian countries has also increased the risk. The center's recent figures show that 34 of 38 cases reported this year were contracted abroad.
"Taiwan is increasingly exposed to the danger since its neighbor countries are stricken by the epidemic," Shih said.
Shih mentioned dengue fever's grip on Indonesia earlier this year and reminded tourists headed to that country to take precautions. In Indonesia, more than 9,500 cases were confirmed and at least 191 people died before February.
"People who recently traveled to Indonesia might have unknowingly been infected and brought the virus back to Taiwan. Tourists visiting Indonesia, Vietnam and Thailand should use mosquito repellant and dress in protective clothing such as long-sleeved shirts, long pants, socks and shoes," Shih said.
Dengue symptoms usually start with a fever within five to eight days after a person has been bitten by an infected mosquito. Patients sometimes do not know they have dengue since its other symptoms, such as headaches, back and muscle pain could also be caused by other illnesses. In most cases, patients recover completely within two weeks.
Dengue hemorrhage fever, however, which causes severe internal bleeding and can lead to shock, is sometimes fatal, especially in children and young adults.
"Both doctors and the community should know that they are under the threat. We can't afford to take this lightly," Shih said.
Comments will be moderated. Keep comments relevant to the article. Remarks containing abusive and obscene language, personal attacks of any kind or promotion will be removed and the user banned. Final decision will be at the discretion of the Taipei Times.