Aide, businessmen in railway scandal
IMMEDIATE ARRESTS Liu Ta-fu, an aide to a senior DPP lawmaker, and four businessmen face charges in a Taiwan Railway Administration procurement scandal
A Democratic Progressive Party (DPP) lawmaker's aide and four businessmen, including French manufacturer Alcatel's Taiwan regional manager Jean Philippe Benoist and German manufacturer Siemens' Taiwan regional president Leslie Lok (駱一華), were released on bail yesterday after being arrested by Taipei prosecutors in the aftermath of an interrogation regarding their alleged involvement in a procurement scandal.
The scandal concerns the Taiwan Railway Administration's NT$940 million purchase of "axle counters."
Alcatel and Siemens have been bidding for the contract since 1996 and both companies have tried to reach their goal by getting involved in politics.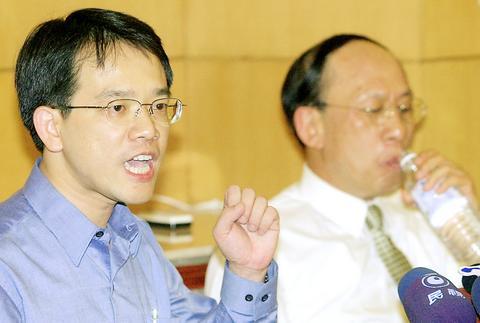 Liu Ta-fu, left -- an aide to DPP Legislator Wang Tuoh, right -- yesterday holds a press conference at the Legislative Yuan to clarify his role in the alleged purchase-deal corruption in the Taiwan Railway Administration. Liu was released on bail of NT$300,000.
PHOTO: LO-PEI-TEH, TAIPEI TIMES
Adhering to a summons by Taipei Prosecutor Kuo Yung-fa (郭永發), Liu Ta-fu (劉大福), DPP Legislator Wang Tuoh's (王拓) aide, Chingyeh Public Relations Co manager Tsai Chin-hung (蔡錦鴻), Teng Young International Co president Wu Ding-fa (吳定發), Benoist and Lok reported to the Taipei District Prosecutors' Office on Friday. Kuo decided to arrest all of them and filed detention applications to the court.
However, Kuo's application was not approved by Taipei Judge Hsiao Ching-ching (蕭清清).
Benoist and Lok were released Friday at midnight on bail of NT$100,000 and NT$150,000, respectively. Yesterday morning, Liu was released on bail of NT$300,000 while Tsai and Wu were released on bail of NT$1.5 million each.
"This case has been investigated by the Taiwan High Court Prosecutors' Office's Black Gold Investigation Center," said Chen Hung-ta (陳宏達), spokesman for the Taipei District Prosecutors' Office.
"Our prosecutors decided to summon persons related to the case after the center finished its preliminary investigation," he said.
The "axle counter" is used in station areas to calculate safe intervals between trains, enabling trains to run safely and on time.
According to prosecutors' investigations, Liu, Tsai and Wu were alleged to be the brokers acting between Siemens and Alcatel during the procurement process. To win the bid, Alcatel allegedly bribed officials with NT$70 million. According to the deal, Siemens would withdraw from the bid and Alcatel would pay NT$32 million to Tsai and NT$38 million to Wu. Tsai then transferred NT$10 million to Lok and Wu transferred NT$3 million to Liu. However, in addition to the NT$13 million which was discovered, the rest of the bribe money remained missing and prosecutors were trying to track it down.
After being released on bail, Liu held a press conference at the Legislative Yuan to protest his innocence.
"The money they [prosecutors] discovered in my accounts is money that I was preparing to use for my investments in China," Liu said.
"If the money was really bribe money, I would definitely deposit them in cash instead of in checks to avoid being tracked. Don't you agree?"
Liu, a senior lawmakers' aide, has worked for ten DPP lawmakers and has good connections and relations with politicians from different parties. Taoyuan County Commissioner Chu Li-luan (朱立倫) has reportedly invited him to join his team at the county government, but Liu decided to wait for more opportunities with the DPP.
"Due to Liu's background and good connections with political figures, prosecutors are also focusing on whether more politicians are involved in the scandal," Chen said.
Comments will be moderated. Keep comments relevant to the article. Remarks containing abusive and obscene language, personal attacks of any kind or promotion will be removed and the user banned. Final decision will be at the discretion of the Taipei Times.