KMT calls an end to pan-blue rallies
NO MORE On the day a large crowd of pan-blue supporters descended on CKS Memorial Hall to protest the election, KMT officials said protesters will stay at home after April 10
One day after Taipei Mayor Ma Ying-jeou (馬英九) spoke out against the pan-blue camp's threat to hold mass demonstrations every week until inauguration day, Ting Shou-chung (丁守中), director of the KMT's Organization and Development Affairs Committee, yesterday said an April 10 rally on Ketagalan Boulevard would be the pan-blue's last. \n"Holding protests day in and day out is not the way to go," Ting said. "There are many other ways to fight, such as holding press conferences, public hearings and through the legislative and the judicial system. I am not saying that April 10 will mark an end to all rallies, but it is impossible for the pan-blue camp to a hold a rally on a weekly basis." \nThe presidential inauguration is scheduled for May 20. \nOn Friday Ma said he supported Taipei police's decision to decline a pan-blue application for rallies in front of the Presidential Office after April 10. \n"According to a poll, the public doesn't support non-weekend rallies," Ma said. "But whether the proposed weekend rallies will be supported by the public depends on the rallies' appeal." \nAccording to media reports, Ma has been against pan-blue street demonstrations urging President Chen Shui-bian (陳水扁) to agree to a ballot recount and the establishment of an independent task force to investigate an assassination attempt on the president in Tainan the day before the election. \nYesterday afternoon the pan-blue camp held its second post-election rally at CKS Memorial Hall, drawing a large crowd thanks to some better weather. \nPolice said 40,000 attended the rally, according to AFP, however AP estimated the figure to be much lower. \nChinese Nationalist Party (KMT) Chairman Lien Chan (連戰) again urged Chen to form a task force to investigate the shooting which injured both the president and Vice President Annette Lu (呂秀蓮). \n"The truth behind this ambiguous shooting incident needs to be revealed, and we urge President Chen to form a task force to investigate the shooting as soon as possible," Lien told supporters. \nPeople First Party (PFP) James Soong (宋楚瑜) and Ma also delivered speeches. However, KMT Legislative Speaker Wang Jin-pyng (王金平), who is also the director-general of the pan-blue national campaign headquarters, was not able to attend the rally as he was in Kaohsiung to discuss December's legislative election. \n"The rally at CKS Memorial Hall was scheduled only four or five days ago, but this trip to Kaohsiung was slated a long time ago," Wang told reporters earlier. \nA group of eight university students have been on hunger strike at the memorial hall since Friday in a silent protest against corrupt politicians. \n"We are neither pro-green nor pro-blue; we are protesting against politicians who push for the idea of an ethnically divided country, as well as those who use dirty tricks," said a statement released by the students. \nExiled Chinese dissident Wuer Kaixi (吾爾開希) paid a visit to the students yesterday, offering them his support. \n"On behalf of the students who once sat in Tiananmen Square, I want to say that what you are doing for social justice is very admirable, " Wuer said. \nWhen the rally officially ended at 6pm, a group of protesters, led by former Taipei city councillor Chung Hsiao-ping (鍾小平), headed for Ketagalan Boulevard to continue the protest. \nThe group trampled over security fences put in place to keep the rally away from the Presidential Office, however, as of press time, no other incidents had been reported.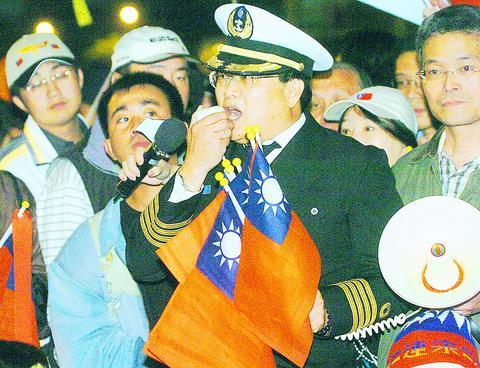 A man surnamed Liao speaks to protesters on Ketagalan Boulevard last night. He claimed he had been deprived of his right to vote in the March 20 presidential election and encouraged servicemen to leave their bases to protest the ``unfair election.'' The Navy later announced that he was a retired captain.
PHOTO: YEH CHIH-MING, TAIPEI TIMES
Comments will be moderated. Keep comments relevant to the article. Remarks containing abusive and obscene language, personal attacks of any kind or promotion will be removed and the user banned. Final decision will be at the discretion of the Taipei Times.