Chen, Lien debate conscription issue
DEFENSE BURDEN The blue camp's presidential candidate wants an all-volunteer military by 2008, but the president claims the plan would put Taiwan at risk
The Democratic Progressive Party's (DPP) presidential candidate Chen Shui-bian (陳水扁) and his opponent, Chinese Nationalist Party (KMT) Chairman Lien Chan (連戰), yesterday debated the reform of military service with Chen accusing Lien of trying to undermine Taiwan's national security and Lien pledging to establish a fully professional military by 2008. \n"Mr. Lien's plan to end conscription is so simplistic it smacks of childishness, and will sacrifice Taiwan's security. His purpose is simply to cheat young voters," Chen said. \nLien retorted, however, that Chen's criticisms reflected a lack of understanding of military affairs consequent upon his not performing military service. \nThe two traded their accusations during yesterday's televised policy speech program, broadcast by China Television and hosted by the Central Election Commission. Each candidate had 30 minutes in which to outline his platform. \nChen first stressed that a fully professional military was something he had advocated throughout the past decade, but that it was a goal that needed to be achieved step by step, rather than in what he called an improvised manner. \n"The former KMT government endeavored to hollow out the nation's financial base. Now its presidential candidate wishes to return to such strategies; he intends to hollow out the nation's defensive base," Chen said. \nChen said the creation of a fully professional military required three phases. First, he said, the best soldiers must be selected, and the number of troops reduced from 385,000 to 270,000. \nIn the second stage, there would be both enlisted and conscripted troops, in a 3:2 ration. Only in the third stage would conscription be completely abolished, he said. \n"Military service is an obligation required by the Constitution. Any idea to change this therefore requires a Constitutional amendment, a process which takes years. It is not as simple as Mr. Lien's childish plan," Chen said. \nTo defend his promise to achieve military service reform by 2008, Lien further explained yesterday that after his victory in the March 20 presidential election, his administration would facilitate the passage of a bill creating a fully professional military service within one year and pass a special budget of NT$60 billion to put the policy into effect as quickly as possible. \n"Since we must develop a defensive strategy with advanced technology and elite personnel, as well as allow our young generation to continue to contribute to society, we will require that all young men of draft age participate in a military training course lasting three months," Lien said. \nAccording to Lien's plan, Taiwan's fully professional military would require 120,000 troops, 80,000 officers and NCOs and 50,000 graduates of military schools to make up a high-quality, defensive force. \n"Mr. Chen says my plan is unrealistic. I can say that the reason he cannot accept it is because he lacks sufficient understanding of military affairs, especially because he never did military service," Lien said. \nChen was exempted from military service because of a malformed elbow as a result of falls in his childhood which prevents his arm from being stretched out fully. He did however do three months basic training in the reserves. \nOn a separate note, Lien then pledged that if he wins the election, he will donate all his earnings and campaign subsidies to underprivileged group, poor households and the unemployed. \nChen called on the public to take no notice of Lien's promise, because, he said, his donations would amount to less than the KMT was likely to waste implementing its campaign promises. \n"A fully professional military service will cost hundreds of billions of dollars, while Lien's donations won't exceed a few hundred million," he said.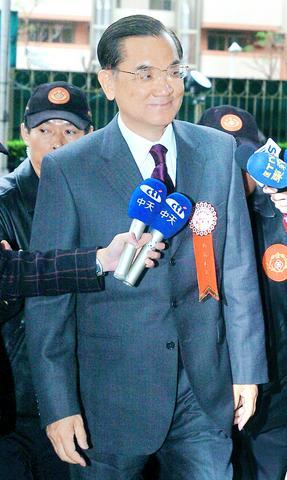 PHOTO: LIAO CHEN-HUI, TAIPEI TIMES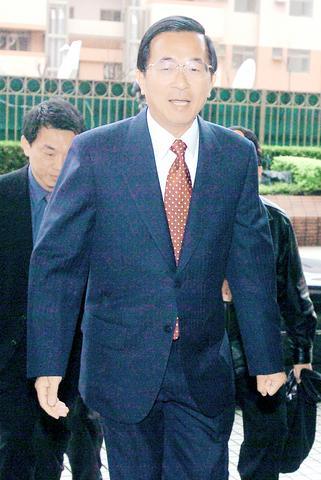 PHOTO: LIAO CHEN-HUI, TAIPEI TIMES
Comments will be moderated. Keep comments relevant to the article. Remarks containing abusive and obscene language, personal attacks of any kind or promotion will be removed and the user banned. Final decision will be at the discretion of the Taipei Times.