Aristide, rivals split over peace plan
President Jean-Bertrand Aristide agreed to a US-backed peace plan to share power with political opponents, but his rivals resisted, saying he must step down for there to be peace in Haiti.
Aristide, who would remain president under the plan, said he had agreed to a new prime minister and government to organize elections.
But he declared he would "not go ahead with any terrorists," meaning he would not negotiate with rebels who have led a two-week-old uprising that has killed more than 60 people and chased police from a score of towns.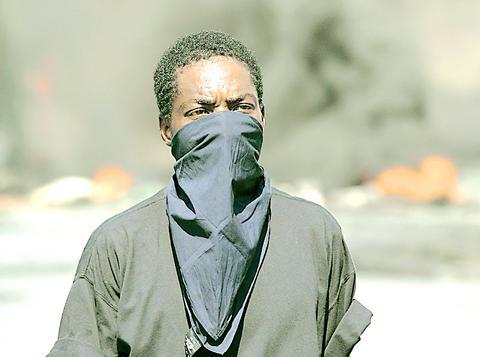 A Haitian walks past burning tires blocking a street in Port-au-Prince, Haiti, on Saturday. An armed revolt that has spread through northwest and central Haiti has killed more than 50 people, including over 20 police.
PHOTO: REUTERS
One of the gang leaders who began the popular rebellion asked where the plan left him.
"What about me? When the international community come into Haiti they come into Haiti, they take my gun, then I am in hiding in Haiti," Buteur Metayer told reporters in rebel-held Gonaives city.
"He [Aristide is] going to kill me," Metayer said.
The breakthrough with Aristide was shadowed by opposition leaders' resistance. Their meeting with foreign envoys ended on Saturday night with a promise to deliver a formal response by 5pm today.
But they indicated that their answer would remain the same.
"We expect the international community to understand our position ... which will not change," said Gerard Pierre-Charles, a leading opposition leader once allied with Aristide.
"If we accept this plan without the departure of Aristide, we will disappear as an opposition," said another leader, Rosemond Padel.
Foreign Minister Fred Mitchell of the Bahamas was more upbeat, telling reporters, "While we did not get a yes, we did not get a no."
Saturday's mediation efforts came as the US was urging citizens to leave the country amid mounting violence by Aristide militants in government-held areas and rebel threats to attack Haiti's second-largest city, the northern port of Cap-Haitien, over this Carnival weekend.
Mexico also advised its citizens to leave on Saturday.
Aristide, who has survived three assassination attempts and a coup, has said he will not step down before his term ends in 2006.
"Aristide has systematically broken his promises. Why should anyone believe him now?" asked lawyer Bernard Gousse, from a coalition of 184 civil groups in the Democratic Platform coalition.
He noted that Aristide had not kept pledges to former US president Bill Clinton to disarm street gangs.
Haitian journalist Elie Sem Pierre was shot and wounded by Aristide loyalists in Cap-Haitien. Militants there have armed themselves against any rebel incursion while frightened police have barricaded themselves in their station.
On Friday, Aristide loyalists attacked unarmed anti-government protesters in Port-au-Prince, injuring 14, including a journalist seriously wounded by shotgun pellets.
Aristide accuses the political opposition of supporting the rebellion. His government spokesman, Mario Dupuy, said with the plan "the opposition has a chance to prove it is not in favor of violence and terrorism."
Opposition leaders said the plan does not address how to halt the uprising and disarm rebels.
Canadian Minister Denis Co-derre, one of the envoys, said only "When we talk about disarming armed groups, it involves a lot of people and different parties."
Aristide indicated it would be done by Haitian police, saying the agreement calls for the Organization of American States to increase its help in training Haiti's small and ill-equipped force.
"We agreed to work hard disarming thugs, preventing terrorists in Gonaives moving ahead and killing people, and preventing members of the opposition from continuing with their violent approach," Aristide said.
Comments will be moderated. Keep comments relevant to the article. Remarks containing abusive and obscene language, personal attacks of any kind or promotion will be removed and the user banned. Final decision will be at the discretion of the Taipei Times.