Lien playing judge, Chen says
DEBATE The president said the KMT chairman had no right to decide whether the referendum on March 20 is illegal, saying it was up to grand justices to make that call
President Chen Shui-bian (陳水扁) yesterday accused Chinese Nationalist Party (KMT) Chairman Lien Chan (連戰) of being selfish and "playing judge" after his pan-blue opponent said he would boycott the referendum.
"It is an act of selfishness that Lien Chan said he would not pick up his referendum ballots yet at the same time asks others to vote for him [in the presidential election]," Chen said.
During Saturday's election debate, Lien, representing the KMT-People First Party (PFP) alliance in the presidential race, said that while he respected others' decision on whether to cast ballots, he would not be voting in the March 20 referendum, calling it illegal.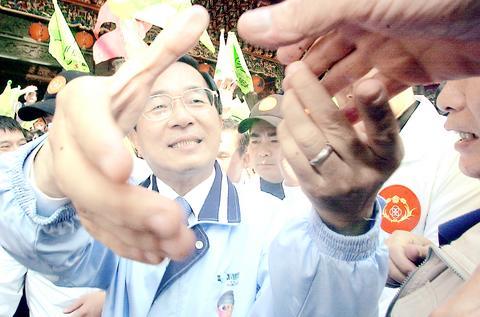 President Chen Shui-bian shakes hands with supporters during a ceremony at the Kuangchao Temple in Taipei's Wanhua District yesterday.
PHOTO: LUO PEI-TEH, TAIPEI TIMES
"What is an illegal referendum? Who has the right to call it an illegal referendum?" Chen asked. "Whether a referendum is legal should be left for the grand justices to decide."
"You [Lien] cannot claim yourself a judge and declare that something is illegal," Chen said.
Chen said the people of Taiwan should support the March 20 referendum in order to score a victory for the country.
"It would be a victory for China's Communist Party if the referendum fails," he said.
Chen also criticized the system endorsed by the KMT-PFP alliance of granting 18 percent interest rates to retired military personnel, civil servants and teachers.
"Why does Lien favor the 18 percent interest rate? Because he, as a former vice president, is the recipient of an 18 percent interest rate," Chen said at a meeting with labor union supporters in Taipei yesterday.
"[With the preferential rate] Lien gets a monthly income of approximately NT$400,000, which is more than [the monthly income] of Vice President Annette Lu (呂秀蓮)," Chen said.
Meanwhile, Lien, branding Chen as capricious, said yesterday that more rounds of debate would be like "a bad drama that just doesn't know when to end."
At the end of Saturday's debate, Chen invited Lien to participate in another two debates. Lien then shied away from giving a definite answer.
Citing a poll that said 54 percent of respondents thought there was no need to have further debate, Lien said, "It is hard to focus on issues while debating with Chen because Chen is so inconsistent. I don't see the need to carry on a bad drama."
While the pan-blue camp's big boss declined more debate with Chen, Lien's campaign aides said yesterday that they would visit the Democratic Progressive Party (DPP) today and request a debate between the two camps' youth departments on enlistment.
During Saturday's debate, Lien proposed that young people perform only three months of national service and that the country abandon conscription.
Chen, pointing out that Lien's son has not done his military service, said conscription cannot be scrapped just because certain individuals do not want to do their military service.
Meanwhile, polls showed Chen and Lien were still neck and neck after Saturday's debate.
A poll conducted by the Chinese-language China Times indicated that 37 percent of viewers felt that Chen was more eloquent and quick-witted than his opponent, who received an approval rate of 28 percent.
A survey by the United Daily News suggested that 39 percent of viewers favored Lien's performance, while 38 percent thought Chen was a better debater.
Comments will be moderated. Keep comments relevant to the article. Remarks containing abusive and obscene language, personal attacks of any kind or promotion will be removed and the user banned. Final decision will be at the discretion of the Taipei Times.