DPP targets the Lien family's wealth
The Democratic Progressive Party (DPP) yesterday published a booklet detailing how Chinese Nationalist Party (KMT) Chairman Lien Chan (連戰) and his father, Lien Chen-tung (連震東), a high-ranking official of the former KMT administration, had abused their power to accumulate family wealth. \nThe booklet, 500,000 copies of which will be distributed around the country during the next 10 days, details the dubious process by which Lien and his father acquired various tracts of land, which are now used for commercial purposes. \nThe booklet starts with Lien Chen-tung's rise from a poor civil servant to the seventh wealthiest man in Taipei within 11 years of the KMT's settlement in Taiwan in 1949. \nThe Lien family has said many times that the family had no property. Lien once wrote in a Hong Kong newspaper that "the Lien family has long lived in Tainan City and all the family assets were confiscated after the Japanese occupied Taiwan" in 1895. \nUsing land purchase certificates as evidence, the booklet says that the first piece of land Lien Chen-tung bought in 1949 is now the site of the second hall of the Idee Department Store on Taipei's Nanjing West Road. \nThe documents show that Lien Chen-tung bought the land in 1949, a year before official records show that the KMT government nationalized the property in 1950. Another document shows that the land was transferred to Lien in 1951. \n"This piece of land should have belonged to the government. But actually Lien bought it before the government nationalized the land," DPP campaign headquarters spokesperson Wu Nai-jen (吳乃仁) said yesterday. \nWu said the land was involved in a series of scandals as it was once used for a karaoke bar, which burned down in 1995 because of lax fire-prevention facilities, and then a video game parlor, which was closed in 1996 following a crackdown instigated by former Chen Shui-bian (陳水扁) when he was Taipei mayor. \nIn addition to the unjust way in which it obtained the government-owned property, the Lien family also illegally bought farming land and put it to commercial uses. \nWu yesterday said Lien Chan bought land as a farmer in Taipei City's Shihlin District in 1959 when he studied in the US. The land was made available for commercial uses a year later. \nIn 1961, Lien Chen-tung used the same method to buy another piece of land in the same area and completed the land recategorization five years later. \nLien's eldest daughter, Lien Hui-hsin (連惠心), also bought farmland at the age of two in 1969 in Shihlin, which was changed into building land in 1972. \nWu yesterday said although the Agricultural Development Act (ADA, 農業發展條例), which stipulates that only persons who are able to cultivate the land are eligible to buy farming land, was not passed until 1973, the previous Land Law (土地法), passed in 1930, held the same regulations on farmland purchases. \nWu yesterday dismissed KMT Secretary General Lin Feng-cheng's (林豐正) defense that the ADA was not applicable and therefore the Lien family was not breaking the law in conducting such deals. \n"Lin's defense was utter lies. The law said clearly that even before 1973, only those who are able to cultivate the land are eligible for owning farming land," Wu said. \nNot to be outdone, the KMT is running TV commercials targeting Chen Shui-bian's family wealth. \nAlso see story: \nBlue-camp campaign ad pokes fun at first family \nEditorial: Enough KMT 'black gold' politics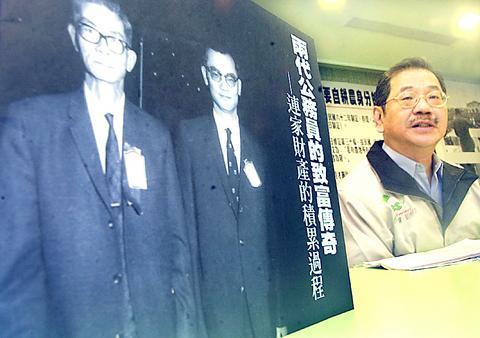 Wu Nai-jen, DPP campaign headquarters spokesman, yesterday introduces a booklet detailing how the Lien family amassed its wealth.
PHOTO: CHEN TSE-MING, TAIPEI TIMES
Comments will be moderated. Keep comments relevant to the article. Remarks containing abusive and obscene language, personal attacks of any kind or promotion will be removed and the user banned. Final decision will be at the discretion of the Taipei Times.