Chen envoy meets APEC leaders
HOB-NOBBING Lee Yuan-tseh, Academia Sinica head and the president's emissary, met Chinese President Hu Jintao among others at the summit in Thailand
Taiwan and China should put their differences aside so that they can sit down and discuss issues, President Chen Shui-bian's (陳水扁) special emissary to APEC Lee Yuan-tseh (李遠哲) said yesterday.
"If the leaders of both sides of the Taiwan Strait can adopt a sincere attitude and sit down and have talks, all issues, including topics of `one China,' can be discussed," Lee said.
Lee made the remarks during an interview with the The Nation, a Bangkok-based English-language newspaper.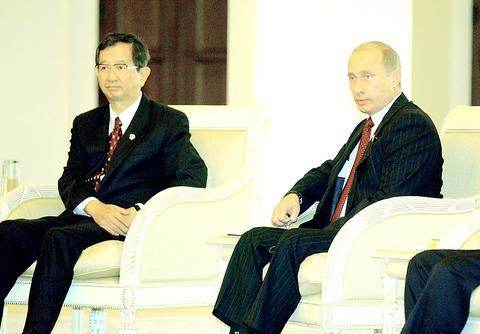 Academia Sinica President Lee Yuan-tseh, left, sits next to Russian President Vladimir Putin during the ``APEC Economic Leaders' Retreat 1'' at Government House in Bangkok yesterday.
PHOTO: AFP
The Thai media also asked Lee about China's fears about Taiwan independence.
Lee said that "if China can develop a system of democracy, it then would not have to worry about Taiwan independence."
The two-day APEC leaders' summit kicked off yesterday with a closed-door meeting held at the Governor's House in Bangkok.
Lee sat between Russian President Vladimir Putin and Vietnamese President Tran Duc Luong on the U-shaped table.
"I have exchanged brief greetings and hand-shakes with all participating APEC economic leaders, including Chinese President Hu Jintao (胡錦濤)," Lee said.
When further asked by reporters of his impression of Hu on their first meeting, Lee said, "The impression was good."
He said he didn't have much chance to talk to Hu further.
After attending a gathering of the APEC Business Advisory Council, Lee and the other leaders were received by King Bhumibol Adulyadej and Queen Sirikit at the Grand Palace before ending the night with a banquet hosted by Prime Minister Thaksin Shinawatra.
Lee yesterday also spoke separately with Papua New Guinea Prime Minister Michael Somare.
"The Prime Minister of Papua New Guinea expressed interest in forming some kind of cooperation with Taiwan concerning its liquefied natural gas [LNG] production," said Lee Cher-jean (李雪津), the spokeswoman for Taiwan's APEC delegation.
Somare told Lee Yuan-tseh that Papua New Guinea had proposed a NT$200 million deal. Somare said he hoped Taiwan would take part in its LNG project.
Vice Minister of Economic Affairs Yiin Chii-ming (尹啟銘), who accompanied Lee Yuan-tseh during the talks, said that he would convey Papua New Guinea's interest to the state-run Chinese Petroleum Corp (CPC).
Somare also said he hoped Taiwan could help his country's health system by providing medicine and establishing information technology schools under an APEC program to cultivate high-tech talent.
Under the "IT school" program, Taiwan in August donated 20 computers to a school in Thailand.
Seeking to attract tourists, both parties agreed to promote each other's tourism. No information was available from the Taiwanese delegation of what Thaksin and the delegation discussed.
Lee was to hold bilateral talks with Thaksin and with Singapore later yesterday, sources said. Both talks were being held secretly and were not mentioned on the delegation's official schedule.
Also See Story:

No need to fear China in ASEAN: economics adviser
Comments will be moderated. Keep comments relevant to the article. Remarks containing abusive and obscene language, personal attacks of any kind or promotion will be removed and the user banned. Final decision will be at the discretion of the Taipei Times.