Taiwanese pitcher proves a big hit in first US outing
Tsao Chin-hui (曹錦輝) got the win for Taiwan -- and his major leagues team, the Colorado Rockies -- with a debut performance that had local baseball fans watching on live TV celebrating yesterday morning.
The right-handed Aboriginal from the Amis tribe was the first Taiwan pitcher to start a game in Major League Baseball and only the second local player to make it to the majors.
He is now poised to become the country's highest profile sporting ambassador, with a Nike deal in the bag and fervent home support, as shown by the appearance of Premier Yu Shyi-kun at the family home yesterday in Hualien.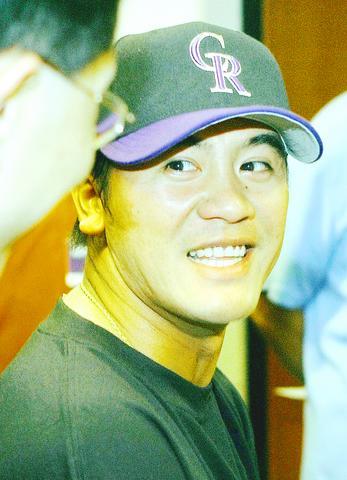 PHOTO: AP
He allowed three runs on eight hits in six-and-one-third innings in the 7-3 victory over the Milwaukee Brewers, but got off to a bad start when his second pitch was hit over the wall at Coors Field in Colorado.
"When that happened, I thought that's my welcome to the big leagues," Tsao said in a telephone interview after the game. "It was really good to learn."
Though clearly a little rattled, the 22-year-old responded with a mix of fastballs and change ups that kept the Brewers' offense on the back foot. He left the game in the sixth inning with the score 4-3 in favor of the Rockies.
"I just hoped that the guy following me wouldn't blow the victory," Tsao said.
"After the home run I felt empty and nervous, but I slowly calmed down and now I'm very happy. I just patted myself on the chest and told myself, `It's alright,'" Tsao said, who rated his performance as "70 percent."
Tsao said Rockies manager Clint Hurdle had advised him to avoid throwing curveballs and to stick to his fastball, which turned out to be a winning strategy.
"He told me after the game I played well, especially after being hit and said I would likely play again in four or five days."
Tsao was given his chance at the big time when the first-choice Rockies' pitcher was ruled out with an elbow injury. Tsao was called up from the AA league Tulsa earlier in the week, where he is 11-4 with a 2.46 ERA and a Texas League high of 125 strikeouts this season.
"The treatment is very different in the big leagues, compared with the minors. There's no need to share with others, we get a good hotel," Tsao said, adding the number of fans in the stadium and their passionate response to the game had impressed him.
When Tsao first walked up to the plate, supporters cheered, some waving Taiwanese flags and he was also given a standing ovation when he left the field.
Tsao picked up a US$2.2 million bonus when he was signed up by Colorado in 1999, but underwent surgery on his elbow two years later.
ERA baseball commentator and Naluwan consultant Yuan Ting-wen (袁定文) said Tsao's achievement was particularly satisfying because "rehabilitation after surgery is one of the most difficult things."
"The fact that he worked so hard to make himself better shows that he has a lot of personality. The fact that he skipped the AAA league and went straight into the majors, just shows how much promise he has and how highly he is regarded."
Sporting agent and IMG representative Eric Shih (施宣麟) said Tsao was set to become Taiwan's biggest sports personality. He said Nike had already signed up the pitcher (though he would not give a figure) and other endorsements were likely.
"We will have to see what kind of response he gets, but it all looks good. We are all very happy. He [Tsao] has done well with his English and seems to be fitting in well in the US, so they have confidence in him."
Also see story:

Comments will be moderated. Keep comments relevant to the article. Remarks containing abusive and obscene language, personal attacks of any kind or promotion will be removed and the user banned. Final decision will be at the discretion of the Taipei Times.