Premier defends job performance
ON THE DEFENSE As many speculate who might be the next premier, Chang Chun-hsiung told reporters yesterday that the DPP government was more efficient than the KMT
Armed with charts and graphs, Premier Chang Chun-hsiung (張俊雄) told reporters yesterday why he thought the DPP government under his leadership was doing a better job than its KMT predecessor. \nThe premier's speech came in response to criticism from KMT Chairman Lien Chan (連戰), who on Sunday demanded that Chang step down to take responsibility for the nation's ailing economy. \nChang yesterday said that the DPP government was far more efficient than the previous KMT administration. \n"The rate of policy implementation is 98 percent," Chang argued. "And we have achieved many reforms, some of which the KMT government was unable to accomplish." \nThe premier also sought to draw differences between the DPP and KMT governments. The DPP-led Cabinet has attempted to balance development of northern and southern Taiwan, while the KMT ignored the south, Chang said. \nIn addition, Chang pointed to a number of international surveys that show Taiwan can hold its own globally. \n"Though our country is suffering from an economic depression, many well-known foreign economic surveys still give high marks to Taiwan's competitiveness," he said. \nChang noted that the The World Competitiveness Yearbook, compiled by the International Institute for Management Development, ranks Taiwan eighth in terms of global competitiveness, ahead of Japan, South Korea and China. \nAnother report from the World Economic Forum ranked Taiwan as seventh worldwide for competitiveness, up from 11th last year. \n"Why are there always so many doomsayers in Taiwan?" Chang said, pointing to tables that listed the Cabinet's achievements. \nChang's defense of his job performance comes as many in Taiwan's political circles speculate on who might lead the Cabinet should a coalition government be formed after Saturday's elections. \nLast week, President Chen Shui-bian (陳水扁) proposed forming a "cross-party alliance for national stabilization," which he would consult in the formation of a Cabinet. \nIn addition, DPP Chairman Frank Hsieh (謝長廷) has said that the premier's job may not necessarily go to a DPP member. \nFollowing Chen and Hsieh's remarks, Lien at campaign rallies questioned whether Chang would be replaced and suggested that the president was cheating the public by holding out the promise of a coalition government. \nChen and Hsieh yesterday said they approved highly of Chang and his team. \n"I back Premier Chang and his Cabinet 100 percent," Chen said. \n"Chang and his team are doing a great job, such as the crackdown on `black gold,' financial reforms, preparatory work for WTO entry and post-921 quake relief, so I still firmly support him." \nIn addition, Hsieh went on the counter-attack against Lien, saying both party chairmen should step down should their parties fail to win a set number of seats in Saturday's poll. \n"Lien has focused on the issue of `political responsibility' by attacking Premier Chang," Hsieh said. "I agree with Mr. Lien's ideal and suggest to him shouldering the `political responsibility' as chairman" if the KMT fails to reach its goal in the elections. \nHsieh said that Lien should take political responsibility for his own actions before demanding others do so. \n"If the DPP wins fewer seats in the election than it now holds, I absolutely will resign," Hsieh said. \n"And I even dare to announce that if the DPP fails to win more than 80 seats in the legislature or loses a single seat in the county commissioner and mayoral races, I will consider quitting."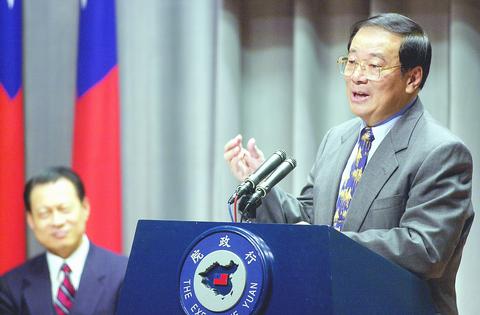 Vice Premier Lai In-jaw, left, listens as Premier Chang Chun-hsiung defends the DPP government's performance yesterday.
PHOTO: CHEN CHENG-CHANG, TAIPEI TIMES
Comments will be moderated. Keep comments relevant to the article. Remarks containing abusive and obscene language, personal attacks of any kind or promotion will be removed and the user banned. Final decision will be at the discretion of the Taipei Times.