KMT legislator indicted for graft
BLACK GOLD Liao Hwu-peng was indicted for trying to get a company to sell him shares at a knock-down price, a charge he has denied, saying evidence was lacking
KMT lawmaker Liao Hwu-peng (廖福本) was indicted yesterday for allegedly trying to coerce executives to sell fake stocks in the Chi Mei Optoelectronics Corp (奇美電子). Prosecutors are demanding he serve seven years in prison if found guilty.
Tainan District Prosecutor Chao Chung-yueh (趙中岳) said Liao and two aides had tainted the legislature's image by faking Chi Mei share certificates and selling them to two people for NT$106 million last Aug. 3 and 7.
According to the Tainan District prosecutor, Liao called Chi Mei Electronics nine times last year and demanded that the company sell him shares at discount prices. But Chi Mei Optoelectronics Corp rejected Liao's request.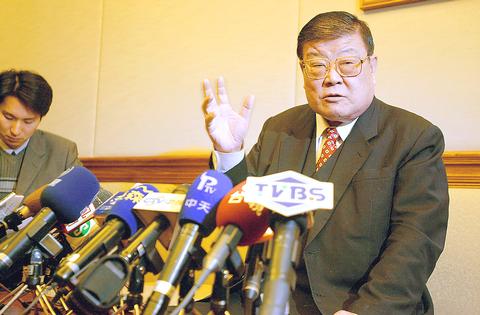 KMT Legislator Liao Hwu-peng denied all wrongdoing yesterday, after prosecutors indicted him for trying to get a company to sell him shares on the cheap.
PHOTO: CHEN CHENG-CHANG, TAIPEI TIMES
Liao, 62, a six-term opposition legislator from Yunlin County, said he was innocent.
Liao questioned how the prosecutors could indict him when they had failed to find fake shares during a raid of his apartment, located in the Ta-an Complex, a government-owned residence for legislators, on Aug. 16 last year.
Another search of Liao's office in the Legislative Yuan last year was prohibited by speaker Wang Jing-pyng (王金平). Wang said that, under the Constitution, legislators are immune from arrest and detention while the legislature is in session.
Meanwhile, Taipei District Prosecutor Liu Cheng-wu (劉承武) said that Liao was also involved with the corruption scandal surrounding former Bank of Taiwan president Ho Kuo-hua (何國華). Liu said he had issued a warrant summoning Liao to the prosecutors' office for questioning on Monday, for illegally using checks issued by a branch of the Bank of Taiwan.
Liu said Liao was found to have changed the date of more than 30 bills illegally.
The total value of the checks is more than NT$300,000. But Liao claimed that his assistant had changed the dates at the request of the Bank of Taiwan.
To avoid accusations of violating legislators' rights, prosecutor Liu said he would question Liao on Feb.19, the eve of the new legislative session, which opens on Feb. 20.
Liao said he is suffering from an injured leg and can't be present at that time.
In addition to these two cases, prosecutors are also investigating whether Liao was involved in insider trading of certain stocks.
Liao said in a press conference yesterday at the Legislative Yuan that his friend had warned him that he might be in trouble after the DPP took power. He did not explain further, but said "now the words of my friend are unfortunately coming true."
Asked whether Liao had been a special target of the Ministry of Justice, justice minister Chen Ding-nan (陳定南) said yesterday that the ministry will do its best to crack down on all illegal activities, but will not get involved in any particular case as long there is sufficient evidence to prove the crime.Chen said government action to crack down on "black gold" would not change from one party or person to another.
Comments will be moderated. Keep comments relevant to the article. Remarks containing abusive and obscene language, personal attacks of any kind or promotion will be removed and the user banned. Final decision will be at the discretion of the Taipei Times.