Passage of PNTR bill welcomed by industry and government leaders
Industry leaders and government officials yesterday welcomed the passage of a bill that would normalize trade between the US and China -- an outcome that is seen as positive for Taiwan as well.
But local trade leaders expressed concern that China's strengthening market position may in the long term create headaches for Taiwan.
Passage of the bill, which was approved by a 237-197 vote in the US House of Representatives on Wednesday, will grant permanent normal trade relations (PNTR) to China as Beijing joins the WTO later this year.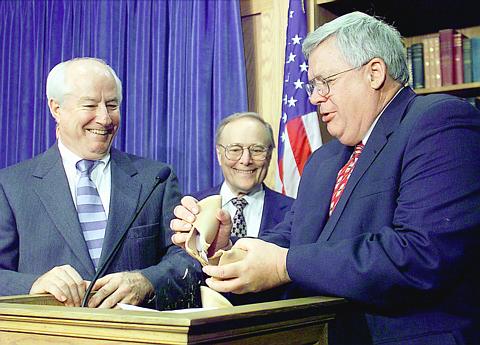 Speaker of the House Dennis Hastert, right, from Illinois cracks open a fortune cookie presented to him by Congressman Jim Kolbe, left, from Arizona as Congressman Bill Archer, center, from Texas looks Wednesday on Capitol Hill in Washington. The House leadership was celebrating a victory in the permanent normal trade relations (PNTR) vote which passed and was supported by US President Bill Clinton.
PHOTO: AFP
Taiwan has been anxiously waiting for China's admission because Taiwan's accession to the world trade body is expected to follow immediately afterward.
"China gains more from the passage than Taiwan," Chen Po-chih (陳博志), chairman of the Ministry of Economic Affairs (經建會), said in a television interview yesterday. "Taiwanese businessmen were not frightened by the possibility that the US would not grant permanent trade relations to China."
But Tsai Hung-ming (蔡宏明), an executive of the Chinese National Federation of Industries (全國工業總會), was more upbeat.
"If you just look at the economic prospects, the impact will be nothing but positive,'' said Tsai, who also advises the new administration on China-related business issues.
One local business leader said Taiwanese businesses should remain on guard, as China is becoming more economically powerful.
"Taiwanese businessmen should be cautious and maintain their competitiveness, including tactically utilizing the strength of the Chinese market to prevent China from pressuring Taiwan with its growing economic power," said Richard Wu (吳思鍾), chairman of the Taiwan Electrical and Electronic Manufacturers' Association (全國電機電子工業同業工會), one of Taiwan's largest industrial associations.
Taiwan is China's largest foreign investor. An estimated US$40 billion in Taiwanese capital has flowed into the country since the 1980s.
Because the majority of China-based Taiwanese firms export their goods to the US, they are likely to reap benefits from more open trade between the US and China.
Government spokeswoman Chung Chin (鍾琴) said in a televised statement that China's WTO accession would make it "more open and democratic."
"In the long run, it will help bring peace across the Strait and help normalize bilateral relations," Chung said.
Minister of Foreign Affairs Tien Hung-mao (田弘茂) echoed those statements, saying, "The passage of PNTR should help both sides to enter the WTO. From this point of view, there is no reason why Taiwan would be opposed to the passage of PNTR."
Tien said the passage of PNTR could improve US-China relations and increase Washington's stake in maintaining peace across the Strait.
Tien has also said previously that Taiwan hopes to use the mechanisms under the WTO as a mean to engage China in cross-strait dialogue.
(See Also:)
Comments will be moderated. Keep comments relevant to the article. Remarks containing abusive and obscene language, personal attacks of any kind or promotion will be removed and the user banned. Final decision will be at the discretion of the Taipei Times.