Pratas given anti-aircraft missiles
OUTLYING DEFENSE The military has upgraded its aging defense equipment on the island before the transfer of troops under the new Coast Guard Administration
Military authorities have deployed an anti-aircraft missile system on Pratas Island (東沙) to bolster its defense capability as the newly formed Coast Guard Administration (海岸巡防署) prepares to take over from marines currently stationed there.
Chaparral missiles, used extensively by the army and navy, have been deployed, officers stationed on the island said yesterday. The Chapparal is a derivative of the Sidewinder air-to-air missile, with a range of 3km to 10km.
Though effective mainly against low-flying aircraft, the Chaparral is the most powerful air defense weapon on Pratas -- also known as Tungsha -- whose defense equipment is mostly outdated.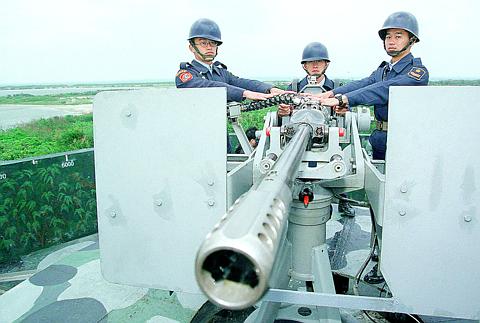 Coast guard troops man a gun on Pratas Island yesterday.
PHOTO: AFP
The island's other weapons include two 90-mm guns, one smaller-caliber cannon and several 20-mm guns -- all of which were produced several decades ago.
The announcement of the missiles was made ahead of the transfer of forces on the island which was first ordered by the Ministry of National Defense last year. A similar arrangement has been made for the defense responsibility for the Tungsha and Taiping (太平) islands in the Spratly chain.
Administration personnel have already taken over almost all of the defense tasks on the island, with only a few marines left to assist with the transition, which is to take effect on Feb. 1.
One of the remaining soldiers said the original plan was to have all the marines on the island be given coast guard status, but a change in policy killed the scheme.
Colonel Hsiung Hsiao-wei (熊孝煒), commander of the coast guard personnel on the island, said his troops had undergone a special five-month training program before the first of them began arriving last December.
"The coast guards will carry out not only coastal defense tasks but also the preservation of natural resources in the region," Hsiung said.
The coast guard will assume the responsibility of patrolling the waters around the island to discourage illegal fishing. According to a study released by National Chungshan University in 1998, illegal fishing practices by boats from China and Hong Kong have depleted the number of species of organisms living on the coral reef to 64 from 137 just four years ago.
Since the coast guard began patrolling the area on Dec. 23, a total of 139 fishing boats from various countries have been driven away from the island, officials said.
The coast guard currently has only several patrol boats, making it difficult to effectively watch all of the island's 12-nautical-mile border.
Comments will be moderated. Keep comments relevant to the article. Remarks containing abusive and obscene language, personal attacks of any kind or promotion will be removed and the user banned. Final decision will be at the discretion of the Taipei Times.