Lin family comes to terms with twins' murder
TRAGEDY The healing process has been slow for the family of DPP chairman Lin I-hsiung, whose daughters and mother were murdered as he was awaiting trial for participation in the Kaohsiung Incident
As the 20th anniversary of the murder of DPP chairman Lin I-hsiung's (林義雄) daughters and mother approaches, friends and supporters of what was then a fledgling opposition movement said yesterday they planned to hold a memorial service.
Family friends said it was once impossible for Lin and his wife Fang Su-min (方素敏) to come to terms with the brutal murder of their twin daughters in 1980.
But today, the couple and their friends say they are finally able to move on and feel they want to do something in memory of the twins.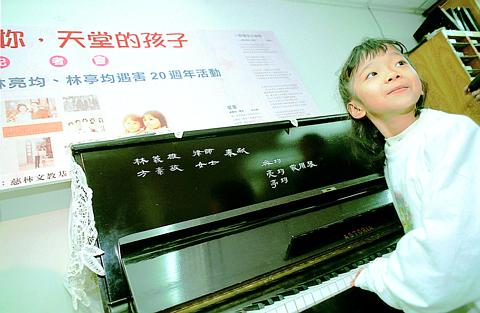 Ting-chun, a young girl named after one of Lin Yi-hsiung's murdered twin daughters, plays the piano at an event in Taipei yesterday to remember the children's deaths.
PHOTO: GEORGE TSORNG, TAIPEI TIMES
On Feb. 28, 1980, when Lin was jailed and awaiting trial for his participation in the Kaohsiung Incident the year before, an unknown killer came to his house in an alley off Hsinyi Road and fatally stabbed Lin's then 60-year-old mother and his three daughters.
His eldest daughter, Lin Huan-chin (林奐均), then 9 years old, was fortunate enough to survive. His mother and seven-year-old twin daughters, Lin Liang-chin (林亮均) and Lin Ting-chin (林亭均), did not.
The murder, which remains unsolved, is often thought to have been politically motivated because of Lin's active role in the opposition movement.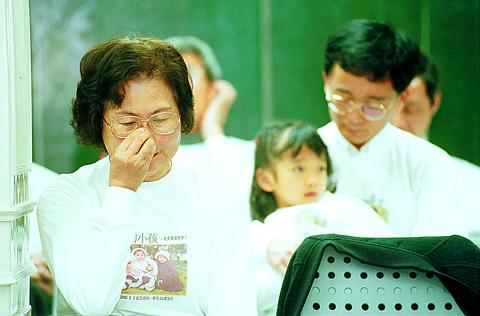 Fang Su-min, Lin's wife, weeps as she recalls the joy she felt at giving birth to the twins.
PHOTO: GEORGE TSORNG, TAIPEI TIMES
The standard claim by officials at the time was that a burglar was responsible.
Physically, the twin girls may have been absent from the family for 20 years, but they are living every moment in their mother's memory.
"It would have been their 26th birthday on Feb. 2 this year. They should have had dates like other girls at their age. And they might have married like their elder sister did," Fang said.
"I had only six years to be with Ting-chin and Liang-chin. But it is a lifelong memory they have left with me," Fang said.
The Chilin Foundation (慈林文教基金會), founded by the Lins and some of their friends, will hold a memorial event on the birthdays of the sisters on Feb. 2, instead of Feb. 28, the day they died.
"We'd like to remember the joy the girls' births brought to the Lin family and many other friends, rather than recall the anger and sadness their deaths brought us," said Chen Ming-chung (陳銘政), organizer of the event, to be held at the 228 Peace Park.
"Politics is something we want to avoid during the event. We miss the two lovely kids and we believe we have to do something for them 20 years after their deaths," Chen added.
Comments will be moderated. Keep comments relevant to the article. Remarks containing abusive and obscene language, personal attacks of any kind or promotion will be removed and the user banned. Final decision will be at the discretion of the Taipei Times.