Chen names Annette Lu as running mate
CAMPAIGN TEAM The Taoyuan County chief is expected to enjoy wide support based on her reformist credentials and her efforts to promote women's rights
DPP presidential candidate Chen Shui-bian (3?糮?/CHINESE>) yesterday formally declared Taoyuan County commissioner Annette Lu (呂秀蓮) to be his running mate for the presidential election, vowing to establish a new government that would implement equal rights for women.
Chen also repeated his offer to China's leaders of conducting a visit of peace to the mainland, saying the pair would be prepared to go after they are elected next March but before their inauguration in May.
Chen timed his announcement to coincide with the 20th anniversary of the Kaohsiung Incident (美麗島事件) yesterday.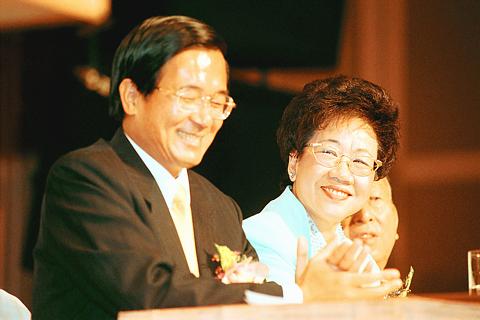 DPP presidential candidate Chen Shui-bian and running mate Annette Lu are all smiles, amid applause from party colleagues after the announcement of their presidential campaign ticket yesterday .
PHOTO: GEORGE TSORNG, TAIPEI TIMES
As a victim of the Kaohsiung Incident, Lu said she had been jailed for over 1,900 days because of a 20-minute speech she made at the rally 20 years ago, but that now she was ready to step onto a new stage to lead women in sharing the responsibility of ruling the country.
"Even the United States, which was able to send men to the moon 30 years ago, has failed to put a woman in the Oval Office. We will strive to realize this dream 98 days from now in Taiwan," she said.
Yesterday, on the 20th anniversary of the Kaohsiung Incident, Lu appealed to the public to carefully review the current presidential candidates, especially as to what they had done during the Kaohsiung Incident.
"Before casting your ballots in the presidential election, please make sure you understand that a candidate who did a lot of bad things in the past could not possibly do the right things after being elected, "she said.
It was a clear reference to James Soong (宋楚瑜), former KMT stalwart and now independent presidential candidate, whom DPP leaders have accused of "suppressing democracy" during the Kaohsiung Incident. Soong was Director General of the Government Information Office at the time.
Lu has already obtained the endorsement of influential DPP senior members to team up with Chen.
Following the formal announcement, Lu delivered an acceptance speech, accompanied by 10 "outstanding" women and women legislators.
It was not only for her role in the women's rights movement that Lu received praise yesterday, but also for her efforts in pushing forward Taiwan's democratic reforms.
A few days after the 1979 protest, scores of activists -- including Lu -- were arrested in a crackdown that many say helped unify Taiwan's loosely organized opposition forces. The dissidents went on to form the DPP, Taiwan's largest opposition party.
Chen told his supporters packed into a Taipei hotel auditorium yesterday that he and Lu ``will always pursue democratic reforms and stand on the right side of history.'' He said that the best phrase to describe Lu was one of those ``women who are most beautiful for their devotion to their quests (認真的?k?H3怓?R).''
Lu, a lawyer and feminist, was sentenced to 12 years in prison on sedition charges but was released in 1985 on medical parole. She served a term in the Legislative Yuan and is currently the commissioner of Taoyuan County.
Chen, 48, a lawyer and former Taipei mayor, became involved in politics by defending activists arrested after the Kaohsiung Incident in 1979.
His campaign staffers have stressed that a female running mate could strengthen his image as a new breed of politician who can bring long-needed reforms to Taiwan.
Lu isn't the first woman to run for vice president in Taiwan, though. In the 1996 presidential election, attorney Wang Ching-feng (?y?M峰) campaigned with independent candidate Chen Li-an (3紡i|w).
Comments will be moderated. Keep comments relevant to the article. Remarks containing abusive and obscene language, personal attacks of any kind or promotion will be removed and the user banned. Final decision will be at the discretion of the Taipei Times.