Hsu chooses New Party running mate
PRESIDENTIAL TICKET Hsu Hsin-liang, once chairman of the pro-independence DPP, has chosen a rising star of the pro-reunification camp to be his partner
Independent presidential hopeful and former DPP chairman Hsu Hsin-liang (許信良) announced yesterday that he had decided to name Josephine Chu (朱惠良), a lawmaker from the pro-unification New Party.
The announcement ended a months-long search for Hsu but immediately raised tempers in the New Party.
The party said yesterday it would take disciplinary action against Chu for behaving "against the practices of party politics."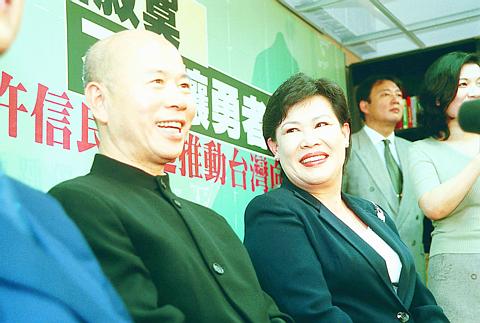 Hsu Hsin-liang, left, former DPP chairman, and Chu Hui-liang, right, a lawmaker from the pro-unification New Party, are full of smiles as they declare their partnership for a presidential bid at a press conference held in Taipei yesterday.
PHOTO: GEORGE TSORNG, TAIPEI TIMESN
Obtaining Chu's permission just in time to meet the dateline to register his candidacy, Hsu called Chu "the best present that heaven has given me.
"I extend my heart-felt appreciation to her for keeping me company on a lonely journey belonging to the brave," Hsu said.
Hsu, who in the past has favored independence for Taiwan, said his partnership with Chu was a true "cross-party" ticket, and represents a "grand reconcilia-tion" that offers a creative answer to the long-term dispute over the question of unification or independence for Taiwan.
"This country cannot remain split between two or three solutions as it is now," Hsu said. "In the future, a pro-unification national leader must be able to convince the pro-independence camp; and a pro-independence national leader must be able to convince the other camp."
In addition to Chu's political background, Hsu said, her "excellent performance" during the past four years as legislator made her a perfect running mate because she could complement his own shortcomings.
Chu, who holds a Ph.D in art archaeology from Princeton University and worked as a research fellow at the National Palace Museum before entering politics, was first elected a lawmaker in 1995, and won a second term in 1998.
She has specialized in the issues of education, culture and the underprivileged. Before contacting Chu, other possible running mates for Hsu had included National Taiwan University professor Hsia Chu-joe (夏鑄九), economist Ma Kai (馬凱), DPP legislator Fan Sun-lu (范巽綠) and even New Party lawmakers Hsieh Chi-ta (謝啟大) and Hau Lung-ping (郝龍斌).
But Hsu had been turned down on each occasion.
Hsu quit the DPP early this year to run for the presidency, but his support rate has remained at no more than 1 percent in opinion polls released so far.
Chu said the reason behind her decision to become Hsu's running mate is consistent with the one that prompted her to join the New Party four years ago -- one which she described as an "accidental tour" in her life.
"Both are unions based on the similarities of our ideals. I've made a decision that I feel is very correct, and believe I'm doing the right thing," Chu said.
Chu explained that she accepted Hsu's offer after rounds of in-depth talks with both the candidate himself and his campaign aides through which she discovered she largely agreed with Hsu in terms of national development and in terms of his aspiration to cross the boundaries of political parties.
Chu said she does not intend to quit the New Party because she believes it is a long-standing philosophy of the New Party to "do the right thing," and that her decision has won the support of party heavyweights including Jaw Shau-kong (趙少康) and Hsu Li-nung (許歷農).
Chu, however, said she will have no objection if the party decides to expel her to maintain its discipline.
Lee Ching-hua (李慶華), convener of the New Party's National Election and Development Committee, said yesterday that his committee has referred Chu's case to the party's disciplinary committee for "necessary handling" in accordance with party rules.
The New Party has recruited prominent writer Li Ao (李敖) to become its presidential candidate. Li has refused to join the New Party despite his representing the party in the campaign.
Comments will be moderated. Keep comments relevant to the article. Remarks containing abusive and obscene language, personal attacks of any kind or promotion will be removed and the user banned. Final decision will be at the discretion of the Taipei Times.