The tragedy unfolds
Powerful aftershocks continued to shake Taiwan yesterday following Tuesday's deadly earthquake, delaying rescue work as emergency teams continued to dig through piles of twisted metal and concrete left by collapsed buildings, searching for survivors.
Rescue efforts were centered on the two worst-affected areas of Tai-chung and Nantou Counties near the quake's epicenter, but also continued in Taipei.
The Central Weather Bureau recorded a strong aftershock at 8:14am, measuring 6.8 on the Richter scale and centered in the mountains near Chichi, Nantou County, approximately 200km south of Taipei. It was followed by a less powerful temblor half an hour later, measuring 6.1. Another with a strength of 6.0 struck early yesterday evening.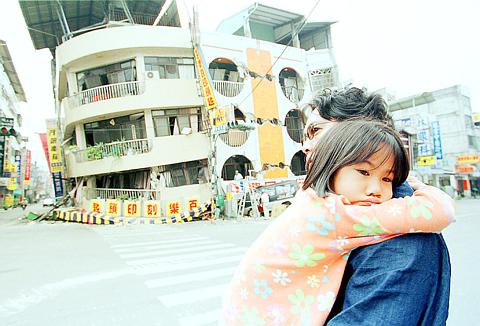 For many residents in Puli, a small town at the epicenter of Tuesday's earthquake, life will never be the same. This woman and her daughter try to console each other as they contemplate how they will get by in the coming weeks without a home, as 98 percent of the town's buildings reported structural damage.
PHOTO: LIN CHENG-KUNG, LIBERTY TIMES
The aftershocks, which were felt throughout the island, collapsed more buildings, triggered rock and mud- slides, and partially damaged the Sun Moon Lake Reservoir near the epicenter. Residents in areas adjacent to the reservoir were urged to evacuate their homes. Reports said dam managers were releasing water from the reservoir as a precaution.
Seismologists also warned there could be more aftershocks in the days to come, cautioning the public to be prepared.
Altogether there have been more than 2,000 aftershocks following the main quake early Tuesday morning which had a strength of 7.6.
Soldiers airlift injured people by helicopter out of the mountainous area around Puli for medical treatment.
PHOTO: SHING TING-WEI, LIBERTY TIMES
As of press time the Disaster Management Center said 2,034 people were confirmed dead. Another 6,536 were injured and 2,308 were trapped, while 208 were still listed as missing.
The day's rescue efforts had yielded just nine people pulled alive from the wreckage compared with more than 300 dead. The chances of many more victims being found alive looked slim.
Workers who had already cleared blocked roads in some mountainous regions found themselves having to repeat their efforts as the aftershocks shook loose fresh mud and other debris.
In Taichung County's Fengyuan a sniffer dog's whimper was regarded as a hopeful sign that someone was still alive under the rubble of a toppled 12-story building.
But hope was fading fast as the number of bodies surpassed the number of those still alive.
"I don't think there will be any more survivors," said one neighbor who only gave her name as Liu. "This morning they already found three people. All were dead," she said, watching a chain of soldiers wearing surgical masks clear debris from the pile of concrete, tile and splintered wood.
The aftershocks made people in the disaster-stricken areas all the more anxious to get to safety.
Panicking survivors in Puli, Nantou County, close to the epicenter of the quake, tried to leap into helicopters as they picked up the wounded or dropped off medical and food supplies.
One pilot said he had to fight off a small crowd who dangerously overloaded his aircraft when he landed at a high school.
"There is only space for 10 people," he said. "I wish I could carry out everyone. I feel like crying. However loud the helicopter is, I can still hear the people howling at me."
Another pilot described how a fist-fight had broken out between two families at Puli as he explained he could not take them all.
"We had to split the family up and leave the ones who weren't injured," he said.
As rescue efforts went into their second day, around 500 personnel from 14 nations, many armed with experience from the recent disaster in Turkey, were in Taiwan to aid the rescue efforts.
Rescue teams from the US, Japan, Singapore, Russia, the Czech Republic, Switzerland, and Austria have all arrived on the island, some teams accompanied by sniffer dogs. Mean-while Spain, Britain, Israel, South Korea, and Thailand have contacted the Ministry of Foreign Affairs to offer rescue teams.
The United Nations Office for the Coordination of Humanitarian Affairs (OCHA) has sent a seven-member evaluation team to Taiwan to coordinate rescue work carried out by foreign rescue teams. The OCHA decided to send the humanitarian assistance after consultations with China, which did not pose any objection.
OCHA may only provide assistance if it is requested to do so by a sovereign government. Since the UN recognizes Beijing as the sovereign government of Taiwan as part of its "one China" policy, in theory providing assistance depended on it being asked to do so by Beijing.
It remains uncertain whether Beijing made such a request or OCHA suggested it provide aid and then sought Beijing's approval. A spokesman for Taiwan's foreign ministry, however, said yesterday that Taiwan had certainly not asked OCHA for UN assistance.
The ministry was prepared, however, to let the UN team enter Taiwan because it felt that disaster relief took precedence over political disputes.
Later, Liu Teh-hsun (劉得勳), an official from the Mainland Affairs Council, criticized China for what he called an attempt to milk international concern for Taiwan to make political gains.
Liu was responding to a statement by a spokesperson for Beijing's foreign ministry that Beijing thanks the international community for their sympathy and aid to Taiwan. Such remarks implied that Beijing controlled Taiwan and could speak for its people.
Meanwhile, condolences from world leaders continued yesterday, with Canadian Prime Minister Jean Cretien and Tibetan spiritual leader the Dalai Lama expressing shock and sadness at the disaster.
In a letter to President Lee Teng-hui (李登輝), the Dalai Lama said: "In this moment of immense suffering and sorrow for the people of Taiwan, I would like your excellency to know that the prayers of the Tibetan people and myself are with you."
Finance Minister Paul Chiu (邱正雄) said equity and futures markets would be closed today because not all security firms have had power restored. Friday is a holiday during which all financial markets will be shut. The stock exchange would re-open therefore on Monday.
Comments will be moderated. Keep comments relevant to the article. Remarks containing abusive and obscene language, personal attacks of any kind or promotion will be removed and the user banned. Final decision will be at the discretion of the Taipei Times.