LGBT election concerns
Win or lose, KMT campaign tactics stoke concerns for the progress of LGBT rights and education
If anything has been predictable about Kaohsiung Mayor and Chinese Nationalist Party (KMT) presidential candidate Han Kuo-yu's (韓國瑜) election campaign, it has been its unpredictability. From urging supporters to "confuse" polling organizations by pretending to back his opponent President Tsai Ing-wen (蔡英文) to proposing daily flag-raising ceremonies on high-mountain peaks to boost tourism, the KMT candidate has evinced Trumpian levels of caprice.
Even by these mercurial standards, his statements at a campaign event on Nov. 30 were surprising: "I hope and pray that people who love each other can become family in the end," Han said in response to a question about whether he would repeal same-sex marriage legislation should he become president. "I completely respect people's relationships, because they can see their own situation most clearly," he added.
When raised at previous stops on his three-month-long "listening tour," Han skirted the issue. Even the November statement was mealy-mouthed and unspecific. In response, local media cited his support for the "family values" of anti-LGBT Christian groups in his successful 2018 campaign for the Kaohsiung mayor.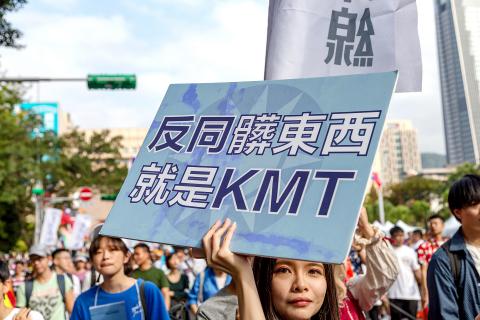 A protester holds a sign denouncing the Chinese Nationalist Party's (KMT) anti-LGBT stance at Taipei Pride on Oct. 24.
Photo courtesy of Naomi Goddard
More tellingly, Han's new-found tone of tolerance contrasted sharply with false claims by his wife Lee Chia-fen (李佳芬) weeks earlier that elementary schoolchildren were being taught about anal sex. Lee then called the issue of same-sex marriage "over-exploited." More ominously, she said her husband would review the legislation if he won power.
All of this suggests Han is simply courting the demographic where he most obviously lags: the youth vote. He is unlikely to change many minds. For, whatever his own views, the KMT's reputation for reaction and intolerance is justified.
Just this week, posters were circulating in Yunlin County stating that a vote for incumbent Democratic Progressive Party (DPP) councilor Su Chih-fen (蘇治芬) would entail a missing generation of grandchildren.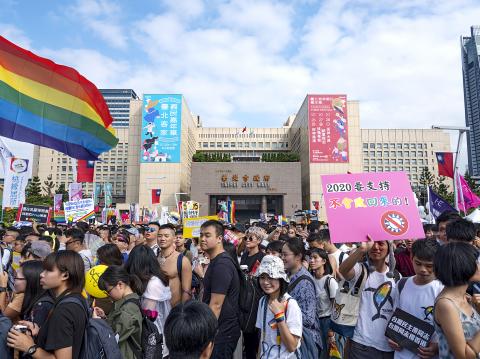 Taipei Pride participants gather outside Taipei City Hall on Oct. 24. The placard at front right, which includes an anti-Chinese Nationalist Party (KMT) symbol, calls for support at the 2020 election and urges people not to turn back from the advances that have been made in LGBT rights.
Photo courtesy of Naomi Goddard
Images of same-sex couples tying the knot and embracing were juxtaposed with a photo of a silvery couple gazing dotingly at a newborn baby cradled in the crook of an elderly woman's arm. Above the beatific elders, a line of text read: "Down with same-sex marriage legislators!"
Over in Taipei's Daan District, beaming supporters of Christian fundamentalist candidate Meng Ai-lun (孟藹倫) brandished placards touting her promise to abolish same-sex marriage.
Of course, this is grandstanding. A KMT president — leave aside district councilor — could not just do away with Taiwan's monumental rights progress.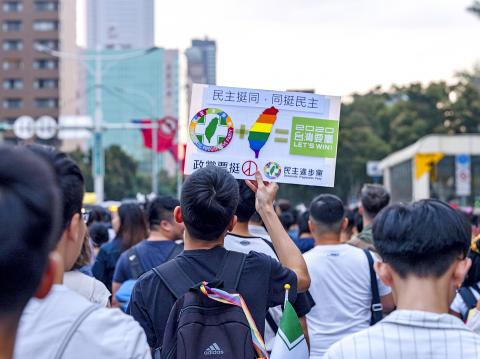 A man holds a placard at Taipei Pride on Oct. 24. The sign touts the ruling Democratic Progressive Party's LGBT-friendly credentials, and urges support for the party in Saturday's election.
Photo courtesy of Naomi Goddard
"Even if Han Kuo-yu were elected, it wouldn't be possible to immediately change the act," says Victoria Hsu (許秀雯), cofounder and executive director of the Taiwan Alliance to Promote Civil Partnership Rights.
Hsu, who also serves on the Executive Yuan's Gender Equality Commission, points out that, under the Referendum Act, the law cannot be amended or rescinded for at least two years following implementation.
"That's May 2021 at the earliest," Hsu says. "And though there are many conservative KMT politicians saying they will change the act if they win, I don't think it will happen. This was a constitutional court's decision. If they abolish the law, it will be ruled unconstitutional."
Hsu also believes that a lot of the KMT's anti-gay rhetoric is for expediency.
"It's not even an official position of the KMT to oppose same-sex marriage," she says. "As a political party, the KMT does not say it would change the law. It's individual politicians saying these things. They're using all the cards they can find to gain dissatisfied voters."
TARGETING MIDDLE-OF-THE-ROAD VOTERS
Kao Ying-chao (高穎超), an assistant professor of sociology at Virginia Commonwealth University, concurs.
"They're trying to mobilize those conservative voters and expand their own constituency, borrowing from the big turnout among the kind of median voter we witnessed at the last local elections and referenda," says Kao, whose research tracks efforts by global Christian networks to impede the LGBT movement in Taiwan. "The strategy is obvious: Han Kuo-yu and his wife actively utilize moral discourses about concerned parents, provocative clips on social media and the DPP not listening to the voices of such parents."
More than any backsliding on current laws, though, Hsu is concerned by stagnation on adoption rights and transnational marriages for same-sex couples.
"Would the KMT abolish LGBTI education or same-sex marriage? I don't think so. But they would probably make progress slower and harder," Hsu says.
Kao is more circumspect. "Same-sex marriage is not that shaky because we have the foundation of the constitutional court's decision, but [LGBT] education is riskier." Overall, he sees the KMT's tactics as "a major concern."
Having convened with legislators of all stripes, Hsu is far from optimistic about the willingness of a new DPP administration to move forward on these issues.
"They don't, as a whole, support gay rights. So, the situation is complicated," she says. "Whoever wins, we have to restart our political lobbying work, but I believe there is more chance with the DPP."
CROSS-STRAIT DIVIDE
As with other areas of life in Taiwan, divisions have emerged along cross-strait lines. As Taiwan currently recognizes transnational same-sex marriages only between Taiwanese and citizens of countries where said marriages are legal, Chinese partners are currently out in the cold.
"It's sensitive," says Hsu, who, as an attorney, represents transnational couples. "For couples with a partner from China, they might see the KMT as more friendly, but others are scared it will endanger Taiwan if people from China are allowed to get married."
Jennifer Lu (呂欣潔), chief coordinator of the Marriage Equality Coalition, knows first-hand how divisive the struggle can be. Lu has been castigated across online LGBT talk forums for publicly rubbing shoulders with KMT figures.
"That situation triggered pro-independence DPP people," says Lu, who is currently undertaking a US State Department-supported fellowship with the Victory Institute, an organization that trains LGBT candidates for political office.
Lu says that some of the rancor stemmed from misogyny.
"But as a civil society organization we have to find alliances in all parties," Lu says. "Even though we didn't agree with a lot of their positions, they still had 38 seats during the marriage campaign. It was impossible for us to give up on those seats, especially when the DPP wasn't so supportive itself."
Despite accusations of selling out, Lu is unambiguous in expressing her fears that a pro-China Han-government could portend a return to authoritarianism.
"I can sense concern in the community," says Lu, a candidate for the fledgling Social Democratic Party in the 2016 legislative elections. "Democracy is the foundation of all the rights movements in Taiwan. Thirty years ago, there was a high possibility of going to jail or being harassed for being gay or trans. The reason we have the marriage law — I won't say equality, because it's still not — is because we have freedom of speech and freedom to fight for our rights; freedom to be protected by the police instead of beaten by them."
She laughs, perhaps as much in apprehension of how quickly rights can crumble as in wonder at how far Taiwan has come to win them. "These days, when we protest," she says, "the police protect us."
Comments will be moderated. Keep comments relevant to the article. Remarks containing abusive and obscene language, personal attacks of any kind or promotion will be removed and the user banned. Final decision will be at the discretion of the Taipei Times.