'Steeped' in family history
Despite finding success serving tea-infused cuisine, Tsai Hsu-chih is trying to revive the family's plantation and Sijhih's tea industry
Tsai Hsu-chih (蔡旭志) wanted to escape his family's tea farm so badly that he chose to attend a maritime vocational high school in Keelung.
"I ran from the mountains to the ocean," the fourth-generation tea farmer and restaurant owner laughs. "That's far enough, isn't it?"
Tsai only returned home to New Taipei City's Sijhih District (汐止) after the local tea industry declined and his family, like many other agricultural operations near Taipei, converted their property into a tea restaurant in the 1990s. Over the decades, Tsai and his wife have maintained a stable living with their tantalizing menu of tea-infused cuisine — but about five years ago, he set out to revive the family's tea farm, this time using organic methods.
Natural Tea Manor boasts views of the lush mountains of Sijhih District.
Photo: Han Cheung, Taipei Times
"I guess I got to the age where I started thinking about preserving our heritage," Tsai says. "Baozhong Tea (包種茶) actually originated near this area … I don't want people to forget that Sijhih once produced tea. All these mountains used to be tea farms."
There are no tea-pickers in the area, and Tsai has to drive elderly ladies — the youngest one being 78 years old — from nearby Pinglin (坪林) to perform the task. He feels that if he doesn't create more interest in the local tea industry now, all will be lost to history soon.
REVIVING SIJHIH'S TEA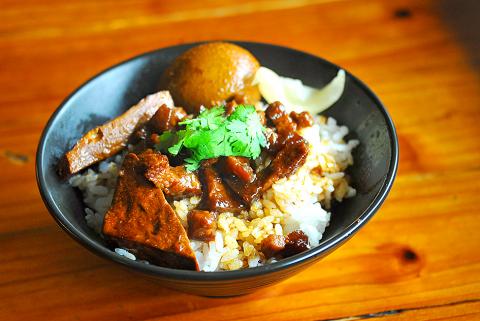 The braised pork rice is drawn from the lunchboxes Natural Tea Manor used to serve the family plantation's tea pickers.
Photo: Han Cheung, Taipei Times
I didn't plan on visiting Tsai's Natural Tea Manor (天然茶莊) to learn about tea. In fact, my family has lived in Sijhih for 30 years and I had no clue it was once a bustling tea center. But it makes sense — Taiwan's famous Baozhong Tea originated in adjacent Nangang District (南港), and Tsai's plantation is much closer to Nangang than downtown Sijhih.
When the coal industry boomed in the mountains of northern Taiwan, Tsai says many local tea farmers turned to mining. As Taipei expanded east, the land here also became valuable, and tea farmers found it more lucrative to "plant houses," in Tsai's words. Like Tsai, young people weren't keen to continue the family business, and soon Pinglin took over as the main Baozhong tea producing center.
I actually came to speak to Tsai about Natural Tea Manor's participation in New Taipei City's "cherishing food" (惜食) program that encourages restaurants to make use of surplus or unsellable agricultural products to reduce food waste.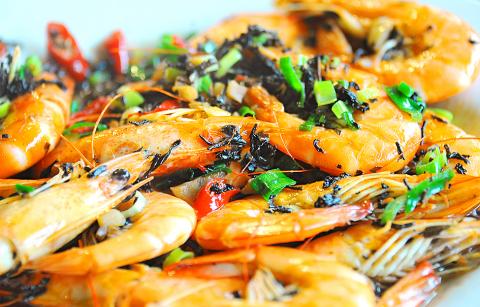 Natural Tea Manor's signature shrimp dish is cooked with oolong tea.
Photo: Han Cheung, Taipei Times
The restaurant maintains a network where they buy "ugly" and excess vegetables from farmers, but that was pretty much it to the story. Tsai's dreams of reviving Sijhih's tea industry and his restaurant's tea menu were much more intriguing.
The main problem Tsai faces, like in many traditional industries, is the lack of skilled workers. The tea pickers and terrace workers have specific experience and knowledge that machines cannot replace, such as discerning which individual plants to pick at which times. While machines can still do the job, it isn't ideal.
Tsai is betting on reviving the industry first — if he generates enough work in the area, he could start training new people to pick leaves as a part-time job. Young people likely won't be interested, but he could target housewives or older people looking to re-enter the workforce.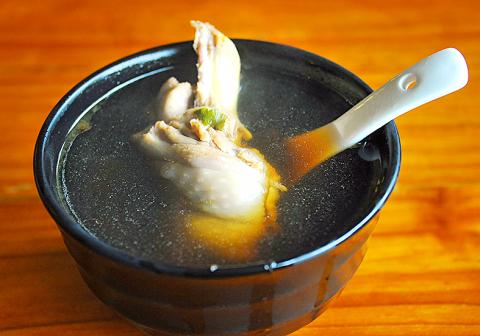 Natural Tea Manor's chicken soup is infused with tea leaves.
Photo: Han Cheung, Taipei Times
Last week, he hired workers to terrace another piece of land to expand his farm, and he is in the process of setting up a licensed tea processing factory that can support several farms. He wants to attract students and tourists to learn about this area's history and try their hand at picking and processing tea, and hopes that his success will influence his neighbors to also revive their plantations.
TEA IN EVERYTHING
The Tsai family had no idea how to run a restaurant in the beginning, pretty much catering to the whims of his visitors. They eventually shut the restaurant down to develop their own style using tea leaves.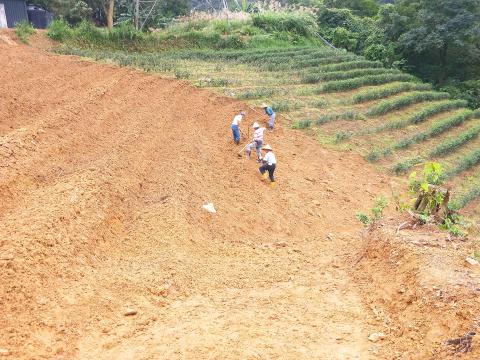 Tea plantation workers terrace a new field at Natural Tea Manor last week.
Photo courtesy of Tsai Hsu-chih
"We didn't just want to throw leaves on the food, we wanted the food to be infused with tea," Tsai says. Starting from a bare-bones menu of tea oil rice and noodles, tea chicken soup, tea sweets and vegetables, Natural Tea Manor grew from there.
The first dish I sample actually has no tea in it — it's a traditional Taiwanese braised pork rice bowl (NT$80) that imitates the lunch boxes served to tea pickers back in the day. Natural Tea Manor's version of this ubiquitous dish made it into the nation's top 10 during last year's Taiwan Braised Pork on Rice Festival, and it does stand out — the pork is chewy and tender with the skin, fat and meat well-proportioned and distinguishable, and the flavoring is a simple soy-sauce, sugar and shallot concoction that isn't too heavy.
"If your food wasn't good, the tea pickers wouldn't come work for you again," Tsai says. "They would always compare which plantation offered better meals."
The tea-infused dishes are very subtle, with the leaves providing just a little bit of fragrance and bitterness with a pleasing aftertaste. The flavor is most noticeable in the tea oil noodles (NT$80), which are just slightly salted with the oil carrying the main tones.
The chicken soup tastes pretty standard until the aftertaste of the leaves linger on the tongue; the tea fragrance and slight bittersweetness is more noticeable in the oolong shrimp (NT$380), which comes in a rich scallion and chili pepper sauce. The tea's properties seem to have completely infused into the shrimp and the sauce, and the leaves can be eaten without overpowering the rest of the dish.
The restaurant also serves a variety of homegrown vegetables (price depends on season) and sweets such as tea jelly (NT$20), glutinous tea cakes (NT$40) and tea mantou (NT$90). Other intriguing items I would like to try next time are the tea lemon fish (NT$480) and the tea drunken chicken (NT$480).
Publication Notes
Restaurant Notes
Natural Tea Manor
(天然茶莊)
Address: 30, Ln 380, Xiding Rd, Sijhih District,
New Taipei City (新北市汐止區汐碇路380巷30號)
Hours: 10am to 9pm, closed Mondays
Average meal: NT$600 to NT$800
On the Net: www.naturetea.com.tw
Comments will be moderated. Keep comments relevant to the article. Remarks containing abusive and obscene language, personal attacks of any kind or promotion will be removed and the user banned. Final decision will be at the discretion of the Taipei Times.