Art exhibition listings
An impressive show of 17th to 20th century French paintings is currently on view at The National Palace Museum. Masterpieces of French Landscape Paintings from The Pushkin State Museum of Fine Arts, Moscow (悠遊風景繪畫—俄羅斯普希金博物館特展) features a selection of 65 works from the Pushkin State Museum of Fine Arts, Moscow's largest museum for European Art. Designed to "improve public understanding of modern French landscape painting," the show includes a number of masterful pieces, including Claude Monet's Luncheon on the Grass and White Water Lilies and Pierre-Auguste Renoir's In the Garden. Under the Trees of the Moulin de la Galette. Mainstream European painting was steeped in religious themes until the 17th century, when artists began to take an interest in landscape as their subject of choice. By the 19th century, the genre moved from grand allegorical narratives of nature to more realistic, daily depictions of one's surroundings. The Impressionist movement emerged in Paris, taking on a new approach to painting that greatly contrasted with the conventional style of academic painting at that time. The show includes iconic pieces from each historical period, offering a glimpse of the classics that makeup what we know as the monumental achievements of French modernism.
■ National Palace Museum (國立故宮博物院), 221 Zhishan Rd Sec 2, Taipei City (台北市至善路二段221號), tel: (02) 2881-2021. Open daily from 8:30am to 6:30pm; closes at 9pm on Fridays and Saturdays
■ Until Feb. 17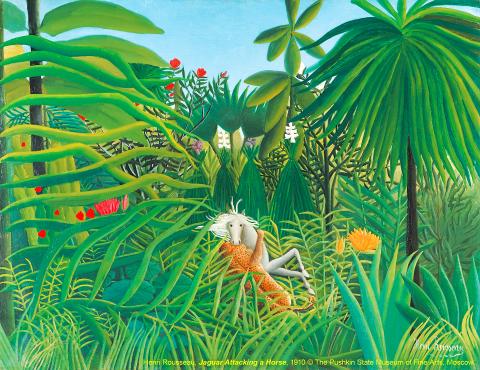 Henri Rousseau, Jaguar Attacking a Horse (1910).
Photo Courtesy of National Palace Museum
The 13th Digital Art Festival Taipei, Trans Robotics (超機體), kicked off yesterday with a performance by SEMISCON Vocal Band that featured a cappella singing and dancing with a robotic chair. The festival, which ends Dec. 1, includes a central exhibition and a comprehensive program of talks, workshops and film screenings. At the core of the festival's curatorial concept is a reflection of the relationship between robots, artificial intelligence and humans. The word robot first appeared in the 1920 play Rossum's Universal Robots, in which the word "robota" represented forced labor. According to curator Lo Ho-lin (羅禾淋), the show seeks to steer away from this classical idea of subservient robotics and imagines a future when machines gain sensory capabilities that are beyond human beings. The exhibition features 12 local and international artists, including multidisciplinary works that delve into sensory dimensions such as the five senses, the heart and performance art. Show highlights include Robotlab of ZKM Center for Art and Media Karlsruhe presents The Big Picture, a time-based project that entails a month-long drawing performance of a Martian landscape by a robot arm. For more information visit: digitalarts-festival.taipei.
■ Songshan Cultural and Creative Park (松山文創園區), 133 Guangu S Rd, Taipei City (台北市光復南路133號), tel: (02) 2578-5467. Opens 10am to 6pm.
■ Until Dec. 1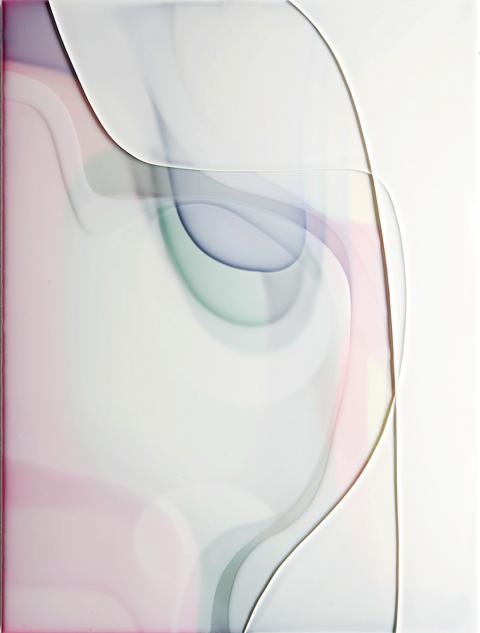 Peter Zimmermann, Marble (2018).
Photo Courtesy of Nunu Fine Art
This year's Guandu International Nature Art Festival includes seven local and international artists who have created site-specific works in the Guandu Nature Park. Live Happily Ever After (從此過著幸福快樂日子) may easily be mistaken for an innocent, fairy-tale account of life. The curatorial statement, however, calls for a critical response to our current relationship with nature, so as to facilitate a sustainable future where all the inhabitants can coexistence. Slavek Kwi is a Ireland-based sound artist, composer and researcher who creates what he terms "electro-acoustic sound paintings," which are sound or interdisciplinary works that explore social, spatial and temporal processes. Kwi's Report No 1_ Guandu Listening Sites: Residues, Remnants and Debris of Memories is a sound installation based on his month-long performance at various location in Guandu Nature Park. Liao Bo-sen's (廖柏森) practice involves a reflection of non-mainstream cultures as well as community-engaging public art projects. His outdoor bamboo installation, From Where to Where, is shaped like a staircase that is structured around a broken bridge.
■ Guandu Nature Park (關渡自然公園), 55, Guandu Rd, Taipei City (台北市關渡路66號), tel: (02) 2858 7417. Open Tuesdays to Sundays from 9am to 5pm
■ Until Dec. 31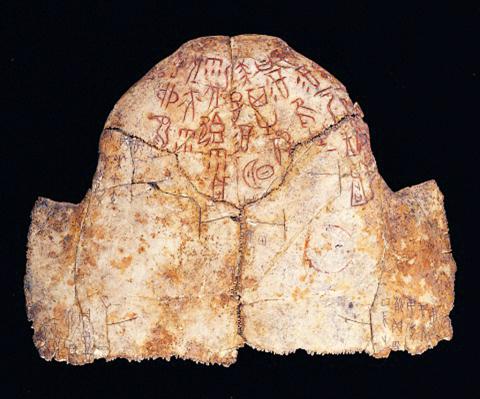 Inscribed Turtle Plastron Bing Bian 207, an oracle bone from the Shang Dynasty.
Photo Courtesy of Museum of the institute of History and Philology, Academia Sinica
Nunu Fine Art presents Peter Zimmermann: New Work (彼得 ·辛莫曼:新作), a solo exhibition by German contemporary artist Peter Zimmermann. Zimmermann began to create epoxy resin works on canvas in the 1980s based on images of atlases, art books, travel guides and dictionaries. He distorts photos, film stills and diagrams and transfers them onto canvas by multiple layers of resin. In this process, the artist plays with the spatial relationship between text and image as well as the concept of the surface. In this exhibition, Zimmermann presents a new collection of paintings that share a neutral white-gray palette. With subtle variety, "the gentle works seem to move in flux; yet in unnoticed corners, colors exist in an uninterrupted way, not resting nor mixing with any other tones, echoing the concept of boundlessness," writes the gallery. The paintings may appear random and spontaneous, but are actually carefully planned. Each work undergoes a process of abstraction that takes an original image and extracts an "outline, a memory, a ghost of itself. What remains is the orthogonal web that provides the structure to the image, blurry yet clear, giving its status infinite possibilities," writes the gallery.
■ Nunu Fine Art (路由藝術), 5, Ln 67, Jinshan S Rd Sec 1, Taipei City (台北市金山南路一段67巷5號), tel: (02) 3322-6207. Open Wednesdays to Sundays from noon to 7pm
■ Until Dec. 9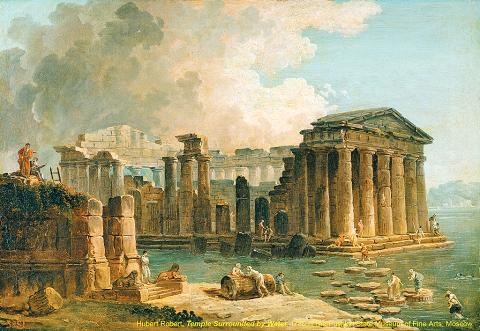 Hubert Robert, Temple Surrounded by Water (circa 1780).
Photo Courtesy of National Palace Museum
Forecast Through Divination (雷電以風) is an academic study of oracle bone inscriptions dating from the Shang Dynasty (1600-1046 BC). According to historical records and archaeological findings, the Shang people believed in gods, ancestors and deities who had power over the universe and subsequently human lives. To predict the workings of divine powers, they developed weather forecast methods using oracle bones. The show features a selection of 9 turtle shell oracle bone inscriptions from Henan, China. "These oracle bone inscriptions recorded not only weather forecasts but also various aspects of Shang society, [including] worship rituals, wars, farming and hunting," reads the exhibition preface. "Oracle bone inscriptions also give us a glimpse of how Shang people inquired about their fortune or fate, solved dilemmas, and predicted the future through the ritual of divination." The exhibition offers a rare glimpse into Chinese civilization 3500 years ago and our ancestral communications with the forces of nature.
■ Museum of the Institute of History and Philology, Academia Sinica (歷史文物陳列館), 130, Academia Rd Sec 2, Taipei City (台北市中央研究院路二段130號), tel: (02) 2652-3180. Open Wednesdays, Saturdays and Sundays from 9:30am to 4:30pm
■ Until Dec. 30
Comments will be moderated. Keep comments relevant to the article. Remarks containing abusive and obscene language, personal attacks of any kind or promotion will be removed and the user banned. Final decision will be at the discretion of the Taipei Times.