Highlight: A multicultural rendition of female despair and murder
Greek director Theodoros Terzopoulos has proven popular with Taiwanese audiences and National Theater programmers since his first visit five years ago with his Attis Theater Group to perform Prometheus Bound as part of the Taiwan International Festival of Arts.
He was invited back to direct The Bacchae for the 2016 International Theater Festival, for which he trained a group of Taiwanese actors in his unique physical and vocal training method.
That show was so well received that the National Theater immediately asked him back for this year's theater festival.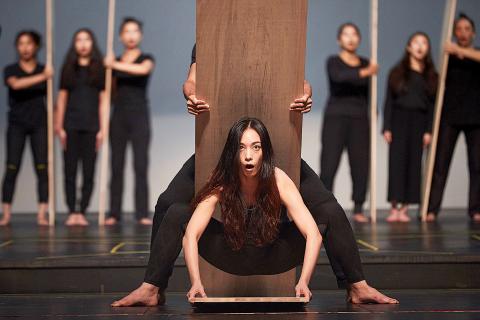 Theodoros Terzopoulos's production of Yerma opens tonight at the National Theater as part of the International Theater Festival.
Yerma, which opens at the National Theater tonight, is Terzopoulos' retelling of Spanish author and playwright Federico Garcia Lorca's 1934 play about motherhood and the social oppression of women.
The play tells the story of a young married woman in a Spanish village who cannot conceive, making her the object of village gossip and coldness from her husband, and how her barrenness comes to define her life and the choices she makes.
Driven to despair and desperate to change her fate, she ends up murdering her husband.
Terzopoulos said he first directed a production of Yerma in 1981, with 60 actors, and he found it was very similar to the Greek tragedies, a theatrical form that he built his career on.
Coming back to it after 37 years, he wanted to make the story bigger than just a tale about a couple and a village, to make it more universal, he said.
Once again, he selected a cast of Taiwanese actors —23 this time, but also recruited flamenco dancer Lin Keng (林耕), the Ten Drum Art Percussion Group (十鼓擊樂團) and flamenco musician Sergio Munoz.
The two leads, Tsai Yi-ling (蔡佾玲) and Lin Tzu-heng (林子恆) traveled to Greece in June to train with Attis, and then helped teach the rest of the cast Terzopoulos's techniques. Assistant director Savvas Stroumpos arrived in Taipei in August to help lead the rehearsals.
■ Tonight and tomorrow at 7:30pm, Sunday at 2:30pm at the National Theater (國家戲劇院), 21-1 Zhongshan S Rd, Taipei City (台北市中山南路21-1號)
■ Tickets are NT$800; available at NTCH box offices, Eslite ticket desks, online at www.artsticket.com.tw and at convenience store ticketing kiosks. The show runs about 105 minutes without intermission
Comments will be moderated. Keep comments relevant to the article. Remarks containing abusive and obscene language, personal attacks of any kind or promotion will be removed and the user banned. Final decision will be at the discretion of the Taipei Times.