The original rock star
A French musical highlights the life of Wolfgang Amadeus Mozart from age 17 to his death at 35, mixing original rock songs with some of the Austrian composers own works
Contemporary writers like to label Wolfgang Amadeus Mozart, the 18th century Austrian musical genius, as the original rock star, given the adulation that he received as a child when his father took him and his sister Nannerl on the first of several concert tours to the great cities and towns of Europe, an adulation that ebbed and flowed for the rest of his life.
Peter Shaffer's 1979 play Amadeus, which was later turned into the 1985 award-winning film by Milos Forman, brought to life, in a highly fictionalized story, Mozart's often boorish behavior and tempestuous relationships with his patrons, his contemporizes and his family.
There was also an Austrian musical, written by Michael Kunze, with music by Sylvester Levay, that premiered in Vienna in 1999.
Mikelangelo Loconte, center, stars in the French musical Mozart L'opera Rock, which opens in Taipei tonight for a 10-show run at the Taipei Heping Basketball Gymnasium.
Photo courtesy of UDNFunLife
Just over a decade ago, French writer and musical producer Dove Attia, who had produced or coproduced musicals such as Les Dix Commandements (The Ten Commandments) and Le Roi Soleil, a show about Louis XIV, teamed up with Francois Chouquet to write the book for a rock musical based on Mozart's life from age 17 until his death at age 35, which became Mozart L'opera Rock.
Attia and Chouquet, who became artistic director of the show, recruited Jean-Pierre Pilot, Olivier Schultheis, William Rousseau, Nicolas Luciani, Rodrigue Janois and Francois Castello to help him compose pop-rock songs to go along with some of Mozart's own compositions, while Vincent Baguian and Patrice Guirao wrote the lyrics.
Chouquet said the aim of the musical was not to be a biography, but to "paint a portrait of a vivid and fabulous character" by highlighting the turning points in his life.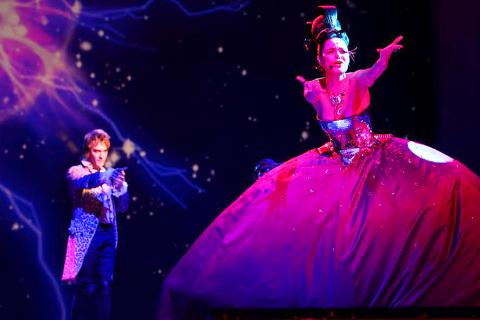 Mikelangelo Loconte, left, and Fanny Fourquez star in the French musical Mozart L'opera Rock, which opens at the Taipei Heping Basketball Gymnasium tonight for 10 performances.
Photo courtesy of UDNFunLife
To build interest in the show, a CD single of the two songs, Tatoue-Moi and Quand le rideau tombe, by Italian singer Mikelangelo Loconte, was released in 2008, which went on to top the charts in France for several weeks in 2009 — as did the first cast album of the show when it was released after the show opened.
Mozart L'opera Rock finally premiered on Sept. 22, 2009, at the Palais des Sports in Paris, with Loconte in the lead role, a lavish production that featured more than 400 costumes, mostly in period-style dress, with violinists, a rock band and Las Vegas style musical numbers.
While earlier tours of the show traveled to Japan and South Korea, it was not until this year that a new touring production, with Loconte again in the lead role, began playing in other venues in Asia, with stops in Singapore, Beijing, Shanghai and now Taipei.
Mozart L'opera Rock opens tonight at Taipei Heping Basketball Gymnasium for a 10-performance run.
Other cast members include Solal and Benedicte Charpiat as the composer's parents, Leopold and Anna Maria Mozart, Noemie Garcia as Nanerl, Laurent Ban as the composer Antonio Salieri, Fanny Fourquez as the German soprano Aloysia Weber, Aurore Delplace as Constance Weber, Aloysia's sister as Wolfgang's wife.
The reviews of the show over the years have been mixed, despite the popularity of the songs, with criticism of the lyrics and the pace of the performance, as well as the unevenness of the vocal talents.
However, considering the success of other French rock musicals with pounding scores and saccharine ballads such as Notre-Dame de Paris and Romeo & Juliette with Taipei audiences, it is likely that Mozart L'opera Rock will prove equally popular.
This story has been updated since it was first published to correct the show times for the weekend performances from 7pm to 6:30pm.
Publication Notes
Performance Notes
WHAT: Mozart L'opera Rock
WHEN: Tonight and tomorrow at 7pm, Saturday and Sunday at 6:30pm, Tuesday to Friday next week at 7pm, Saturday and Sunday next week at 6:30pm
WHERE: Taipei Heping Basketball Gymnasium (台北和平籃球館), 28, Lane 76, Dunnan Street, Taipei City (台北市敦南街76巷28號)
ADMISSION: NT$600 to NT$5,800, available online at tickets.udn.com and FamilyMart and 7-11 ticketing kiosks
Comments will be moderated. Keep comments relevant to the article. Remarks containing abusive and obscene language, personal attacks of any kind or promotion will be removed and the user banned. Final decision will be at the discretion of the Taipei Times.