A focus on folk — and songwriters
The Migration Music Festival features just two concerts this year, with Hakka singer Huang Wei-jie and Indonesia's Silampukau on Saturday afternoon and the Muddy Basin Ramblers in the evening
This year's edition of the Migration Music Festival is a "mini festival," but its two concerts at Taipei's Zhongshan Hall on Saturday are still likely to pack quite a punch.
Since the independent record label Trees Music and Art (大大樹音樂圖像) launched the festival in 2001, it has become an annual highlight for folk and world music fans, although it has suffered the usual growing pains of sponsorship and locations issues, and now alternates years with a big festival and a mini version.
Trees Music and Art artistic director Chung She-fong (鍾適芳) has been the prime mover and shaker behind the festival since its beginning. She said they started doing a smaller version four years ago after the organizers began to also work on documentary films and collaborate on a documentary film festival.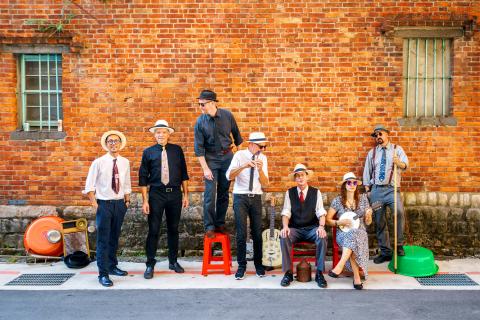 The Muddy Basin Ramblers will perform Saturday night at Zhongshan Hall as part of the Migration Music Festival.
Photo courtesy of TC Lin
"We thought of doing the festival just every two years, but the feedback was a strong 'no' and we also got offers from other festivals to collaborate, so we decided to alternate years with a mini-festival to save some energy," Chung said yesterday.
The mini-festivals also seek to capture the intimate feel of the early years, of small music gatherings.
She said starts planning for each year's festival with an idea or topic, be it a dialogue or something linked to what is happening in the world.
Kharis Junandharu, left and Eki Tresnowening, right, the Indonesian folk duo Silampukau, will perform on Saturday afternoon at the Migration Music Festival at Taipei's Zhongshan Hall.
Photo courtesy of Silampukau
"This year it is folk songs because I think the world is very chaotic. Folk songs, especially those from the 1960s were topical songs, a response to problems and issues in the world. I miss this link very much … I miss the stories," she said.
So she went looking for storytellers who could develop the theme of "who's that singing folk songs?"
The artists chosen for the shows and the workshops come from several countries, but they write and perform songs about the land, migration, environmental issues and society today: Taiwanese singer-songwriter Huang Wei-jie (黃瑋傑), the Indonesian duo of Eki Tresnowening and Kharis Junandharu, who perform as Silampukau, and Taipei's own Muddy Basin Ramblers, a seven-strong group from the US and the UK.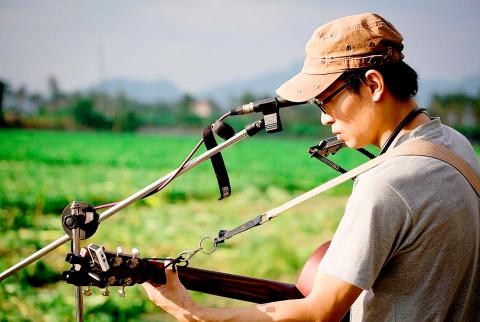 Huang Wei-jie will perform on Saturday afternoon at the Migration Music Festival at Taipei's Zhongshan Hall.
Credit: Photo courtesy of Migration Music Festival
Chung said that while the Migration Festival organizers have collaborated with many Indonesian artists and festivals, she first heard of Silampukau after one of her colleagues went on a field trip to Indonesia and brought back one of their CDs.
She was impressed by the album cover, and then, after another colleague translated the song lyrics, the power of their songs.
"Their melodies are so beautiful, but the songs are not about paradise, but about poverty, about the migration from rural areas to the cities," she said. "I was shocked by how they convey the darkness with such beautiful language. The simplicity of their music gives it the power."
Eki and Kharis hail from Indonesia's second-largest city, Surabaya, which has been the main inspiration for their work, and have a big following in that country.
Chung said she met Huang in 2009, when he had just graduated from university and was trying to write songs.
He was inspired by Lin Sheng-xiang (林生祥), the cofounder of the protest-folk-rock band Labor Exchange (交工樂隊), who was also from what is now Kaohsiung's Meinong District (美濃), and whose music has been credited with helping save Meinong from being destroyed by a government dam project in the 1990s.
Wanting to tell stories himself, Huang learned guitar and began, composing lyrics in Hakka, as Meinung is a predominately Hakka area.
"Like Lin, Huang uses Hakka to sing about social and political issues, to talk about the rapid changes in Taiwan from an agricultural society to an urban one," Chung said.
"There is a new scene in Taiwanese folk songs, I feel the younger generation is trying to use this style, they feel it is important," Chung said.
Huang has won nominations in the Best Hakka Album and Best Hakka Singer categories at the Golden Melody Awards for his albums Dim Night (夜色) and Daybreak (天光日).
Huang and Silampukau will perform on Saturday afternoon, while the evening concert will feature the Muddy Basin Ramblers, whose first big public gig was the 2003 Migration Music Festival in Daan Park.
The band, who play original blues, jazz and folk-roots music inspired by their adopted home, fit perfectly with Chuang's storyteller theme this year. While the musical influences of their songs can date back decades, the lyrics reflect issues that resonate today, from race and immigration to religion and modern life.
The members play several instruments, with band leader David Chen (陳思銘), on guitar and banjo; Cristina Cox on the violin, mandolin and piccolo; Tim Hogan on the washboard and drums; TC Lin on the washtub bass, trumpet and euphonium; Sandy Murray on saxophones and ukulele; Conor Prunty on the harmonica and washtub bass; and Will Thelin on the trombone and jug.
The group had timed the release of their fourth album, Hold That Tiger, to coincide with the concert, as a way of celebrating their 15th anniversary and "coming full circle" with the festival, but Chen said the CD ended up not being ready in time.
However, they will be taking pre-orders at the show.
"If you buy a CD, we'll send it to your home address directly, and also send you home from the concert with a digital download card, so you can hear the album right away. The CDs will be sent out at the beginning of October," Chen said.
The Migration Music Festival always includes free artist workshops, the first two of which were held last Saturday. There will be one tomorrow night starting at 7:30pm in the square in front of Zhongshan Hall by Anitha Silvia, a cultural worker and researcher from Surabaya, and one on Sunday from 3:30pm with Eki and Kharis, who will share how to write their lyrics.
This story has been amended since it was first published to correct the spelling of Chung She-fong's family name.
Publication Notes
Event Notes
WHAT: Migration Music Festival
WHEN: Saturday at 2:30 pm and 7pm
WHERE: Zhongshan Hall (台北市中山堂), 98 Yanping S Rd, Taipei City (台北市延平南路98號)
ADMISSION: Single ticket NT$600, one-day pass NT$1,000; available online at www.artsticket.com, at ArtsTicket outlets, convenience store ticket kiosks or at the door
ON THE NET: www.mmf2018.com
Comments will be moderated. Keep comments relevant to the article. Remarks containing abusive and obscene language, personal attacks of any kind or promotion will be removed and the user banned. Final decision will be at the discretion of the Taipei Times.