Original 'Dorian Gray' reveals forbidden love
Published for the first time, the handwritten manuscript of the 1891 novel shows a writer struggling with Victorian morality
A new edition of The Picture of Dorian Gray, featuring handwritten notation from Oscar Wilde, reveals the extent to which the writer grappled with how much homoerotic content he should include in his novel.
It is the first time the original manuscript in Wilde's own writing has been published and demonstrates how he self-censored some of the most romantic paragraphs. He tones down the more overt references to the homoerotic nature of Basil Hallward's relationship with Dorian, crossing out his confession that "the world becomes young to me when I hold his hand."
Yet the manuscript also includes passages — later removed from the novel we know today — that show how Wilde wanted to shock his Victorian readers by openly writing about homosexual feelings. For example, this declaration of love by Basil for Dorian on page 147: "It is quite true that I have worshiped you with far more romance than a man should ever give to a friend. Somehow I have never loved a woman? I quite admit that I adored you madly, extravagantly, absurdly."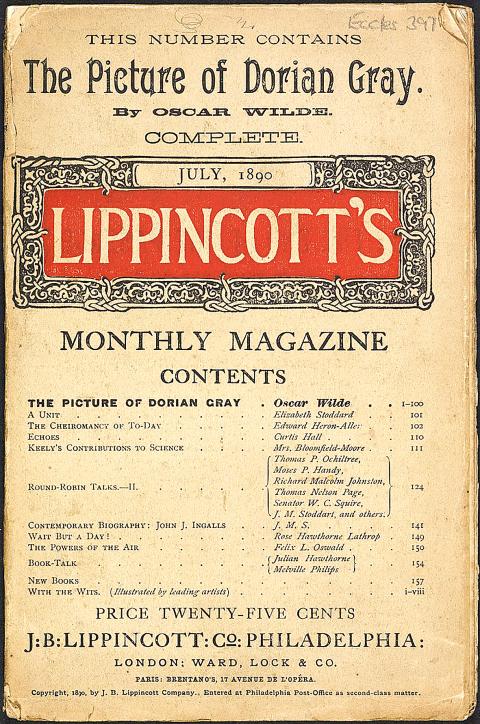 A picture of the cover of the July 1890 edition of Lippincott's Monthly Magazine, where The Picture of Dorian Gray was first published.
Photo courtesy of wikimedia commons
"The manuscript shows the workings of Wilde's mind as he was writing it," said Merlin Holland, the author's 72-year-old grandson, who has written a foreword to the new edition. "He'd reached a point when he was in danger of becoming respectable and conventional — in 1889 he was married with [two] children, living in slightly bohemian Chelsea. What he's doing with Dorian Gray is treading a very fine line."
'A POSIONOUS BOOK'
In Wilde's essay The Decay of Lying — published just a few months before he started writing Dorian Gray — he had made a plea for more imagination in literature.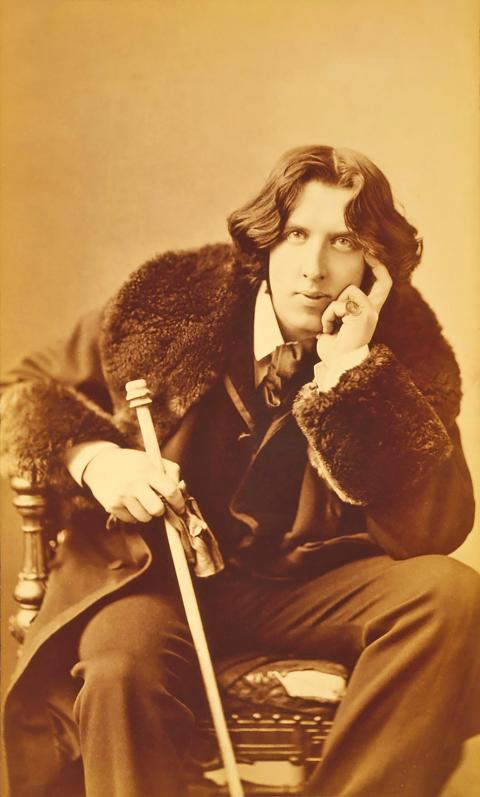 A portraif of Oscar Wilde, author of The Picture of Dorian Gray.
Photo courtesy of pixabay
"I think his whole purpose in writing this book was to break out of the Victorian mould of what Lady Bracknell called the 'three-volume novel of more than usually revolting sentimentality,'" said Holland. "He does not want, at this juncture of his life, to toe the line and respect social conventions.
His purpose is to shock and tweak the noses of the establishment — but he's intelligent enough to know that if he goes too far, there is going to be trouble."
The manuscript was originally published in 1890 by a monthly magazine, Lippincott's, and was described by critics at the time as "a poisonous book, the atmosphere of which is heavy with the mephitic odors of moral and spiritual putrefaction" and written "for outlawed noblemen and perverted telegraph boys" — a reference to a male brothel where young staff from the General Post Office had been offering out-of-hours "services" to members of the aristocracy.
Following these reviews, the bookseller WH Smith ("ever the self-appointed guardian of British morals," Holland writes in his foreword) refused to stock Lippincott's that month. Wilde, under pressure to get the novel published in book format, then toned down the passages the critics had objected to, removing Basil's declaration of love for Dorian entirely. The novel was published in 1891, and it is Wilde's self-censored version that is the basis for every popular edition of Dorian Gray today.
LIMITED COPIES
Only 1,000 hand-numbered copies of the manuscript have been printed by publisher SP Books, each costing 200 pounds (about US$260). "It's a beautiful object — the next best thing to holding the manuscript in your hand," said Holland, whose father Vyvyan was Wilde's son.
The family lost all Wilde's published works when his manuscripts were seized by bailiffs in 1895 — the year Wilde was imprisoned for gross indecency. In court lawyers for the Marquess of Queensberry cross-examined Wilde on the passages in Lippincott's that he had removed from the novel, citing his story as an "immoral and obscene work."
"You could say that paragraph on page 147 did terrific harm to his family, which he regretted enormously," said Holland. "It blighted my father's early life."
Vyvyan was eight when Wilde was imprisoned. The writer was never allowed to see either of his sons again and their mother changed their surname. "But people knew," Holland added.
The manuscript is now owned by The Morgan Library and Museum in New York. Reading a facsimile copy is almost, Holland says, like looking over Wilde's shoulder as he writes. "Seeing how he constructs his prose is a wonderful thing. It gives you a direct connection to Wilde as a writer."
Comments will be moderated. Keep comments relevant to the article. Remarks containing abusive and obscene language, personal attacks of any kind or promotion will be removed and the user banned. Final decision will be at the discretion of the Taipei Times.