UK to ban discredited 'gay cure' therapies
Theresa May promises 'real and lasting change' following huge nationwide survey
The government will appoint a national LGBT health adviser and take measures to end so-called conversion therapy as part of a plan to deliver what Theresa May has promised will be "real and lasting change."
The proposals form part of an action plan published by the Equalities Office on Tuesday. It follows a UK-wide survey of LGBT people that had more than 108,000 responses, billed as the largest study of its kind.
GOVERNMENT PLEDGES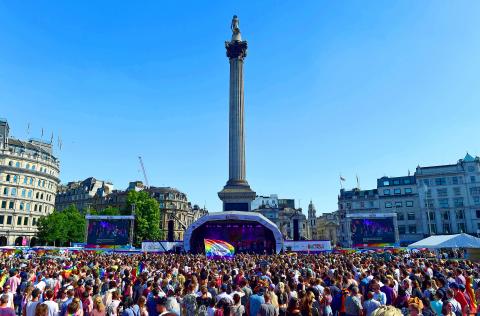 Revellers in Trafalgar Square in front of the National Portrait gallery take part in London Pride in July last year.
Photo: EPA
The 30-page plan contains a series of pledges, including to improve the police response to LGBT hate incidents, more support for LGBT students and teachers and improvements to gender identity services for transgender adults.
The proposals, which will receive an initial £4.5 million (US$5.95 million) in funding, were welcomed by the campaign groups Stonewall and the LGBT Foundation.
Ruth Hunt, Stonewall's chief executive, said she was "really pleased that the government is listening to the thousands upon thousands of LGBT people who responded to this survey."
The online poll, which ran from July to October last year, sought views from LGBT and intersex people about their personal experiences and interactions with public services.
Of those with a minority sexual orientation, 68 percent said they had avoided holding hands in public with a same-sex partner, while 70 percent said they had at times not been open about their sexual orientation.
In comments released with the plan, the prime minister said the survey had highlighted where more efforts were needed.
"I was struck by just how many respondents said they cannot be open about their sexual orientation or avoid holding hands with their partner in public for fear of a negative reaction," May said.
"No one should ever have to hide who they are or who they love. [The plan will] set out concrete steps to deliver real and lasting change across society."
CONVERSION THERAPY
The survey found 5 percent of respondents had been offered and refused types of conversion therapy — discredited techniques often based around religious views that seek to change people's sexual orientation.
Another 2 percent had undergone such processes.
The plan promises to end these practices, with the Equalities Office to look into various legislative or non-legislative ways to do so.
The techniques, sometimes called "cure" therapies, are based on the idea that being lesbian, gay, bisexual or transgender is a mental complaint that can be reversed. They are often modeled on mainstream methods of psychotherapy, and sometimes prayer, and are known to be harmful.
All the major UK regulatory bodies for counseling and psychotherapy have banned members from using such methods, as has the NHS. However, a 2015 study by Stonewall found 10 percent of health and care staff had heard colleagues express the belief that sexuality can be "cured."
One man who underwent such a process and then took part in sessions to "cure" him said the experience left him suicidal. He told ITV News he underwent a combination of confession and prayers, supposedly to rid him of a gay "demon."
He then took part in sessions for others, but became depressed and prayed to die. "I wanted God to remove me from the world to lessen my suffering and to lessen the suffering of those around me," he said.
"At the time I believed this was a demon being cast out of me. And I remember the next day waking up and thinking, I don't really know what that means now. Does it mean I'm a straight man now? Is that demon gone? Did that demon really exist?"
The survey also found 26 percent of respondents had experienced verbal harassment or other insults in the past year, with many saying they did not report even more serious incidents to the police. New measures to improve the police's response to such incidents will be proposed.
Penny Mordaunt, the minister for women and equalities, said: "Our action plan is a step towards everyone, regardless of their sexual orientation, gender identity or sex characteristics, being able to live safe, happy and healthy lives where they can be themselves without fear of discrimination."
May is to host the annual Downing Street LGBT Pride reception on Tuesday evening. Among the guests for the first time will be Peter Tatchell. The veteran campaigner said May had invited him after he was "banned" previously.
DOING MORE
In a separate statement, Tatchell called the action plan a "welcome start," but said it fell short on issues such as the deportation of LGBT refugees to countries where homophobia was widespread. The £4.5 million budget was "derisory and insulting," he added.
Paul Martin, the chief executive of the LGBT Foundation, said his organization had worked with the Equalities Office on the survey and he was "delighted that the government has listened."
The study and announcement are separate to government plans to amend the 2004 Gender Recognition Act, making the process by which transgender people can change their legal gender easier. A consultation on this is to begin soon.
Mordaunt said she had been struck by the survey showing how poorly served transgender people in Britain were by existing systems and legislation, saying the government would examine how to best speed up and demedicalise the process of changing gender.
She said the launch of the consultation was not a delaying tactic. "We want to make it less bureaucratic, more supportive and less intrusive," she said.
Asked if there should be less emphasis on medical intervention, Mordaunt told BBC Radio 4's Today program: "I think that is absolutely right, we already require people to live in their new gender for two years, that is causing all kinds of difficulty and anxiety for people who may have two sets of identity documents... which causes huge problems accessing public services," she said.
Mordaunt said she would also listen to the concerns of some women who have expressed fears that simplifying the process of changing gender could lead to the abuse of female-only spaces, such as domestic violence refuges.
"What we are not going to do is unpick the Equalities Act ,which protects women-only spaces like refuges for example, we are not going to unpick those safeguards," Mordaunt said.
"Those women raising those concerns are legitimate concerns that we need to address at the end of the consultation but equally legitimate are the concerns of individuals changing their gender and at the moment are having to make all kinds of strategies to do simple things like use the bathroom or go to the gym. We have to look at this and have a sensible conversation."
Comments will be moderated. Keep comments relevant to the article. Remarks containing abusive and obscene language, personal attacks of any kind or promotion will be removed and the user banned. Final decision will be at the discretion of the Taipei Times.