Art exhibition listings
Currently on view at TheCube Project Space is a purely auditory documentary program that offers a selection of listening experiences about the world around us. As part of the 2018 Taiwan International Documentary Festival, KINO EAR: Audio Document/Audio Documentary features works by "people who observe the world with audition rather than vision," writes the gallery. Their creations are built on sound recordings outside of the studio and trigger alternative cinematic experiences based on hearing. There are two categories of sound works presented in the show: "audio documents" are carefully selected recordings that stimulate "a new perceptual experience for the audience," writes the gallery; and "audio documentaries" are sound recordings that are edited, remixed and reassembled into a narrative story. For this program, the film festival has commissioned three new audio works by three sound artists based in Taiwan. Curator and sound artist Yannick Dauby's Forests is a audio-documentary that speaks of forest habitats and its evolving relationship with humans. Hsu Yen-ting's (許雁婷) Waterland features interviews with people living by the sea whom she has encountered on various occasions. Nigel Brown's Jiating Gongchang (literally: "home factory"), is based on recordings of small scale home factories in Central West District of Tainan. "There is an intimacy of these sounds as they echo down narrow alleyways and intermingle with the domestic soundscape," writes the artist.
■ TheCube Project Space (立方計畫空間), 2F, 13, Alley 1, Ln 136, Roosevelt Rd Sec 4, Taipei City (台北市羅斯福路四段136巷1弄13號2樓), tel: (02) 2368-9418. Open Wednesday to Sunday from 2pm to 8pm
■ Until July 8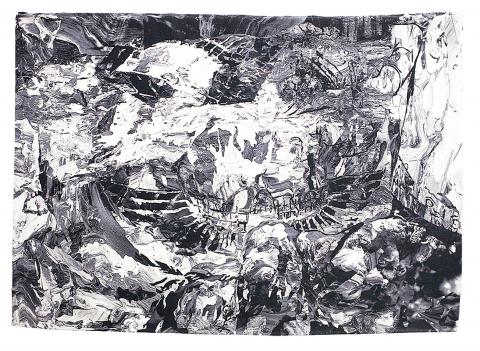 Patricia Perez Eustaquio, Sketches of Conversation Among Ruins (2018)
Photo Courtesy of Mind Set Art Center
Curated by Chen Wei-ching (陳韋晴), Quiet Riot is a six-person show that highlights art practices engaged in nuanced and subtle acts of social intervention. Based in Brazil, Korea, Taiwan and Japan, the participating artists address social, political and economic issues present in everyday life. Their works appear "seemingly conforming, but in fact [represent] tactful and adaptable preparatory states," writes the gallery. Compared to more forceful forms of rebellion, their works propose a form of "flexible resistance" that "elicits prolonged thinking." Brazilian duo Cinthia Marcelle and Tiago Mata Machado's The Century, 2011 is a video that critically responds to the rapid development of Brazil. The video shows riots and street debris, illustrating the country in a state of excess, chaos and aggression. Japanese artist Nobutaka Aozaki's Value_Added #240950 is an ongoing performance that involves the artist repurchasing a can of corn in 110 supermarkets. Through this process, Aozaki observes the global system of product distribution and circulation, and the oscillating price of the same item in different market locations. Taiwanese artist Chiu Chen-hung's (邱承宏) light trail is an intaglio engraving on a cement wall that creates a curious experience of manipulated light and shadows. The work interplays with the natural light of the exhibition space; the changing sunlight adds a cyclical temporality to the piece.
■ TKG+ Projects, 2F, 15, Ln 548, Ruiguang Rd, Taipei City (台北市瑞光路548巷15號2F), (02) 2659-0798. Open Tuesdays to Sundays from 11am to 7pm
■ July 15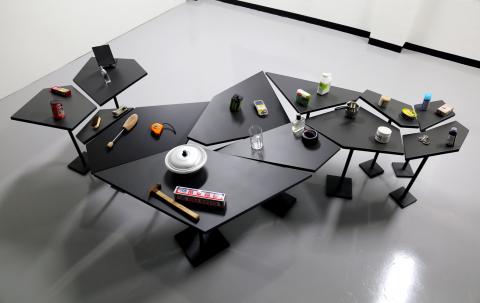 Euyoung Hong, (Un)balanced (2018).
Photo Courtesy of TKG+ Projects
Yeh Ting-hao (葉廷皓) is an established Taiwanese multi-media artist who primarily focuses on the relationship between sound and image. He identifies with glitch aesthetics and creates works that seek to explore certain parodies and dialectical relationships specific to the age of new media. His new video installation, Everyone Has a Broken Censor in His Mind (每個人心中都有段被刪), is currently on view at the National Taiwan Museum of Fine Arts. The project addresses the evolving state of power, privacy and censorship that continually shapes the culture of the Internet. "There isn't a centralized control unit for the rapidly developing cyber space… [H]owever, various platform providers have slowly taken over the control of the Internet," writes the artist. The project features a single-channel, four-minute video that utilizes various forms of post-Internet media techniques to illustrate a world monopolized by a single authoritative perspective. Yeh creates intentional textural glitches in his computer animations to highlight what he observes as an overall flattening and pacifying cultural landscape of cyber space. The looped video creates a continuous flow of repeated fragments of time.
■ National Taiwan Museum of Fine Arts (國立臺灣美術館), 2, Wuquan W Rd Sec 1, Taichung City (台中市五權西路一段2號), tel: (04) 2373-3552. Open Tuesdays to Fridays from 9am to 5pm, Saturdays and Sundays from 9am to 6pm.
■ Until July 22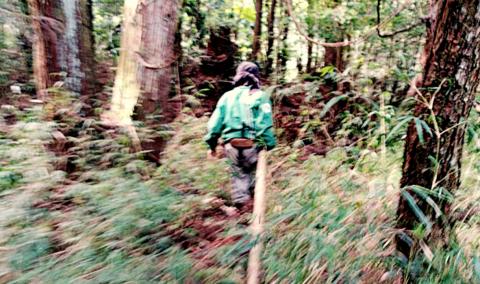 Yannick Dauby, Forests (2018).
Photo Courtesy of Taiwan International Documentary Festival
Mind Set Art Center is showing Conversation Among Ruins, a solo exhibition by Manila-based multimedia artist Patricia Perez Eustaquio. The artist works across paintings, drawing, textile and sculpture to investigate ideas of craft and design and the limitations of artistic expression. She often experiments with a wide variety of materials to discover their "expressive possibilities and role in cultural production," writes the gallery. The main feature of the show is a tapestry based on the 19th century painting Cleopatra (or, Death of Cleopatra) by Filipino artist Juan Luna during his studies in Spain. Estaquires first re-interpreted Luna's painterly renditions with blocks of color and collaged readymade imagery, then translated her reinterpreted picture into a tapestry via digital loom. "There are many things lost in translation…[T]he muddling of information provides a perspective that is unique, if not interesting," says the artist. The show also includes a series of works on paper that share a common narrative of decay and ruin. Sketches and Conversation Among Ruins II is a cluster of abstract material rendered with refined observations of detailed texture. Ornament and Crime I is a comparatively more complex cluster with a center piece that appears to resemble an animal's mouth.
■ Mind Set Art Center (安卓藝術), 16-1, Xinsheng S Rd Sec 3, Taipei City (台北市新生南路三段16-1號), tel: (02) 2365-6008. Open Tuesdays to Sundays from 2pm to 6pm
■ July 14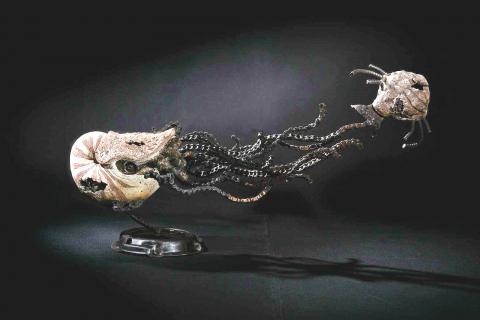 Lin Shi-chi, No. 12 (2018).
Photo Courtesy of National Taiwan Craft Research and Development Institute Taipei Branch
Lin Shi-chi (林時植) is a ceramicist with a background in engineering. He incorporates his knowledge in both fields to create hybrid sculptures made with used computer and industrial materials and ceramic clay. Lin draws inspiration from philosophies about life and their relationship with cosmic truths. His solo exhibition, Nirvana Era-The Word of Exotic, at the National Taiwan Craft Research and Development Institute features 17 new sculptural works that reflect upon the possible future of our currently endangered natural habitat caused by the industrial developments of humans. The works on view resemble alien species that have evolved after the destruction of the earth. His seemingly improvisational process is based on a deep process of introspection, writes the museum in a press release. No.12 is a re-imagined species that seems to have evolved through a combination of fish, coral, and greasy machine chains. No. 14 consists of a metal-box with abstract textures, a street sign, and a fish attached to its surface. Through these works, the artist hopes to encourage a greater awareness of environmental concerns and encourage discussion regarding the human impact on natural habitat.
■ National Taiwan Craft Research and Development Institute Taipei Branch (臺北當代工藝設計分館), 41, Nanhai Road, Taipei City (台北市南海路41號), tel: (02) 23887066-9969. Opens Tuesdays to Sundays from 9:30am to 5:30pm
■ Until June 24
Comments will be moderated. Keep comments relevant to the article. Remarks containing abusive and obscene language, personal attacks of any kind or promotion will be removed and the user banned. Final decision will be at the discretion of the Taipei Times.