Forging connections through songs and dance
The National Taichung Theater commissioned a new work from its first artist in residence, Bulareyaung Pagarlava. The show premieres on Saturday
Artistic residencies offer creative professionals a chance to temporarily work away from their homes, as well as a space and time to create, to forge connections and to interact with their audiences. For many artists, they are dream opportunities, for others, a way to survive.
For choreographer Bulareyaung (Bula) Pagarlava, being asked to be the National Taichung Theater's (NTT) first artist-in-residence, was a tremendous opportunity, but also a challenge for himself and the theater.
Bula, who has choreographed for Cloud Gate 2 (雲門 2), Cloud Gate Dance Theatre (雲門) and the Martha Graham Dance Company, among others, established his own troupe, the Bulareyaung Dance Company (BDC, 布拉瑞揚舞團), in August 2014, and opened his studio at the Taitung Sugar Factory in Taitung the following January.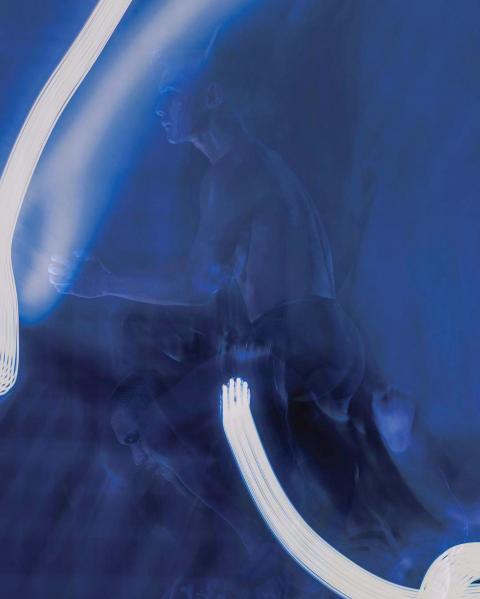 The Bulareyaung Dance Company will premiere founder Bulareyaung Pagarlava's latest work, Luna at the National Taichung Theater on Saturday, with a second round of shows set for the Cloud Gate Theater in New Taipei City's Tamsui District next month.
Photo Courtesy of Bulareyaung Dance Company
"The residency at NTT has been one-and-a-half years. I want to thank the artistic director, Wang Wei-yi (王文儀, Victoria Wang) and the whole NTT… They gave me a really big residency. It was supposed to be just for one person, but I said 'I have a company,'" Bula said in a telephone interview on Tuesday during a lunch break from rehearsals for his latest work, LUNA (路吶).
The piece, which was commissioned by the NTT and premieres at its Playhouse on Saturday, moves to the Cloud Gate Theater in New Taipei City's Tamsui District (淡水) for four shows starting on June 8.
Bula said the residency was a big help and that Wang provided good direction and good advice.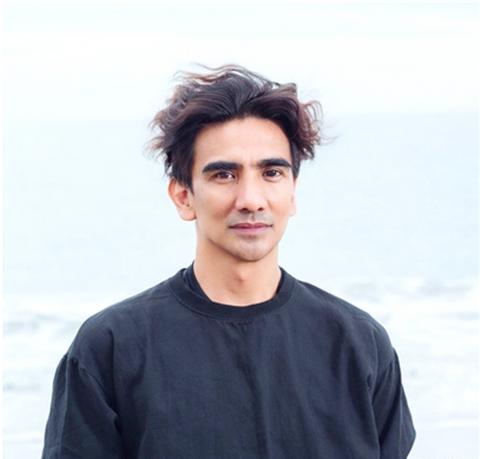 Choreographer Bulareyaung Pagarlava is pictured in an undated photograph taken on a beach in Taitung.
Photo Courtesy of Li Jia-ye
"Without the residency I probably wouldn't have had the chance to go to the center of Taiwan, to Nantou," Bula said, referring to the BDC's performances in Aboriginal communities, a crucial part of his efforts to reach out to young Aborigines and inspire them to work toward their dreams.
His first trip to Luluna Village (羅娜) in Nantou County's Sinyi Township (信義) in November last year, proved crucial to LUNA. The visit was to see about the BDC doing a performance there.
"The first evening, we heard beautiful voices," Bula said. "The melodies were so beautiful, I thought maybe it was a sign."
The voices he heard were the Luluna Bunun Choir (羅娜薪傳音樂團), which had been formed just a few years before.
The Bunun are known for their "eight-part" polyphonic singing, and their pasibutbut, a prayer for the millet harvest sung during the annual harvest festival, was listed as an intangible cultural asset by UNESCO in 1952.
"I decided I wanted to share [their songs]. I called them and ask them to join us this year, but they were not sure because most of their songs are ceremonial, so we couldn't use them," Bula said.
He said he asked if they had any non-ceremonial songs, and the answer was there were three, including one that was about a person's job and one for children.
What Bula called "the working song," tells about the job of hunter, all the animals that are hunted and the hunts themselves. However, traditionally it was about a different kind of hunt.
"I asked an elder, he is 91 years old now, and he said traditionally it would be about recounting the heads that they had taken," he said. "I asked him if we could change the lyrics, to make it about dancers' short career life, which is not a usual Bunun profession."
Since the Bunun do not have traditional dances, Bula said he first thought that just working with the choir's music would give him more space to be creative, that his dancers would just have to learn the Bunun songs, not traditional dance steps as well. That turned out not to be the case.
"LUNA is the most difficult creation I have ever made. Bunun songs are the most difficult of the indigenous songs, but we are glad to have them. I found out many things that I didn't know," he said.
The show is still evolving. Bula said two weeks ago, they changed the lyrics of the working song to reflect the experience of one of his dancers, whose father recently passed away, which meant that he is now the head of his family and faces new challenges.
He said he gave his dancers homework: They had to find connections between the Bunun songs used in the show and their own work and lives.
The experiences of one dancer ended up providing the title for the show. He was also the only dancer to have hunting experience.
"He said it is very scary: Five or six people go to the mountains, but at midnight you have to go alone to check the traps. It's very scary to be alone, you don't know what animals might be there, you have to think about yourself," Bula said.
The Luluna Bunun Choir are doing more than just providing the background music for LUNA.
"One elder asked if they could perform their own section, the traditional way that they do, so there are two sections: one is for them, one is new choreography so the audiences can see tradition and new creations," Bula said.
It turns out that the company's travels have done more than just forge connections with Aboriginal communities and artists in Taiwan, they also led to a new member from Tahiti.
"Last December we had chance to go to Tahiti to attend a festival. We met this guy who is a dancer and can speak Chinese, so he acted as an interpreter. At one of our demonstrations, I asked him and others to join with my dancers [for a dance]," Bula said. "He said he had been teary when watching our demonstration, but when he joined hands and danced when them, he couldn't stop crying … he felt such a connection."
Bula said he told the man there was a connection, because his ancestors probably came from Taiwan.
"Before we left, he had a lot of questions for me, he wanted to dance again, so I told him if he really wanted to, to come to Taiwan," Bula said.
So Vaiarii Gaudin became one of five new dancers for the troupe for LUNA, bringing the total to 11.
"When we go to indigenous communities we want to encourage people to try for their dreams — that it happened in Tahiti is really neat, Bula said.
Publication Notes
Performance Notes
What: LUNA
When: Saturday and Sunday at 2:30pm
Where: National Taichung Theater Playhouse (台中國家歌劇院) 101, Huilai Rd Sec 2, Taichung City (台中市惠來路二段101號)
Admission: NT$400 to NT$800, available at the theater's box office, online at www.artsticket.com and convenience store ticket kiosks
Assitional Performance: June 8 and June 9 at 8pm, June 9 and June 10 at 2:30pm at the Cloud Gate Theater (淡水雲門劇場), 36, Ln 6, Zhongzheng Rd Sec 1, Tamsui District, New Taipei City (新北市淡水區中正路一段6巷36號). Admission is NT$800 and NT$1,000, available at the National Theater Concert Hall box offices, Eslite bookstore ticket counters, online at www.artsticket.com and convenience store ticket kiosks
Comments will be moderated. Keep comments relevant to the article. Remarks containing abusive and obscene language, personal attacks of any kind or promotion will be removed and the user banned. Final decision will be at the discretion of the Taipei Times.