Taiwan in Time: Historic meeting in the southern seas
The Koo-Wang talks of 1993 opened the door to cross-strait negotiations, but its success was cut short due to increased tensions between Taiwan and China
April 23 to April 29
On the 20th anniversary of the Koo-Wang talks in 2013, then-president Ma Ying-jeou (馬英九) praised the meeting as a landmark in peaceful relations between Taiwan and China, opening up the era of "negotiation over antagonism" and "practical discussions while finding common ground and preserving our differences."
From April 27 to April 29, 1993, then-Straits Exchange Foundation (SEF, 海峽交流基金會) chairman Koo Chen-fu (辜振甫) and his Chinese counterpart Wang Daohan (汪道涵) met in Singapore. It was the first public meeting since 1949 to occur between chairmen of Taiwanese and Chinese non-governmental organizations.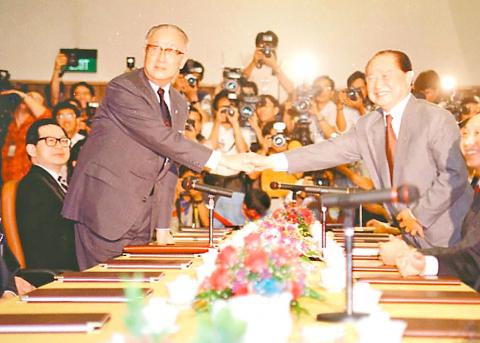 Koo Chen-fu, left, shakes hands with Wang Daohan during the Koo-Wang talks in 1993.
Photo courtesy of Wikimedia Commons
However, "peace" was not exactly what ensued as relations between both sides remained rocky, especially when China fired missiles into the waters surrounding Taiwan in 1995, igniting the Third Taiwan Strait Crisis in a bid to influence the results of Taiwan's 1996 first ever direct presidential elections.
Even so, Koo and Wang were able to meet one more time in Shanghai in 1998, but after that there would be no more meetings between the two organizations until 2008 when Ma became president.
HISTORIC MEETING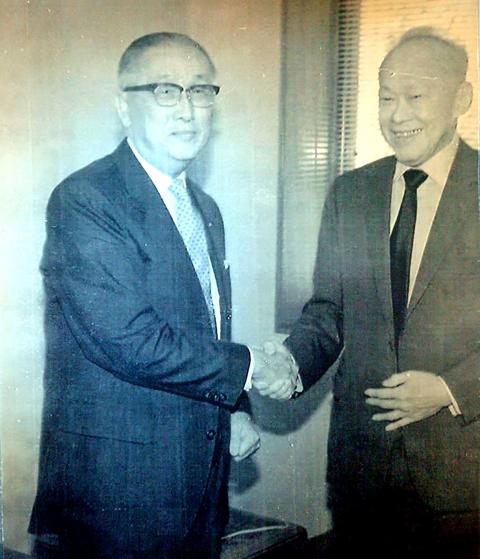 Koo Chen-fu, left, and late Singapore Prime Minister Lee Kuan Yew, whose country hosted the Koo-Wang talks of 1993.
Photo: Chen Tse-ming, Taipei Times
The "no contact, no compromise, no negotiation" relations between Taiwan and China started thawing with the lifting of martial law in 1987, and in November of that year Taiwanese were allowed to enter China for the first time since 1949 to visit relatives.
The SEF was established in 1990 with government support as an intermediary body to handle cross-strait affairs since the two sides were still officially not talking to each other. In November 1991, China established its counterpart, Association for Relations Across the Taiwan Straits.
ARATS wasted no time. In January 1992, it sent a fax to the SEF office inviting its chairman to visit China to "strengthen the communication between both sides and exchange ideas for cooperation."
Koo Chen-fu, left, and Wang Daohan sign one of their four agreements during the Koo-Wang talks in 1993.
Photo: Chang Min-chung, Taipei Times
The talks were delayed due to debate over how they would handle the political situation: both sides claimed to be the legitimate ruler of both Taiwan and China.
In August, Wang sent a letter to Koo inviting him again: "In the past year, cross-Strait relations, especially in economic cooperation, has been increasingly vibrant. This is very moving and exciting … I hope we can meet soon just to talk about economic development, affairs between the two organizations as well as other issues. This is the optimal time, therefore I hereby extend another invitation."
In Koo's reply, he agreed that interorganizational affairs and economic development should be the main focus — such as safeguarding the rights of Taiwanese businessmen in China — and suggested Singapore as an alternate meeting location. Although the Chinese at first insisted on having at least a "pre-meeting meeting" in China, they later conceded to a single conference in Singapore.
In October of that year, the two offices met in British-ruled Hong Kong to prepare for the meeting, which resulted in the controversial so-called "1992 consensus" where both sides agreed on the "one-China" principle but with different interpretations on each side.
Whether the "consensus" was legitimate or not, it paved the way for the Koo-Wang talks by side-stepping contentious issues.
More than 200 reporters from 10 countries and territories, including 107 from Taiwan, arrived in Singapore for this historic event. The opposition Democratic Progressive Party (DPP) also sent a delegation led by then-legislator Shih Ming-teh (施明德) to Singapore to protest the meeting.
Politics were avoided in the talks as the two men signed four agreements promoting trade and civilian exchanges. The one issue the two couldn't agree on was China's request for direct trade, postal and transportation links and Taiwan's desire for legal protection for Taiwanese investments and businesses in China.
"Because the antagonism between the two sides hadn't really subsided, the Koo-Wang talks were more symbolic than practical, especially since it would be impossible to resolve all the issues during initial contact," writes Chu Kuo-hua (初國華) in the study, Cross-Strait Negotiations Under an Asymmetrical Power Structure (不對稱權利結構下的兩岸對談). The goal was not to achieve concrete results, but to open the door to further negotiations.
ROCKY AFTERMATH
A year after the meeting, tensions between the two sides rose again with the Qiandao Lake Incident, where 24 Taiwanese tourists and eight Chinese were kidnapped and murdered by three men. The Chinese authorities' insensitive attitudes and their attempts to cover up some of the details drew public ire in Taiwan, reportedly causing many Taiwanese to turn their support to independence.
In 1995, China broke off all negotiations when Lee Teng-hui (李登輝) accepted a visit to his alma mater, Cornell University. Although Lee claimed that it was a private visit, the symbolism was not lost as it was the first time a Taiwan leader had set foot on US soil since the two countries severed relations in 1979.
Finally, things came to a head with the 1996 missile crisis, which further fueled Taiwanese anger toward China. However, in 1998, new Chinese premier Zhu Rongji (朱鎔基) expressed that he would welcome Koo to China for a second meeting with Wang. They met for five days in Shanghai, with Wang promising to visit Taiwan for the third meeting. Politics were broached this time, with Koo reportedly stating, "Only when [China] has achieved democracy can the two sides of the Taiwan Strait talk about reunification."
This plan was dashed when President Lee in July 1999 announced his "special state-to-state relations" (特殊國與國關係) stance, prompting China to cancel Wang's visit and suspend talks again. With the DPP taking power in 2000, it was unlikely that there would be further meetings. Koo died in January 2005, and Wang followed in December, neither living long enough for the KMT to regain power and restart negotiations.
Taiwan in Time, a column about Taiwan's history that is published every Sunday, spotlights important or interesting events around the nation that have anniversaries this week.
Comments will be moderated. Keep comments relevant to the article. Remarks containing abusive and obscene language, personal attacks of any kind or promotion will be removed and the user banned. Final decision will be at the discretion of the Taipei Times.