A different look to Spring
Cloud Gate 2 artistic director Cheng Tsung-lung decided on an unconventional pairing to create works for the company's annual spring show this year
Cloud Gate 2's (雲門2) annual spring show has long been a chance for the company to showcase several works by up and coming young choreographers as well as its resident artists. Many of those who have created works for the troupe over the years have gone on to create their own troupes, such as Bulareyaung Pagarlava and Huang Yi (黃翊), while Cheng Tsung-lung (鄭宗龍) became artistic director of the troupe — and will become artistic director of the Cloud Gate Dance Theatre (雲門舞集) in January 2020.
However, for this year's show, Cheng decided to shake things up a bit, by asking just two men, who have already made names for themselves in their respective fields, to create pieces for the troupe. Neither are a conventional choice.
"I really want to see if there is another possibility for dance," Cheng told a news conference at the Cloud Gate Theater on Jan. 18.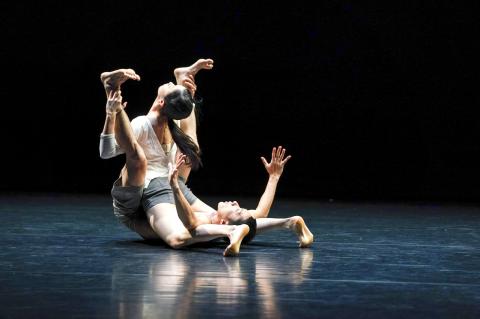 Liu Kuan-hsiang has created a new work, Superbeing, for Cloud Gate 2's Spring Riot 2018, which opens on April 13 for six shows at the Cloud Gate Theater in New Taipei City's Tamsui District.
Photos courtesy Cloud Gate 2
Choreographer Liu Kuan-hsiang (劉冠詳), who is not yet 30, is a four-time Taishin Arts Award Performing Arts nominee, and won last year for his 2016 work Kids (我知道的太多了). He was commissioned by Cloud Gate Dance Foundation to create a new work, which premiered in July last year, Karma (棄者).
However, his works have been deeply autobiographical and therefore intensely personal, and for the most part, created for himself and one or two other dancers. So working with a mid-sized troupe is a first for him.
Cheng said that while Liu's choreography can appear crazy and disjointed, the sincerity in the works has always moved him.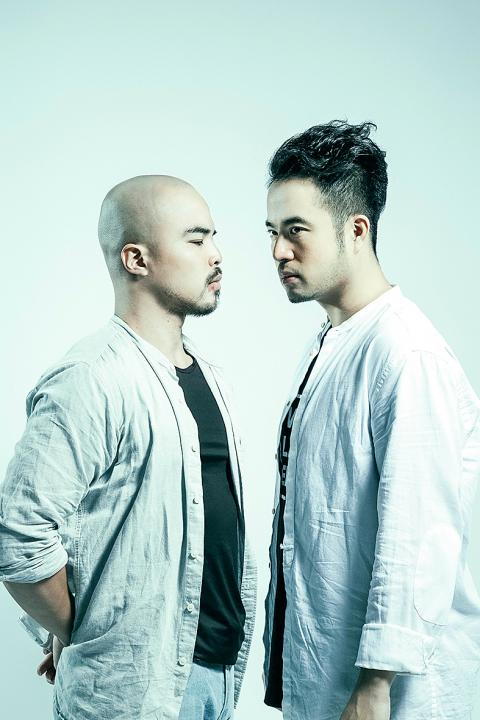 Choreographer Liu Kuan-hsiang, left, and playwright/director Tsai Pao-chang have created works for Cloud Gate 2's Spring Riot 2018, which opens on April 13 for six shows at the Cloud Gate Theater in New Taipei City's Tamsui District.
Photo courtesy Cloud Gate 2
Cheng's second choice was Tainaner Ensemble (台南人劇團) co-artistic director Tsai Pao-chang (蔡柏璋), who is a bit of a renaissance man: He is an accomplished playwright, director, actor and singer, but not a choreographer.
However, Cheng drafted Tsai in to help with vocal training for his 2016 work, 13 Tongues (十三聲), so he was no stranger to the company.
Liu told the news conference at Cloud Gate Theater that choreographing a piece for Cloud Gate 2's Spring Riot series had been an idea since he saw one of the performances when he was in high school.
While there were many challenges, not the least of which is that he has always choreographed for himself, not a group, he had been excited to explore new structures and he appreciated the dancers' willingness to give themselves over to him.
"Choreography is similar to falling in love. It does not last forever, but you can go and care about what you once had," he said.
He described his work, Superbeing (變態), as his first science fiction story.
Tsai said his experience working on 13 Tongues got him interested in choreography, and as he was planning to take a break from his theatrical work to do some traveling, creating something for the company appealed to him.
He said he created his piece, Aller Simple, which is French for "single ticket," through a question-and-answer process with the dancers.
The creative team for the show have as varied careers as Liu and Tsai themselves.
Costumes for the show are by Chen Shao-yen (陳劭彥), the Yilan County-born, London-based designer who has become famous for his eight-year-old unorthodox knitware and women's wear line Shao Yen. The Central St Martins College of Art & Design graduate has also created designs for singers as varied as Bjork, Jessie J and Jolin Tsai (蔡依林).
Lighting is by German freelance designer Jurgen Kolb, who splits his time between Germany and Taiwan and worked with the Tainaner Ensemble on The Book of Fate (天書第一部) trilogy and Chang Chien-hao's (張堅豪) Hide and Seek (你看看我).
Music for Tsai's piece is by multimedia artist and musician Blaire Ko (柯智豪), while Liu worked with Chung Bo-hsun (鍾柏勳) and MAD.
Spring Riot 2018 runs about 100 minutes, with intermission. Despite Chen's costume work, the show comes with a warning that there will be some nudity.
Performance notes
WHAT: Spring Riot 2018
WHEN: April 13 and April 20 at 8pm, April 14, 15, 21 and 22 at 3pm
WHERE: Cloud Gate Theater (淡水雲門劇場), 36, Ln 6, Zhongzheng Rd Sec 1, Tamsui District, New Taipei City (新北市淡水區中正路一段6巷36號)
ADMISSION: The only seats left are for April 20 at NT$700; available at NTCH box offices and bookstore ticketing outlets, online at www.artsticket.com.tw or www.service@cloudgate.org.tw and at convenience store kiosks nationwide. For more information, call (02) 2692-8711
For your information
Cloud Gate organizes free shuttle buses for ticket holders from the Tamsui MRT Station, leaving about an hour before each performance. However, ticket holders must register online on Cloud Gate's Web site by the Monday prior to the show they are attending.
Comments will be moderated. Keep comments relevant to the article. Remarks containing abusive and obscene language, personal attacks of any kind or promotion will be removed and the user banned. Final decision will be at the discretion of the Taipei Times.