Art Basel Hong Kong: expanding globally
The annual art extravaganza continues to grow with rising international interest
This year's Art Basel Hong Kong saw a record-breaking deal just two hours into its VIP preview night last Tuesday.
New York-based Levy Gorvy Gallery announced that it sold a William De Kooning painting from Microsoft co-founder Paul Allen's collection at a price of US$35 million, a new high for the six-year-old fair.
"The growth of the collecting community in the [Asia] region is astonishing and very encouraging," said gallery director Brett Gorvy.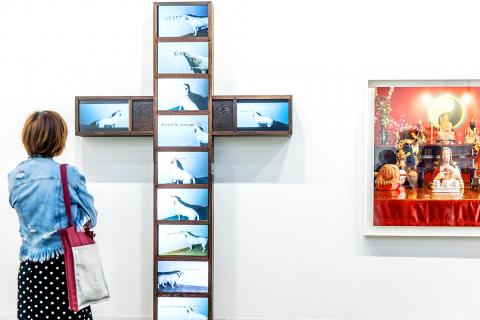 Chi-Wen Gallery at Art Basel Hong Kong.
Photo Courtesy of Art Basel
Attracting 70,000 visitors on average, the fair has established itself as the premier platform for doing art business in Asia. Each March, leading galleries and collectors from Asia and beyond descend onto Hong Kong for a five-day art extravaganza. While the fair has mantained a focus on galleries based in Asia, its gallery roster is becoming increasingly international due to growing global interest in the Asian market.
EXCESSIVE FOOT TRAFFIC
The two days of extended private preview this year allowed collectors to view the art relatively undisturbed. On days open to the public, however, the fair was plagued with overcrowded aisles that compromised its overall experience.
Virtual reality work especially had difficulty being accessible in the art fair setting, due to its technical setup that requires only one viewer at a time. To experience Timur Si-Qin's Mirrorscape, for example, visitors waited in line for almost an hour for a 12-minute viewing session.
In the midst of the packed aisles, 12 large, site-specific installations located between each gallery block provided a visual breather away from the sales-driven galleries.
Featured prominently on the first floor was Taiwanese artist Chou Yu-cheng's (周育正) performance installation featuring a female performer and a robot vacuum machine cleaning a pile of larger-than-life tableware propped against a blank wall. On the other side of the wall, a male performer standing next to a set of Dyson air purifiers recites what appears to be a reinterpreted product description of the nouveau-looking devices. The work, entitled Refresh, Sacrifice, New Hygiene, Infection, Clean, Robot, Air, Housekeeping, agentbong.com, Cigarette, Dyson, Modern People attracted groups of onlookers with its curious showcase of mundane labor and collaboration between machine and man.
TAIWANESE PRESENCE
The presence of Taiwanese artists, galleries, and collectors were well noted this year. Collector Rudy Tseng (曾文泉) had reportedly made multiple purchases at the fair, while R.C. Chen (陳榮泉) and Patrick Sun (孫啟越) were also spotted. A total of seven Taipei-based galleries were represented in the fair, including Eslite Gallery (誠品畫廊), Tina Keng Gallery (耿畫廊), TKG+, Chi-Wen Gallery (其玟畫廊), Liang Gallery (尊彩藝術中心), Project Fulfill Artspace (就在藝術空間) and Soka Art (索卡藝術中心).
Chi-Wen Gallery's booth struck a particularly nuanced balance between commerce and curatorial vision. Featuring a range of video and photography works by Chang Chien-chi (張墘奇), Chang Chao-tang (張照堂), Chen Yin-ju (陳瀅如), Peng Hung-chi (彭弘智) and Yu Cheng-ta (余政達), the gallery offered a variety of quality works that shared an interest in social and political concerns.
Eslite Gallery's booth also delivered an engaging presentation that focused on Malaysian artist Wong Hoy-cheong (黃海昌). A series of wittily staged photographs depict Malaysian maids posing as Hollywood superheroes, while a pair of hand-made alphabet books were displayed in acrylic cases on wooden pedestals. The two books are reconstructed from torn excerpts and blended pulp of four publications that deal with the concept of the other.
While Hong Kong continues to attract attention from the global art market, Taiwan is also being discussed as an up-and-coming art fair destination. During Art Basel Hong Kong, London and New York-based The Art Newspaper ran a report about the rising profile of Taiwanese players in the Asian art scene, especially highlighting an upcoming new art fair, Taipei Dangdai (台北當代藝術博覽會), scheduled to debut next January.
Organized by former Art Basel Hong Kong director Magnus Renfrew, Taipei Dangdai hopes to offer Taiwan's art market a regional platform that would also attract international engagement.
Taipei Fine Art Museum Director Lin Ping (林平) reflects on the new fair on a positive note, "With its distinct character and position, Taipei Dangdai will undoubtly… bring new energy into the local art market."
EXPANDING ROSTER
This year, the fair introduced 14 first-time participants from the Americas and Europe including Miguel Abreu Gallery and JTT from New York and The Modern Institute from Glasgow. Berlin-based Kraupa-Tuskany Zeidler participated for the second year with a roster of Web-based artists, including works by Chinese artist Guan Xiao (關小) and Estonian artist Katja Novitskova. The gallery made swift sales during preview night, selling over half of the booth's inventory.
In addition to the rising presence of Western dealers, there were also a fair number of debuting Asian and Asian-Pacific galleries, including Tarq from Mumbai and Asia Art Center from Taipei and Beijing. Asia Art Center's booth offered works of modern art masters Chu Weibor (朱為白) and Fon Chung-ray (馮鍾睿), who played significant roles in Taiwanese art history during the Martial Law era.
Fourth-time participant Galerie Ora Ora from Hong Kong featured a selection of paintings by Finnish artist Juri Markkula and Chinese painters Zhang Yanzi (章燕紫), Huang Dan (黃丹), Xiao Yu (蕭旭) and Peng Jian (彭劍).
"It was a very successful debut for Juri Markkula in the Asian art scene, with several collectors competing for his largest piece," said Gallery co-founder Henrietta Tsui-Leung (梁徐錦熹).
Comments will be moderated. Keep comments relevant to the article. Remarks containing abusive and obscene language, personal attacks of any kind or promotion will be removed and the user banned. Final decision will be at the discretion of the Taipei Times.