Art exhibition listings
This weekend, Slovakian artist Stefan Papco will open his solo exhibition Vertical at Bluerider Gallery. The show takes on the theme of mountain climbing as a physical and mental discipline that the artist attempts to mediate through sculptural forms. A mountain climber himself, Papco perceives each climbing experience as a choreographed performance of movements along rocky surfaces. In this exhibition, the artist employs a variety of sculptural materials, including metal casts, concrete, wood, silicon and beeswax to create dynamic combinations of material qualities. Miroslav (2013) is a metal cast of a heavily coated man sitting on the edge of a pedestal with his eyes peering upwards. His coat is nuanced with delicately folds and turns, which creates an illusion of softness in the hard metal cast. Left Edge Tower and Along the Right Edge of the Huge Corner (2014) abstract mountainous landscapes into minimalistic geometric patterns. Such creative processing of terrain is also integral to the art of mountain climbing, which involves analyzing strategic routes along organic formations.
■ Bluerider Art (藍騎士藝術空間), 9F, 25-1, Renai Rd Sec 4, Taipei City (台北市仁愛路四段25-1號9樓), tel: (02) 2752-2238. Open Tuesdays to Saturdays from 9am to 6pm.
■ Through April 28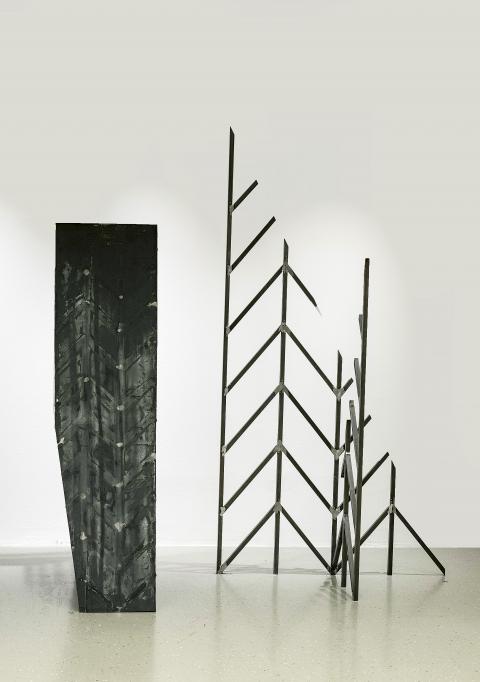 Stefan Papco, Along the Right Edge of the Huge Corner, left, and Left Edge Tower (2014).
Photo Courtesy of Bluerider Art
Michael Ku Gallery presents a multimedia group show with a melancholic title, Even though the future may be far away, Even though saying good bye needs not be at an airport, If only you could describe a future. The title is taken from the lyrics of a song written by San Mao (三毛) in 1985 when Taiwan was going through a stage of rapid economic growth. Reflecting back on the social sentiments of past times, the exhibition addresses the hopes and aspirations of today's young generation and their journey towards "carving out an era that is unique ours," writes the gallery in a press release. The five Taiwanese artists featured in this show work in various disciplines, including painting, video art, installation art, photography and ink and wash painting. Representing the generation born in the '80s, together their work offers "insights into the defining characteristics of Taiwanese contemporary art."
■ Michael Ku Gallery (谷公館), 4F-2, 21, Dunhua S Rd Sec 1, Taipei City (台北市敦化南路一段21號4樓之2), tel: (02) 2577-5601. Open Tuesdays to Sundays from 11am to 7pm
■ Through May 6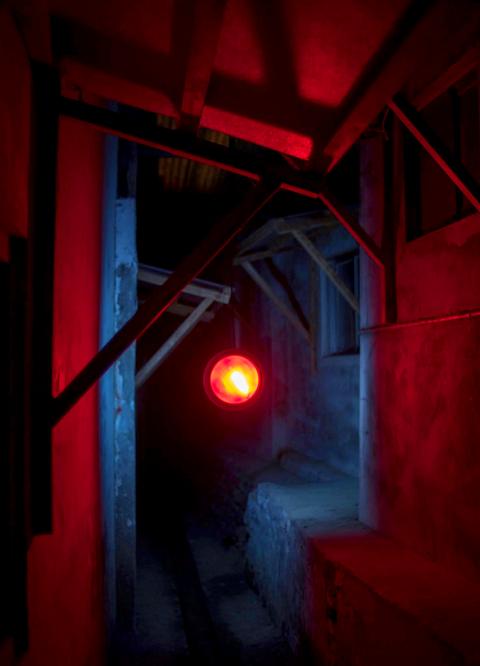 Liam Morgan, End of Life Behavior (2017).
Photo Courtesy of Liam Morgan
Here and There is the title of this year's Treasure Hill Light Festival, which features 10 artists and an extensive program of performances, workshops, and an open air market. "After living here for several years, they fought and resisted, exhausted but finally able to stay," writes co-curator Ho Yu-kuan (侯昱寬) in his curatorial statement, which refers to the history of Treasure Hill as a former cluster of illegal residences. "The footprints we have left behind are not enough to validate our existence, as they emerge here but also elsewhere, simultaneously," Ho continues. Considering alternative understandings of time and space, such as parallel universes or time-space displacement, the exhibition contemplates upon the past, present, and future of the village and its role in greater society. Wu Chuan-lun's (吳權倫) project focuses on the culture of potted plants in Taiwan. Having studied the potted landscapes of various local households, Wu creates a series of ceramics are modeled after the blue industrial containers commonly used as plant pots in Taiwan. Hung Yun-ting's (洪?婷) Shadow manipulates light and darkness in a mezzanine plaza and takes on the concept of shadows as a metaphor of our shared history and collective lives. Bangkok-based Treasure Hill artist-in-residence Liam Morgan presents a spatial installation of rapid strobe lighting in a three-room house unit. The pulsating light creates contradicting effects of both anxiousness and calmness.
■ Treasure Hill Artist Village (寶藏巖國際藝術村), 2, Alley 14, Lane 230, Tingzhou Rd Sec 3, Taipei City (台北市汀州路三段230巷14弄2號), tel: (02) 2364-5313. Opens Tuesdays to Sundays from 11am to 6pm.
■ Through May 6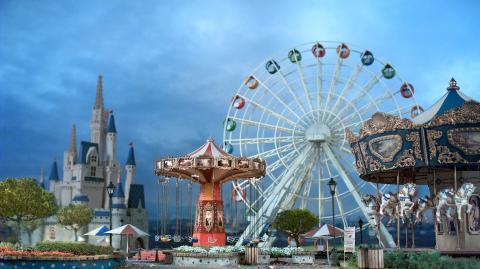 Yuan Goang-ming, Tomorrowland (2018).
Photo Courtesy of TKG Plus
Yuan Goang-ming (袁廣鳴) is a pioneer of video art who has been active in the Taiwanese and international art scene since the mid 80s. Often employing technological media and symbolic metaphors, his works delve into fundamental philosophical questions concerning the state of human existence, the human mind and consciousness. Yuan's current solo exhibition Tomorrowland (明日樂園) at TKG Plus is an immersive live exhibition that requires advanced online registration on the gallery Web site. The show reflects upon the idea of "home" as a general place of human dwelling that is continually evolving and presently experiencing great changes. The exhibition features Tomorrowland, a video of an empty amusement park that experiences moments of calm after being bombarded with a sudden explosion. Yuan takes this imagery as a metaphor of the dynamics of world affairs and the perplexing global society we live in today, plagued by "a refugee crisis, ripple effects of the Cold War, the return of populism, the threat of imperialism and terrorism, and climate change… The beginning of a different war dawns… No longer physical, this war insidiously percolates into our life," writes the gallery in a press release.
■ TKG+ Projects B1, 15, Ln 548, Ruiguang Rd, Taipei City (台北市瑞光路548巷15號B1), tel: (02) 2659-0798. Open Tuesdays to Sundays from 11am to 7pm
■ Through April 29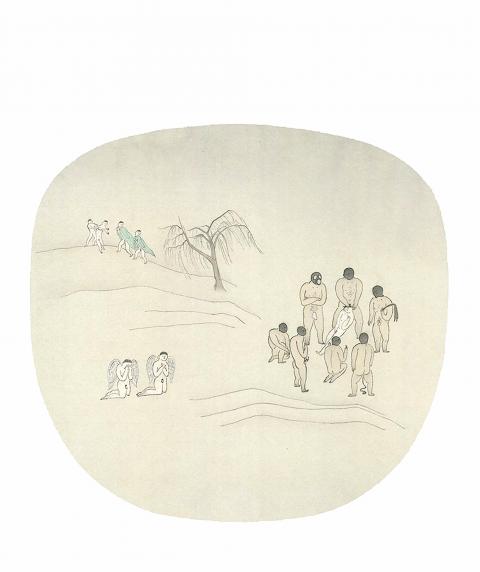 Jian Yi-Hong, Angels Relieve No Violence I (2017).
Photo Courtesy of Michael Ku Gallery
Toru Kuwakubo is a Japanese oil painter who often draws reference from iconic works of Western art history. Kuwakubo's paintings are characterized by thick and sensual applications of paint, vibrant color choices and post-impressionistic approaches to painting. Since 2014, he has been painting under the pseudonym of Kowoud Bonet, which is derived from combining his real name with that of Oscar-Claude Monet. Using this new identity, the artist immerses himself in the context of 19th century Impressionist painting and traverses through the the worlds of different painting masters which he attributes to different seasons of the year. Cezanne, for example, reminds him of the cool weather in May, while Van Gogh belongs to warmer summer nights. Toru's upcoming solo exhibition Sea' Sand' Sun' and Sculptures features a series of paintings based on his personal, expressive interpretations of modern master painters. Henry Spencer Moore's Studio depicts a collection of Moore's classic sculptures spread across an open field under a brilliant blue sky. Edvard Munch's Studio follow similar approach, rallying Munch's famous pictures and a scattered array easels, stools and studio furniture in an open-air landscape.
■ Nunu Fine Art (路由藝術), 5, Ln 67, Jinshan S Rd Sec 1, Taipei City (台北市金山南路一段67巷5號), tel: (02) 3322-6207. Open Wednesdays to Sundays from noon to 7pm
■ Through May 13
Comments will be moderated. Keep comments relevant to the article. Remarks containing abusive and obscene language, personal attacks of any kind or promotion will be removed and the user banned. Final decision will be at the discretion of the Taipei Times.