Bird, palm and face fortune telling
Produced by Han Cheung; video footage by Noah Buchan
People born in the Year of the Rooster will have a pretty horrifying love life this year.
Potential crises include betrayal, violence, visits to the police station or courthouse and a dangerous lover who may cause "eternal damnation," says notable fortune teller Wisdom Tsai (蔡上機) in his book Wisdom Tsai Activates Your Good Luck in 2018 (蔡上機2018大開運).
Unfortunately, that's my zodiac sign.
Fortunately, however, two other fortune tellers I visit near Taipei's Xingtian Temple (行天宮) have better news. One should always take these predictions with a huge grain of salt, but just hearing their positive words almost made me wish that the Lunar Year would come sooner so I could see what good things this year would have in store.
I guess that's the real purpose of paying up to NT$1,000 for a 10-minute session. It's funny how the human brain works — I choose to completely disregard Tsai's vision of doom and gloom even though he is the one with the much higher profile.
TIME TO GET HITCHED?
After asking for my basic details and having his white Java sparrow pick out two cards from a pile, bird fortune teller Yang Kuo-min (楊國敏) says he sees two peach blossoms (桃花) in my year — meaning that I'll encounter two women who will take an active interest in me. One will be older, one younger, and I'll meet them around the same time.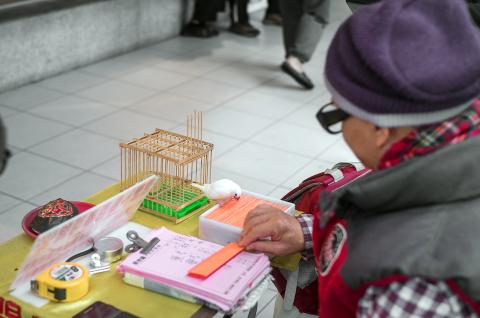 A Java sparrow chooses a fortune earlier this month near Taipei's Xingtian Temple, while bird fortune teller Yang Kuo-min looks on.
Photo: Paul Cooper, Taipei Times
I ask him if that's a good thing or not, and he replies, "What kind of man wouldn't want that? Also, both will help you as well."
But then Yang, who plies his prognosticating trade on a fold-up table across the street from the temple, says that this will also bring trouble. Concerned, I ask him several times what that means throughout the session. Apparently, I'll have issues due to my indecisiveness — which is nothing new.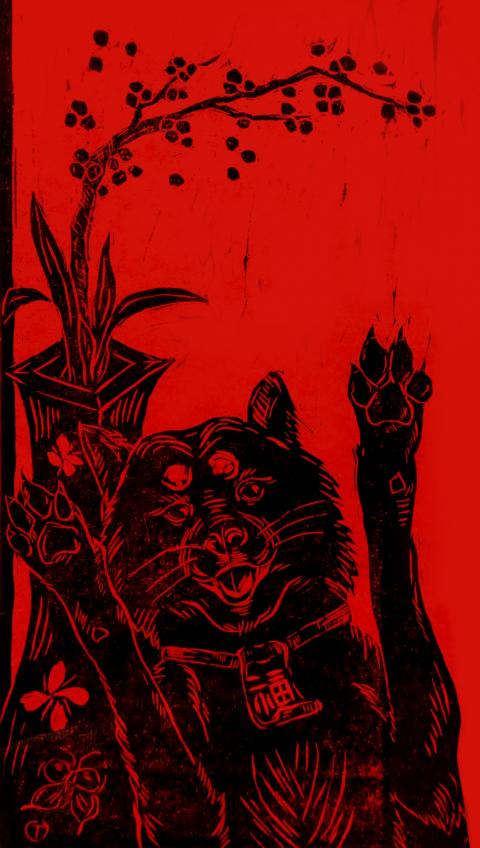 Illustration Tania Chou, Taipei Times
"You're too picky," he says. "It's not that nobody loves you. But you will miss many opportunities if you keep looking for the perfect person. There has never been a perfect person since ancient times. Find someone who is just right."
On the other card is the Chinese character for "Happiness," and Yang suddenly jumps from me meeting women to urging me to get married and have children, emphasizing that this year is the year to do it. That's a huge step to take given that I haven't even met anyone yet.
"Congratulations," he says. "If you do decide to get married, come back here and I'll pick an auspicious day for you."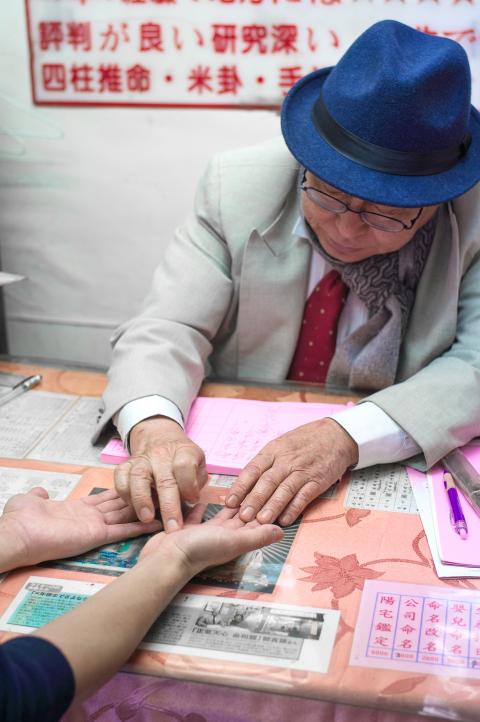 Palm reader Kuo Chi-hsiung reads Han Cheung's "lines" earlier this month near Taipei's Xingtian Temple.
Photo: Paul Cooper, Taipei Times
FIERCE WOMEN IN APRIL
Our session complete, Yang leads me to an underpass, which is lined with stalls with fortune tellers, and introduces me to palm and face reader Kuo Chi-hsiung (郭吉雄), an 80-year-old dapper gentleman in a suit and fedora. The stall is plastered with photos of Kuo posing with celebrities as well as his many students in action.
Kuo looks at my palm and face and starts telling me some details about myself, most of them pretty accurate. One that stands out is my weak stomach — he suggests that I stop drinking beer (which I have eschewed largely for whiskey in recent years) and eat less daikon radish and Chinese cabbage. I also frequently move around, rarely staying in the same place for long, and I don't like to stay in an office all day.