Rain fails to dampen enthusiasm for dance
In a round-up of recent performances, three female choreographers delivered solid shows, one failed to communicate clearly and the Bulareyaung Dance Company did not let the downpours keep them from putting on its song and dance production
Chang Ting-ting's (張婷婷) decision to team up with Scarecrow Contemporary Dance Company's (稻草人現代舞蹈團) artistic director Luo Wen-jinn (羅文瑾) for a show featuring excerpts from previous works paid off last weekend at Taipei's Experimental Theater.
Saturday night's packed house — and equal enthusiasm for the other shows — should be proof that dance fans will pay to see pieces from smaller companies' repertoires as well as those by bigger troupes such as Cloud Gate Dance Theatre (雲門舞集).
The "1 plus 1" show staged by T.T.C. Dance (張婷婷獨立製作) began with an excerpt from Chang's 2012 Body Platform: Cabinet Anthropomorphique (肢‧色:系列-抽屜人), which was nominated for the 2012 Taishin Arts Award.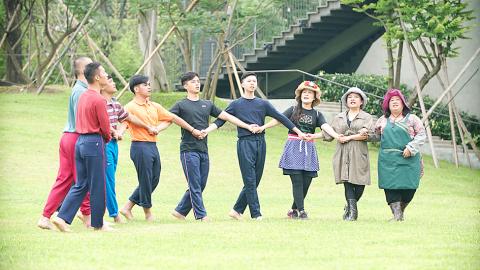 Six Bulareyaung Dance Company dancers and Aboriginal singers Senayan, Ivi and Muagai rehearse for Bulareyaung Pagarlava's Stay that way at the Cloud Gate Theater in New Taipei City's Tamsui District in an undated photograph.
Photo: Courtesy of Lee Lin / Bulareyaung Dance Company
The piece, inspired by Salvador Dali's use of drawers as a symbol of secrecy, was performed by three women and one man: company veterans Wu Ping-cheng (吳秉錚), Aki Saito and Huang Man-jyun (黃曼鈞) and relative newcomer Chang Chi-wu (張琪武).
It might have been just 32 minutes long, but that was enough time for several solos, pairings and group work and a couple of costume changes as the quartet danced with, in and around several white cabinet drawers. Even without the live music and visual effects used in the original show, the excerpt was engaging to watch.
'DRIPPING'
Luo's 2015 work, Dripping (詭‧跡), began with a clang — several of them, as she tossed steel pails from one corner of the floor to the front.
I had forgotten some elements of Dripping — such as Luo and colleague Li Pei-shan (李佩珊) being accompanied by a trio of musicians — and remembered some bits that were not included in the excerpt, such as the interplay with a ladder.
However, I had not forgotten what a fun piece it is. Luo and Li have a flair for physical comedy and watching Luo load her tiny body up with close to three dozen pails and then try to shuffle forward, or Li rushing around trying to place pails under water dripping from the ceiling, was laugh-inducing.
My only complaint with the show was that the audience had to leave their seats for the 20-minute intermission so that the set changes for Luo's work could be conducted out of eyesight. The same forced eviction took place during the "Taiwan Dance Scene-Mixed Program" production at the theater a few weeks back.
Having 150-plus people move up one aisle just to go down a narrow metal staircase and crowd into a limited lobby area and then repeat the process in reverse took up at least half of the interval time, but seemed completely pointless. It is not as if there was some secret set design that had to be erected; on Saturday the stagehands basically reset some lights, added a curtained area for a jazz trio and set up the musicians' instruments.
People who don't want to see such behind-the-scenes work or those seeking a bathroom break will certainly welcome the chance to escape the theater, but there is no reason everyone has to move.
'STAY THAT WAY'
Luo's piece brought dripping water inside the Experimental, but the Bulareyaung Dance Company (BDC, 布拉瑞揚舞團) had to move its latest production, Stay that way (無,或就以沈醉為名), inside the Cloud Gate Theater in New Taipei City's Tamsui District (淡水) because of the unrelenting rain on Saturday afternoon.
The idea behind Bulareyaung (Bula) Pagarlava's production was to replicate a "typical" east coast Aboriginal get-together of friends, with some drinking, great singing, dancing and a lot of laughter, set against the sun setting over the Tamsui River. In addition to the show, those who bought the higher priced tickets got post-show bottles of beer and skewers of barbecued meat, while vendors outside the theater had Aboriginal arts and crafts for sale.
The rain might have made it too wet to dance and sing outdoors, but the wonderful voices of the three singers — Muagai, Senayan and Ivi — were in fine form, as were six male dancers, who stripped down to dancer briefs for a large portion of the show.
The outdoor feeling was kept by having several dozen audience members sitting in a semi-circle of striped mats on the stage floor as there were not enough theater seats for everyone.
While Naruwan was used as traditional welcoming song, and there was a lot of laughter in the show, Bula also tapped the sadness of Taiwan's Aborigines seeking to retain their languages, customs, culture and land — much as he did with 2006's Formosa, Island the Beautiful (美麗島) that he choreographed for the Cloud Gate Dance Theatre.
One song by Ivi started off on a light note, but as the dancers surrounded her, their poking and jostling became more abusive until she was left curled up in a ball on the floor.
Other songs spoke of the longing for home, of feeling lost without traditional connections.
'MUTE'
The one disappointing show of the weekend was at the Wellspring Theater on Friday night, where something was lost in the translation of SunShier Dance Theatre (三十舞蹈劇場) cofounder Chang Hsiu-ping's (張秀萍) idea for new work, Mute (話語靜止時).
Mute is about a world without spoken language, but it was hard to figure out the connection between the inspiration and actual dancing, or the use of a video of close-ups of the dancers' faces that was projected onto the back wall during the second half of the show.
The dancers did their best, but Mute did not gel.
I left the Wellspring Theater feeling disappointed, which was not how I had left it the previous weekend after seeing Dance Forum Taipei's (舞蹈空間) performance of Spanish choreographer Marina Mascarell's Three Times Rebel, the latest in a line of terrific coproductions by Mascarell and Dance Forum.
Brazilian set designer Ludmila Rodriques' gave new meaning to the term minimalist — the set was a collection of rods that could be connected to form a large square or rectangle or split apart to form different shapes, or swung around like a bullwhip. The five women and two men had to bend and contort to stay within the confines of the shapes of the rods in the beginning of the show, a clear reference to the way men and women are boxed in by societal expectations
Mascarell's exploration of women's emancipation was enhanced by the texts spoken by the dancers — and Spanish composer Yamila Rios, who also played and sang from the left-hand side of the stage.
However, watching Chen Wei-yun (陳韋云) contort her body into ever smaller circles, carefully repositioning the microphone she used to deliver US President Donald Trump's infamous "grab them" exchange with TV personality Billy Bush — was a perfectly executed physical manifestation of Trump's convoluted thinking.
Three Times Rebel is one show that has no trouble getting its meaning across.
Comments will be moderated. Keep comments relevant to the article. Remarks containing abusive and obscene language, personal attacks of any kind or promotion will be removed and the user banned. Final decision will be at the discretion of the Taipei Times.