Taiwan's (slow-growing) permaculture scene
A movement has emerged thanks to the effort of educators like Tammy Turner, but land scarcity and insecurity remain major obstacles
James Murray and his girlfriend waited four days for help without power or water at their permaculture farm in New Taipei City's Wulai District (烏來).
It was 2015 and Typhoon Soudelor had just devastated the area, causing massive landslides that trapped them on their farm until they were rescued by the military. Unable to return due to the destruction and a dispute with the landlord regarding repairs, they had to start over with a much smaller garden.
Murray is making the most of his new site by making products and hosting workshops and garden-to-table lunches, but he wants a larger live-in farm that can allow him to quit his teaching job. Since permaculture farming requires the creation of sustainable ecosystems and habitats, Murray faces more environmental restrictions than typical farmers.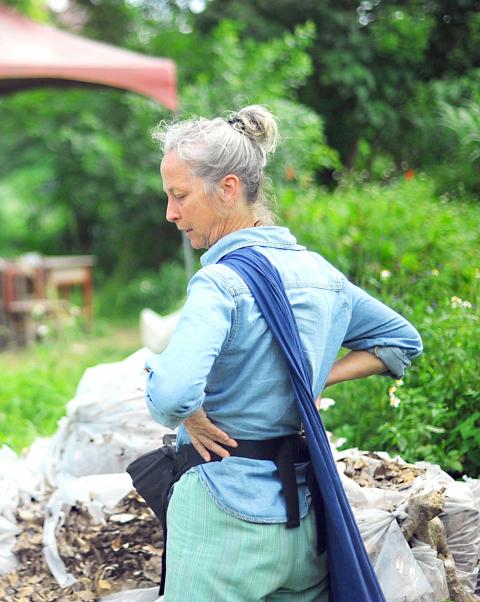 Tammy Turner visits the educational farm where she teaches students at Yonghe Community College in New Taipei City.
Photo: Han Cheung, Taipei Times
Due to the time and effort it takes to set things up, land security is also a big factor, making his search especially difficult in a country where available and accessible farmland is scarce.
Murray is a student of long-term expat Tammy Turner who, along with a handful of other like-minded people, are on a mission to show that permaculture is not only eco-friendly and sustainable, but can also provide a deeper understanding of the relationship between humans, food and nature. Turner has been slowly making headway with several ventures across the country, but obstacles still remain.
"The [permaculture] scene, if anything, is hampered by access to land," Turner says.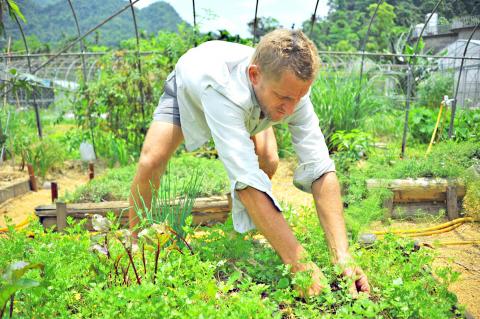 James Murray visits his permaculture garden in Wulai at least twice a week. The garden is built to make use of and mimic natural ecosystems.
Photo: Han Cheung, Taipei Times
LAND WOES
Murray's garden doesn't look like a garden. Instead of neat rows of the same crop, it features diverse groupings of plants that work well with each other for a variety of reasons — soil health, shade, pest control and biodiversity. Murray's plants sit in raised beds on a layer of sheet mulch, which stores nutrients, provides insulation and prevents runoff, reducing the need to water and eliminating fertilizer.
His plots appear unorganized, but when the system is properly executed it largely runs itself.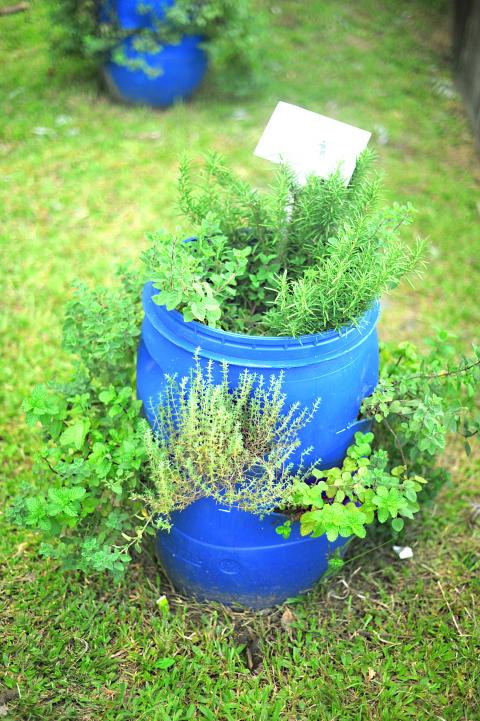 A stacked permaculture system Tammy Turner set up in Yonghe's 823 Memorial Park to promote her system to the public
Photo: Han Cheung, Taipei Times
But land quality is an obstacle, he says. Typically farmers in Taiwan grow only one or two crops, which leads to low biodiversity and problematic soil. Additionally, the soil is also harmed due to the overuse of chemical fertilizers and pesticides. At Murray's original site, he had to deal with two truckloads of garbage, piles of burnt plastic and dumped pesticides.
Murray says the first step is to "regenerate" the clay soil to make it more fertile and microbe-rich. It also takes a while to get his ecosystems into a predator-prey balance.
"After one-and-a-half years, it's getting there," he says.
The plots in James Murray's permaculture garden in Wulai may seem chaotic, but they are planned with companion plants that work together to promote biodiversity as well as practical functions such as shade and pest control.
Photo: Han Cheung, Taipei Times
Turner says that a potential permaculture farmer can often only rent the land for a number of years, making a long-term investment risky. Since it could take years to set up a permaculture farm's ecosystems, practitioners are hit harder when they are forced to give up their land.
Neighbors matter too. Murray says his old landlord cut down an entire swath of jungle to plant a single crop of trees, which not only affected his ecosystem but made the area more prone to landslides, which he believes exacerbated the typhoon damage. At his new spot, he's dealing with the heavy use of pesticides by neighboring farmers.
But he has also influenced some of their practices. Instead of raking leaves and burning them, his landlord now leaves them for him for composting.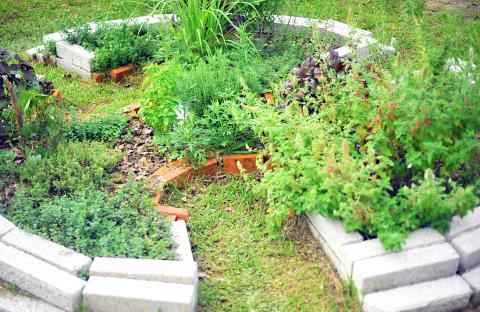 The "keyhole" permaculture design allows easy access and watering without disturbing the soil.
Photo: Han Cheung, Taipei Times
BEYOND FARMING
Not having land doesn't mean that one cannot practice permaculture or enjoy its benefits.
Lan Pei-chen (藍珮禎) has a regular job but volunteers with and takes classes from Turner. Lan says she first joined because she wanted to learn more about where her food comes from and eat healthier, but now it has become a passion. She also harvests crops for her own use.
As a gift designer and hotel decorator, Lan says she was bothered by the fact that her products were often not recyclable or biodegradable. Through her increased knowledge of plants and ecology, she begin using organic materials in her designs.
"I can't practice permaculture fully because I don't have land, but I feel like I've learned even more by applying the principles to my life," she says. "And there's always more to learn."
Community
Turner's latest endeavor is a demonstration herbal garden at Yonghe's 823 Memorial Park, which not only draws public attention to permaculture but does so in an urban rather than rural setting. Turner ultimately hopes to develop a network of community-supported gardens as one solution to the land issue.
Murray hosts workshops such as composting, and he also likes to give visitors plant cuttings to grow at home to pique their interest. Other ways to connect with the public includes selling crops and products at farmers' markets and hosting garden-to-table lunches. His products, such as basil pesto, are strictly seasonal, another permaculture concept he hopes to promote. He hopes to one day bring permaculture to big businesses and large-scale operations.
Turner currently teaches a number of students who work on government projects, and hopes that they will help her gain more institutional support for permaculture.
"As long as the government gives a seal on it, then the farmers will more likely try it," she says.
Comments will be moderated. Keep comments relevant to the article. Remarks containing abusive and obscene language, personal attacks of any kind or promotion will be removed and the user banned. Final decision will be at the discretion of the Taipei Times.