Get bombed for Christmas!
The LAB Space's 'Bomb-itty of Errors,' a hip-hop version of Shakespeare's 'Comedy of Errors,' is witty, fun and irreverent
It's witty, funny, bold and at times irreverent. It's Shakespeare as you've never seen or heard him before as the LAB Space closes out the year with Bomb-itty of Errors, a hip-hop version of the Bard's The Comedy of Errors. It's a show that you won't want to miss.
Two sets of identical twins, Antipholus and Dromio, are separated at birth and raised in the different cities of Syracuse and Ephesus. The complications begin when the Syracuse Antipholus and Dromio, as joyful vagabonds, come to sedate Ephesus where they are both mistaken for their similarly named counterparts and quickly become enmeshed in their affairs.
Director Brook Hall has put together a strong cast of Steve Coetzee and Airy Liu (劉怡伶), the Syracuse Antipholus and Dromio, and Meg Anderson and Charlie Storrar, the Ephesus Antipholus and Dromio, to carry this delightful farce.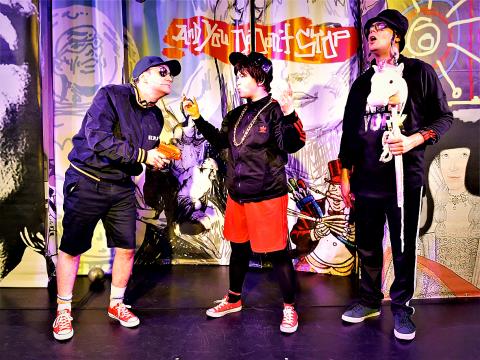 Charlie Storrar, Meg Anderson and Steve Coetzee in a scene from Bomb-itty of Errors, which will be performed in Taipei this weekend and next weekend.
Photo courtesy of Antonella Gismundi
From here on in, one needs a touch of Samuel Taylor Coleridge's "willing suspension of disbelief."
In Shakespeare's day, men played the women's roles and actors spoke in iambic pentameter. Rap is often iambic tetrameter and the real delight of this play is the versatility shown by the four leads as they take on multiple roles and rap in style.
Everyone will have his/her favorite scenes. For this writer, it is Hasidic Hendelberg (Coetzee) getting lost in his own rap.
Another is when Storrar as Luciana is alarmingly "courted" by Syracuse Antipholus (Coetzee) whom "she" thinks is her sister's husband.
Kudos go to costume designer Jenna Robinette, set designer Joseph Lark-Riley and show sponsorship from the Department of Culture, Taipei City Government. Not only are multiple costumes needed but ones that can come off and on in a split second as characters exit one door and return through another.
Lark-Riley's graffiti-laced set provides the multiple entrances and exits as well as a visible balcony for "beat man," DJ Cross Cutz (Cedric Bouadzi), who regularly interacts with the cast below.
Publication Notes
Performance Notes
What: Bomb-itty of Errors
Where: The LAB Space (實演場), 3F, 9, Beitou Rd Sec 1, Taipei City (台北市北投路一段9號3樓), a 5-minute walk from the Qilian MRT station
When: Tomorrrow, Saturday and Sunday and Dec. 2 to Dec. 4. All performances are at 8 pm
Tickets: NT$700, available through www.tiny.cc/get-bombitty
Comments will be moderated. Keep comments relevant to the article. Remarks containing abusive and obscene language, personal attacks of any kind or promotion will be removed and the user banned. Final decision will be at the discretion of the Taipei Times.