Umami heaven
Shimeji mushrooms are readily available around Taiwan and make an excellent standby to liven up the menu when other vegetables are lacking
My most recent visit to the central vegetable market in Hualien was a dispiriting exercise of picking through damp brown vegetable matter that at any other time would have been marked for the compost heap long before it ever made it to the market floor. It seems like weeks since there has been a sustained spell of dry weather and the mixture of late summer heat and excessive precipitation has hurt vegetable crops, not to mention additional buffeting by typhoons Meranti and Malakas. The decided lack of nice vegetables in the market has forced me to look elsewhere for things with which to liven up the family menu.
It is at times like these that mushrooms really come into their own. They are good at any time, of course, but when regular vegetables are unappealing and overpriced, they quickly move from being a nice side dish to becoming the main event. I have already sung the praises of the king oyster mushroom (Taipei Times Aug. 08, 2015) and the occasionally available straw mushroom (Taipei Times May 14, 2016), but have neglected what is arguably the most readily available fresh mushroom of all, the buna-shimeji, which is often sold in cute little pillow packs, much beloved of supermarkets and convenience stores.
Buna-shimeji are now marketed by a number of local producers but for a long time they were dominated by the products of the Hokuto Corporation, which also sells a patented variation of this mushroom, called the bunapi (a registered trademark). Buna-shimeji is one of over 20 varieties of shimeji mushroom and also goes by the name of beech mushrooms or brown clamshell mushrooms. They have tight little brown caps and long white stems; bunapi are a pure white, and while less flavorsome, look very pretty in delicate Japanese soups.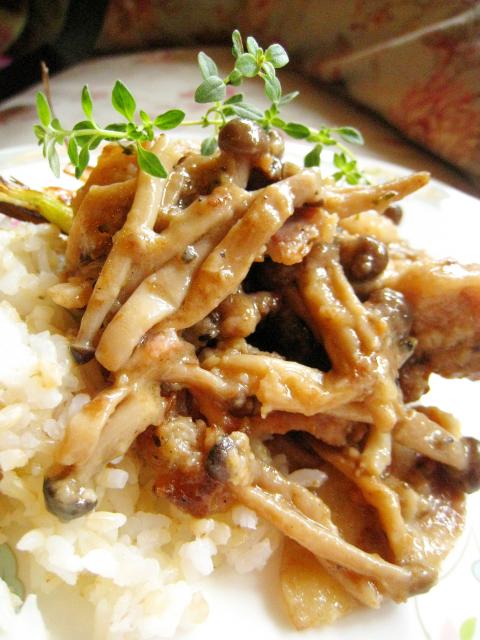 Chicken stew with buna-shimeji mushrooms served with a mix of white and brown rice and fried water bamboo.
Photo: Ian Bartholomew
The very neatness of the little cup-like clusters of buna-shimeji made me feel that they were not quite "real" food, but easy availability does have its impact and I have been gradually won over by their versatility in the kitchen.
Buna-shimeji have a firm body that allows them to hold up under a wide variety of cooking methods from long, low and slow braising to a quick rumbustious stir fry. (They should not be eaten raw.) They have a slightly earthy flavor and can have a hint of bitterness; this is due to the presence of the organic compound terpene, which has a wide variety of beneficial bio-active functions.
While the Hokuto Corporation Web site claims that their research and breeding program has led to the development of buna-shimeji that are "less bitter and easier to eat," I have yet to find any issues with the locally grown product, which have the advantage of also being sold in larger packaging. While cute, the pillow packs used by Hokuto and others are simply not adequate for the dedicated mushroom lover.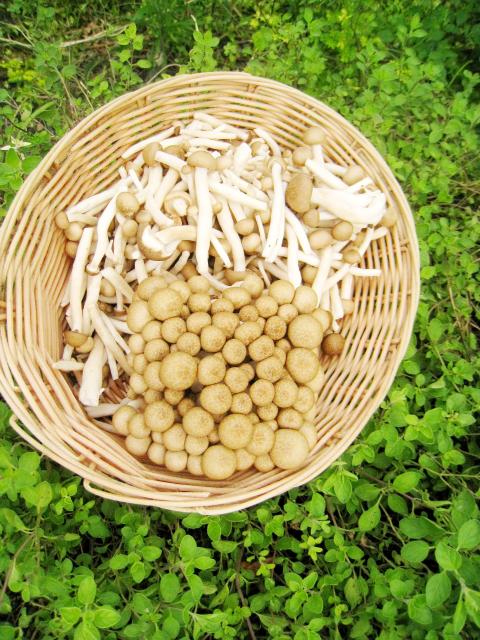 Loose and clustered buna-shimeji. Clusters are usually sold in cute pillow packs that are very convenient for storage.
Photo: Ian Bartholomew
Packets of buna-shimeji keep well in the refrigerator for up to two weeks, making them an excellent standby, and they can simply be thrown into a frying pan (just cut off the base of the cluster and they are good to go) with some hot olive oil and salt to have a nice plate of mushrooms as a side or to toss on toast. They also add a hint of earthiness to lightly cooked salads of asparagus.
When frying shimeji, it is important that they go into a nice hot skillet and that you do not over-crowd them. If the pan is too cool or the mushrooms are packed too tight, you will likely end up with something that is oily, mushy and utterly unappetizing. Seasoning with salt is also a must as even a small addition will greatly enhance the flavor of the mushrooms.
But all that said, when used for a saute buna-shimeji don't have the robustness of cremini mushrooms, which are always my first choice for such dishes. But when allowed to braise they reveal hidden depths of flavor.
Chicken Stew with Buna-shimeji Mushroom
(serves four)
Shimeji mushrooms are rich in the many and various compounds that provide umami and so despite the relatively small number of ingredients and ease of preparation, this dish has a depth of flavor that you might associate with something much more complex and time consuming. Chicken legs work best, especially if you can get local chicken (仿土雞), which have a firmer texture and a flavor that can stand out against that of the mushrooms.
Ingredients
500g boneless chicken leg, chopped in bite sized pieces
400g shimeji mushrooms
50g bacon, pancetta or homemade salt pork (see Mutant Mustard, Taipei Times Dec. 26, 2015 for this all-purpose piggy addition to your larder)
4 cloves garlic
2 stems fresh thyme
2 tbsp dry sherry (optional)
300ml vegetable stock (preferably homemade)
50g flour
Salt and pepper
Olive oil
Directions
1. Mix flour with a generous pinch of salt and pepper. Lightly dredge the chicken pieces. (One of the easiest ways to do this is to put seasoned flour into a plastic bag with the chicken, make a balloon of the bag and then shake vigorously.) Dust off excess flour.
2. Heat a heavy saute pan and add a big glug of olive oil. Over medium heat, fry the floured chicken until golden brown. Transfer the chicken to a plate and set aside.
3. Add the bacon and garlic to the same pan, adding a little oil if necessary. Cook for about 2 minutes then add the mushrooms and thyme.
4. Cook the mushrooms over medium heat for another 2 minutes. As they release some liquid, you will be able to scrape off any bits that are sticking to the bottom of the pan. Add sherry, if using.
5. Add stock and bring to a boil. Add the chicken. Return to a boil then reduce heat and simmer gently for 20 minutes, stirring once or twice toward the end of the cooking process. The mushrooms will have made a thick sauce that coats the meat.
6. Serve with rice or mash, or on toast, or eat out of the pan standing by the hob. Umami heaven.
Ian Bartholomew runs Ian's Table, a small guesthouse in Hualien. He has lived in Taiwan for many years writing about the food scene and has decided that until you look at farming, you know nothing about the food you eat. He can be contacted at Hualien202@gmail.com.
Comments will be moderated. Keep comments relevant to the article. Remarks containing abusive and obscene language, personal attacks of any kind or promotion will be removed and the user banned. Final decision will be at the discretion of the Taipei Times.