Molded in faith
A company's concrete temples save worshipers time and money
Some companies in Taiwan spend months building temples with bricks and cement, but Lin Fu-Chun's (林復準) firm simply pours concrete into a giant mold and waits for it to dry.
The 78-year-old Lin said his temple factory, Chuanso (傳說藝品), needed just over six weeks to finish a building that normally took six months with conventional methods — and molding was 40 percent cheaper.
Lin oversees up to 20 builds at a single time at his vast indoor facility in Taiwan's southern county of Pingtung, employing around 100 people to fill the demand for prefabricated temples of different sizes, as well as statues of deities.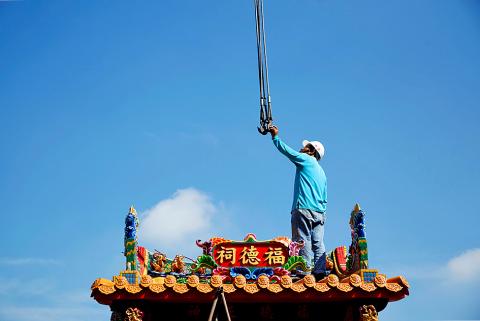 An employee moves a ready-made Chinese traditional temple during delivery in Taichung early last month.
Photo: Reuters/Tyrone Siu
The items are also exported, mainly to overseas Taiwanese who want to bring a piece of their culture to new homes in China, Singapore and elsewhere in Asia.
"It's more convenient for some people, who need a smaller temple where they can worship," Lin, who has worked in temple construction for almost 50 years, told Reuters.
Lin started his temple business in 1993, prior to which he sculpted and painted the dragons and phoenixes that feature atop Taiwanese temples. But now he employs others to do that work.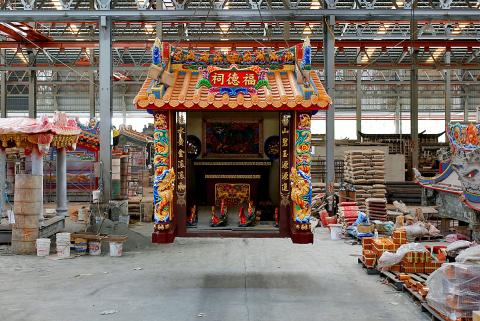 A ready-made Chinese traditional temple is seen in Pingtung early last month being lifted for delivery at the Chuanso factory, which manufactures religious objects.
Photo: Reuters/Tyrone Siu
Many of Liu's staff are farmers, who work part-time to help during different phases of the concrete construction method that he says rival firms have copied.
The builds are painted in bright colors and decorated with ornaments before being dispatched around the country on trucks by delivery staff, who add any finishing touches requested by buyers.
Prices range from US$1,250 to US$62,500, depending on the size of the temple and the detail work required, with the Earth God and the Wealth God, which are among Taiwan's most widely worshiped deities, proving popular.
Comments will be moderated. Keep comments relevant to the article. Remarks containing abusive and obscene language, personal attacks of any kind or promotion will be removed and the user banned. Final decision will be at the discretion of the Taipei Times.