CD reviews
Nothing's Real, Shura, Interscope Records
The young English singer Shura is fluent in the sound of mid-to-late 1980s dance-pop and freestyle: really, almost born to it. This is the area of early Madonna and Janet Jackson, Debbie Gibson and Debbie Deb, and it comes out fully embodied and elegantly modernized on Nothing's Real, her first album.
In musical terms — because so much of this album's meaning and information comes directly through its music — Shura's '80s fixation means that you hear her vocal phrasing in a confiding, syncopated staccato; heavy accents on the two and four beats; handclap sounds from a Roland TR-808 drum machine; synthesizer bass lines and clean guitar notes meted out in steady percolation, as another function of rhythm.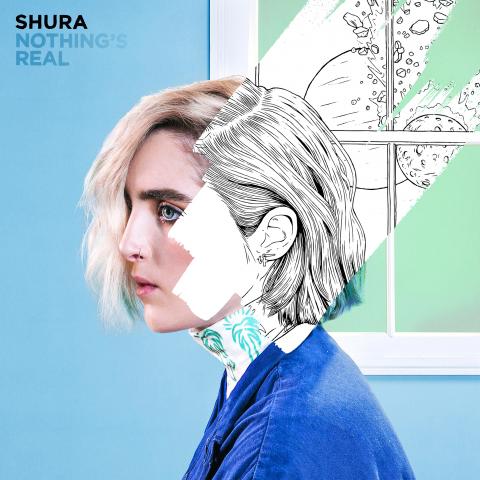 Nothing's Real, by Shura.
Photo: Shura Nothing's Real
The album's title comes from a track about an emergency-room experience after a panic attack: "I see my heartbeat inside a television screen/ My body's not connecting," she sings. But if you take that title as any kind of larger credo, Shura contradicts it with her own work. This music is real: mappable and quantifiable. It doesn't feel out of the blue at all. It's the result of an artist working with full knowledge of the pop-historical process, moving backward to move forward.
The action in these songs doesn't come out of the blue, either. Twenty-five-year-old Shura — born Alexandra Lilah Denton, raised in Manchester by English and Russian parents — creates lovestruck, self-doubting narrators careful to run every experience inside their heads, and the consequences therefrom, before acting them out.
They think about lighting a cigarette, but instead they adjust their hopes up or down some more. They're young and shy city dwellers, possibly in school or just out of it; they're wondering what other people are thinking and who's having fun. They ask questions, not really sexualized or gendered, that basically can't be answered: "Do I tell you I love you or not?" (in What's It Gonna Be?); "How can I not be everything you need?" (in Kidz 'n' Stuff); or, best of all: "Do you wake up in the night and change your mind?" (in Make It Up). The protagonists not only play by the rules, but think deeply upon them, living on the line between despair and control. If you pay attention to words, you will notice quickly that these songs are full of thought and almost devoid of action.
In the big picture, all of that doesn't seem so much like caution — it seems like a kind of spiritual moderation, which seems to fit with Shura's larger project. Shura wrote and produced most of these songs with Joel Pott from the band Athlete, except for two tracks (What's It Gonna Be? and Tongue Tied) made with Greg Kurstin, known for his work with Adele and Sia. It's clear that Shura has studied her '80s dance-pop sources closely, down to the fine details. But she seems to have triangulated them with the songs and production style from the last five or six years of records by Devonte Hynes, Robyn and Solange — and, to a lesser extent, The War on Drugs, to judge from the swift rhythm and guitar-haze backgrounds of What Happened to Us?
There's something knowing and clever, but never gratingly so, in the way she's balancing ideas of newness and collective memory. Those handclaps from the 808, depending on your generation, are either an awkward-cool detail or powerful calls from the past. The same goes for the new video for What's It Gonna Be?: a "Breakfast Club"-like scenario of high school crushes with an LGBT plot twist. (In an interview with the online publication Mancunian Matters late last year, Shura said she identifies as lesbian.)
That Nothing's Real is coming out on a major label, Interscope Records, is of some interest, too. I know — major, indie, the distinctions often don't matter anymore. But here they do. This record's bouncy beats are a kind of decoy: This specific kind of dance-pop redux tends to be a form of classicism, usually practiced by self-determining artists (like Hynes of Blood Orange or Ramona Gonzalez of Nite Jewel) with idiosyncratic care, which is to say you hear their small flaws and longueurs as part of the overall aesthetic.
This record is having it both ways. Within fairly limited goals, the details here, including Shura's finely shaped vocal tracks, approach something like perfection. The record lays out the sound and manners of a little-known aesthetic area: smooth, blithe and introverted.
Comments will be moderated. Keep comments relevant to the article. Remarks containing abusive and obscene language, personal attacks of any kind or promotion will be removed and the user banned. Final decision will be at the discretion of the Taipei Times.