Highlight: Fiesta
Buffet Latino Americano
The first Buffet Latino Americano kicks off this Sunday at Fiesta Cafeteria near Taipei American School in Tienmu (天母). Organized by Latin American expats, the event will hopefully be part a series of fiestas hosted at various venues throughout Taipei where the aim is to introduce to people Latin American culture and cuisine.
There will be pre-dinner dance lessons at 4pm for Latin music lovers and the buffet starts at 6pm. The spread includes Mexican fish tacos, Costa Rican-style rice and beans (gallo pinto) and silpancho, a hearty Bolivian meal consisting of rice, potatoes, meat and fried eggs — all made by Latino chefs.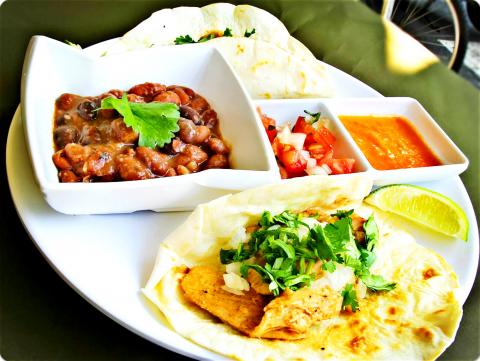 Latin American cuisine is served at Fiesta Cafeteria in Tienmu.
Photo courtesy of Fiesta Cafeteria
■ Latin music dance lesson is 4pm to 5:30pm. Buffet is 6pm to 9pm on Sunday at Fiesta Cafeteria (拉丁美洲小吃), 99, Ln 8, Tienmu E Rd, Taipei City (台北市天母東路8巷99號). Tickets for dance lesson and buffet are NT$550. The buffet is NT$500. For more information, go to: www.facebook.com/events/620072644814189
Comments will be moderated. Keep comments relevant to the article. Remarks containing abusive and obscene language, personal attacks of any kind or promotion will be removed and the user banned. Final decision will be at the discretion of the Taipei Times.