Highlight: Fourth of July activities
Well, guess the Canadians got to have all the fun. The great North American birthday party in Taiwan has been cut short as The American Chamber of Commerce Taichung will not be having its annual Independence Day bash this year, citing time, application and sponsorship issues.
Nothing large-scale is going on, but here are a few bar and restaurant alternatives for the good Americans out there:
Carnegie's Taipei, 100, Anhe Rd Sec 2, Taipei City (台北市安和路二段100號), is having a barbecue party and a very American hot dog eating and beer drinking contest tomorrow at 6pm.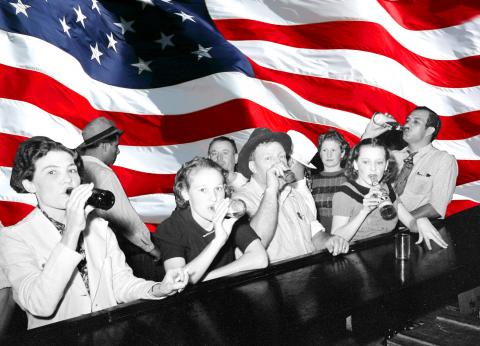 It appears that there is nothing else to do for the 4th of July in Taiwan but to drink.
photo courtesy of Wikimedia Commons
If you drink on Mondays (who doesn't), Beer and Cheese Social House, 117, Keelung Rd Sec 2, Taipei City (台北市基隆路二段117號), will be celebrating the actual 4th of July, featuring American Indian Pale Ales on tap, "live American hits" from 8pm to 10pm and special deals if you can prove you're American (hint: bring your passport).
In Kaohsiung, hot dog joint Bark!, 313, Chengfong Rd, Kaohsiung City (高雄市城峰路313號), will celebrate with specials on Sunday and Monday, while Foster Hewitts Bar and Grill, 30, Wenchung Rd, Kaoshiung City (高雄市文忠路30號) will be doing an all-you-can-drink party for NT$600 tomorrow.
Comments will be moderated. Keep comments relevant to the article. Remarks containing abusive and obscene language, personal attacks of any kind or promotion will be removed and the user banned. Final decision will be at the discretion of the Taipei Times.