Civilization or carnage
The LAB Space's rendition of 'God of Carnage' will leave audiences crying tears of laughter and musing over the point of human existence
If there's one show that you don't want to miss this summer, it's LAB Space's presentation of Yasmina Reza's God of Carnage, playing over the next two weekends.
In Carnage, which won the Tony Award for best play in 2009, director Jaime Zuniga has put together a strong, talented cast to meet the demands of a play where there are no small parts and no heroes. Two sets of parents, who meet to resolve a fight between their sons, quickly expose their own dysfunctional marriages in a loser-take-all match where all are basically on stage for a full 90 minutes.
Yong Hui-shurn (楊慧珊) plays Veronica, a writer determined to preserve civilization, its values and symbolic books. She drives the play by arranging the meeting. Derek Kwan (關顯揚) plays Michael, her husband, and a "Neanderthal-type" blue collar.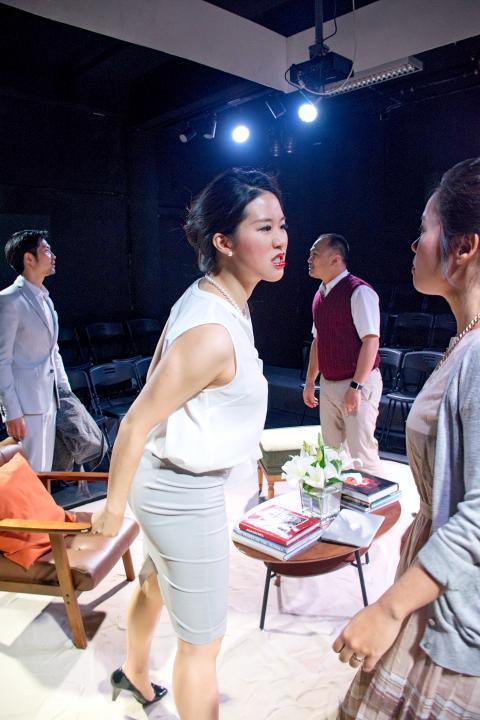 A scene from God of Carnage, a Tony-award winning play by Yasmina Reza that is being performed in Taipei by LAB Space.
Photo courtesy of Cheng Yi Lee
On the opposing team is Alan, a busy lawyer played by Lawrence Ong (翁書強). He wants the mundane incident to be settled in 15 minutes so he can get back to his more important clients and work. Lesley Hu (胡世恩) plays Annette, his demure wife. Despite her initial reserved poise, she wreaks carnage by the play's end.
The lines come fast and furious, and the play dissects not just marriage, but children, families and the point of existence. Each actor and actress has their moment of revelation and vulnerability as all four alternately contest in couple vs couple and gender vs gender battles where the veneer of civilization crumbles and even the symbolic books take a beating.
Making use of LAB Space's flexible space, Zuniga skillfully stages this one-set play as a close, intimate theatre in the round where any seat is good as the four combatants move about as boxers in a ring. With four-letter words flying in criticism and retaliation, this is not a show for children.
We are "lumps of clay," Michael jokes at the beginning, but what these four adult enfants terribles fashion by the play's end is not the most promising. You will laugh, but also be forced to reflect.
■ The LAB Space (實演場), 3F, 9, Beitou Rd Sec 1, Taipei City (台北市北投路一段9號3樓). Remaining shows are tomorrow and Sunday and July 1-3. All shows begin at 8pm, doors open 7:30pm. Tickets are available from NT$600 at: www.accupass.com/go/carnage; for more information, check: thelabtw.com.
Comments will be moderated. Keep comments relevant to the article. Remarks containing abusive and obscene language, personal attacks of any kind or promotion will be removed and the user banned. Final decision will be at the discretion of the Taipei Times.