Taiwan in Time:The well of miracles
Water retrieved at noon on Dragon Boat Festival from Taichung's Sword Well is a prized commodity due to its association with Cheng Cheng-kung. How much of the legend is true?
Taiwan in Time: June 13 to June 19
Every year on the morning of the Dragon Boat Festival, a crowd gathers at a well on Tiechan Mountain (鐵砧山) in Taichung's Dajia District (大甲), waiting to retrieve water at exactly noon.
Despite being only 3m wide and 1m deep, Sword Well (劍井) has quite a legend behind it. It is said that around the time of the Dragon Boat Festival in 1662, an army led by Cheng Cheng-kung (鄭成功), the Ming Dynasty loyalist known for driving the Dutch out of Taiwan, was trapped on the mountain by hostile Aborigines.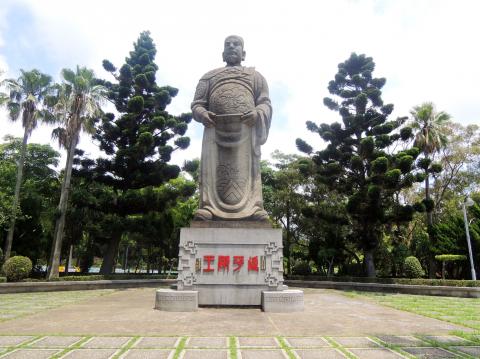 A statue of Cheng Cheng-kung in Taichung's Dajia District, where the Sword Well is located.
Photo: Chang Hsuen-che, Taipei Times
With no water sources nearby, Cheng prayed to the heavens and stabbed his treasured sword into the ground — and water started gushing out, saving his army. It is said that the sword remains in the well and resurfaces every year on Dragon Boat Festival, and water obtained at noon that day can cure all kinds of illnesses and will stay fresh for a whole year.
Up until its renaming in 1953, it was referred to as the Well of the Imperial Surname (國姓井) as Cheng was granted use of the Ming royal surname of Chu (朱) by Chinese Emperor Longwu (隆武).
The history of this legend is detailed in a study, Discussion on the Changing of Sword Lake Legend (論劍潭傳說的流變) by Lee Yi-ching (李宜靜), assistant professor at Tainan's University of Kang Ning (康寧大學).
People gather around the Sword Well in Taichung to retrieve water at noon on Thursday. Legend has it that the well was created when Cheng Cheng-kung plunged his sword into the ground.
Photo: Chang Hsuen-che, Taipei Times
Lee examines several late-Qing Dynasty accounts of the legend, noting that they all contain different details. The earliest version, from 1871, was the simplest: it stated that Cheng acted because the water in the area was undrinkable and mentions no Aborigines.
A subsequent version has Cheng being trapped on the mountain with no water source, but a 1892 account cites "lack of water" and contains an additional scene where the sword remains in the well and shines brightly at night.
More additions were made later, such as the river snail who regenerated in the water and the man who tried to retrieve the sword to no avail.
It is not clear if government officials simply ignored the existence of Aborigines and at what point they became part of the tale, but they are clearly mentioned in a 1975 biography of Cheng.
Interestingly, the book Legends of Xiamen (廈門的傳說) contains the exact same story, except that it took place on Gulangyu Island (鼓浪嶼) off the coast of Xiamen in China's Fujian Province.
HISTORICAL ACCURACY
As far as the historicity of the legend goes, the location and timing do make sense, but at closer examination, there are several questionable issues.
After a failed invasion of the fallen Ming capital of Nanjing, and with Qing troops closing in on the last Ming stronghold of Fujian, Cheng turned his eyes toward Dutch-controlled Taiwan as a base to regroup.
Setting sail with 400 ships and 25,000 troops, Cheng landed in today's Tainan in April 1661, capturing Fort Provintia in a few days and laying siege to the multiple-walled Fort Zeelandia (安平古堡, also known as Anping Fort). Nine months later, the Dutch surrendered and evacuated in February 1662.
They say Cheng conquered Taiwan, but in fact, his kingdom, even at its height under his son, is only said to encompass an area roughly between today's Changhua County and northern Pingtung County as well as the outlying island of Penghu. The Sword Well is located well north of this territory.
Facing a lack of food during and after the siege, Cheng ordered his troops to move beyond the kingdom's borders to clear new land for farming — an act that would inevitably put them in conflict with Aborigines.
Historian Chen Chieh-hsien (陳捷先) writes in his book, Not Shaving Hair and the Two States Theory (不剃頭與兩國論) that the scope of this endeavor was broad. The troops spread out from Tainan and established a scattered network of farms that reached the southern border of today's New Taipei City. This is probably when Cheng's troops encountered the Aborigines in Dajia, located just north of the tribal alliance or kingdom of Middag (大肚王國).
Up to this point, the legend is still accurate if you do not question whether Cheng, in his position, would personally participate in these development activities. All accounts examined state that he "sent" or "ordered" troops to do so. Some versions of the legend address this, stating that he was visiting the area to raise the morale of his troops before they were trapped on the mountain.
But here's where it gets hairy: Dragon Boat Festival took place on June 20 in 1662, and Cheng is known to have died on June 23.
At least five accounts on Cheng's life state that he suddenly fell ill (the ailment varies) at the beginning of the fifth month of the lunar calendar, which roughly corresponds to June 15, and died in Tainan. So he simply could not have been in Taichung around June 20.
Case closed?
Taiwan in Time, a column about Taiwan's history that is published every Sunday, spotlights important or interesting events around the nation that have anniversaries this week.
Comments will be moderated. Keep comments relevant to the article. Remarks containing abusive and obscene language, personal attacks of any kind or promotion will be removed and the user banned. Final decision will be at the discretion of the Taipei Times.