A cure for cancer?
A Taipei woman makes an astounding recovery from late-stage breast cancer without chemotherapy or invasive surgery
In November 2014, Chang Chiung-wen (張瓊文) packed a suitcase full of old clothes and left her home. She had spent the previous 18 years taking care of her child and husband, who is paralyzed from the neck down due to a car accident.
"I planned to find a place to die quietly," she says. "If I could not take care of my family, I would only be a burden to them."
Chang had just been diagnosed with mucinous carcinoma in her left breast. After three visits to National Taiwan University Hospital, she was told that the cancer had metastasized to her armpit and surgery would be futile. If she did not undergo chemotherapy, she was told, she would only have a few months to live.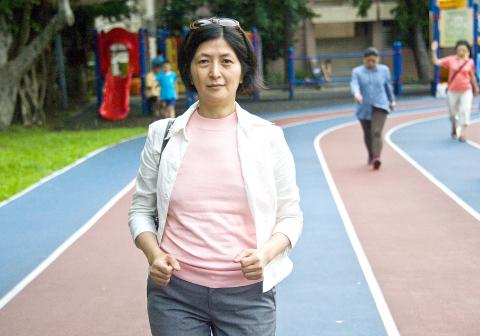 Chang Chiung-wen takes a walk at a track next to Taipei City Hospital's Yangming branch. She says consistent exercise is one of the keys to her recovery from late-stage breast cancer.
Photo: Han Cheung, Taipei Times
Chang lost her will to live, and that is when she left home. During this time, her husband spent all day on the Internet (with the help of a caretaker) looking for a sliver of hope. He read about Liu Chin-liang (劉金亮), a neurosurgeon at Taipei City Hospital's Yangming Branch, who had just made the news for curing a patient with two malignant brain tumors using his noninvasive "three-in-one treatment" (三合一療法).
Chang's husband called her repeatedly to tell her his discovery, but she refused to pick up. One day, she accidentally pressed the receive button, and decided to give it a last try.
DELAYED DIAGNOSIS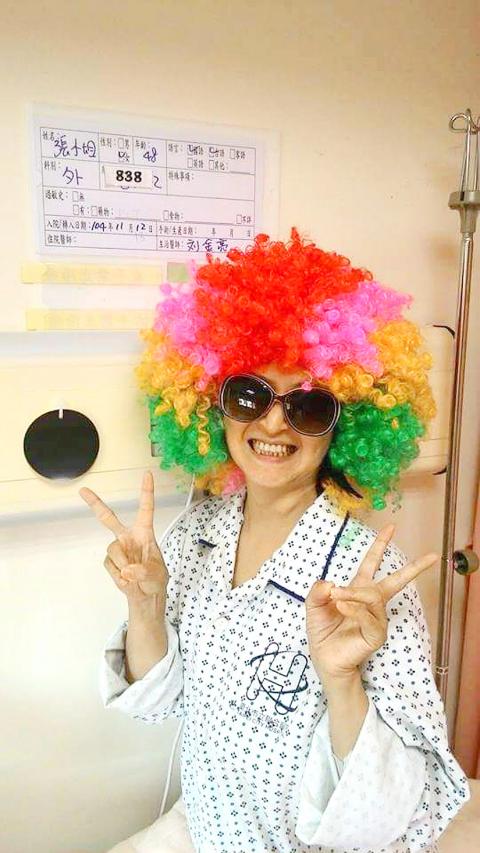 Breast cancer survivor Chang Chiung-wen took a series of goofy self-portraits during treatment to encourage herself and the medical staff.
Photo courtesy of Chang Chiung-wen
Chang says even Liu was reluctant to take her at first — but eventually relented as Chang told her she had nowhere else to go.
Liu says mucinous carcinoma, which makes up about 2 percent of breast cancer cases, is actually benign and fairly easy to treat — but Chang had waited for too long.
Chang says she had always known that something was wrong with her — for more than a year before the diagnosis, she had experienced what she would later know to be cancer fatigue. She also noticed the growth on her breast, but she was afraid to leave her family behind.
Instead, Chang opted to receive weekly nutrition injections. She had trouble eating, and often ended up crying on the side of the road because she did not have the energy to walk home after grocery shopping — even passing out on multiple instances and being revived by passersby who administered CPR.
Over time, the growth became unbearably painful, and she finally had to seek help. It was not easy after she moved to Taipei City Hospital either, as she says several staff and doctors suggested she move to hospice care. She eventually broke down in her hospital room.
"The doctor came and told me that once he takes a patient, he will not give up on them even after they leave the hospital," Chang says. "How could I give up on myself?"
'THREE-IN-ONE TREATMENT'
Chang started treatment with Liu in December 2014. Liu says he is like the "refugee camp" of cancer patients — he often takes in those who have been deemed incurable by other institutions.
Liu says the first person he cured was his mother, who had undergone multiple surgeries for a thyroid tumor that had metastasized to the brain. After the cancer returned, he decided to try a different method so she would not have to go through another surgery.
Liu says his methods are different from medical norms, and are only used when all other options have been exhausted. He says that he has cured more than 10 of the over 30 final stage or near-death patients he has accepted over the past two years.
"I only use [the treatment] on people who have no more hope," he says. "Otherwise I tell them to undergo regular treatment elsewhere."
Liu says that patients first undergo intravenous nutrition therapy, a method many physicians will not perform because the nutrients can turn into toxins and feed the cancer cells if they stay in the body for too long.
He says the way to combat this is to make sure that patients exercise and eat regularly to speed up metabolism and increase immunity. He adds that he makes sure that patients defecate daily so the waste is excreted before it becomes toxic.
Finally, he injects a solution derived from the patient's blood directly into the affected area. With these methods, the tumor stops metastasizing.
NTU Hospital's breast center declined to comment for this story, citing patient privacy issues. The Chinese Oncology Society (中華民國癌症醫學會) declined to recommend an expert to comment on Liu's method, while NTU's Cancer Research Center did not respond to calls or e-mail.
Chang says she made sure she followed Liu's instructions, even when it was painful to eat or walk. After a few months of pain therapy, she started feeling better.
Over time, lesions started appearing on the breast — and in November last year, a 7cm tumor fell out of one of the lesions.
Liu says he decided to take the chance and remove all of the tumors from the lesion — thus avoiding surgery. It was risky, he says, because the growth had pushed against her chest cavity and any wrong move may have punctured the lung. The first surgery took 15 hours, followed by a nine-hour surgery about a month ago.
Chang recovered quickly. Today, she eats regularly and walks up to 4km per day, though she still needs to revisit the hospital for monitoring.
Liu says this rapid progress would not have been possible if not for the lesions that formed in the right place.
"The heavens wanted her to live," he says.
NEW LEASE ON LIFE
Before she got sick, Chang said she only lived for others. Now she plans on treating herself a little better.
"Before this, I did not have any wishes (for myself)," she says. "I took care of my husband for so many years, and I raised my child who is now 20 years old. That was enough for me. If I had to go, so be it. But I was given a second chance."
With things only happening so recently, Chang has not decided about her future plans.
"I have not thought that far," she says. "But I want to live well, and live happily. I can do anything I want to; I can live like a regular person. I can live at ease."
Comments will be moderated. Keep comments relevant to the article. Remarks containing abusive and obscene language, personal attacks of any kind or promotion will be removed and the user banned. Final decision will be at the discretion of the Taipei Times.