Ives' shorts will put a smile on your face
LAB Space had its audience laughing up a storm last weekend with its rollicking presentation of American playwright David Ives' Ives' Shorts.
Diverse existentialist conundrums is the name of the game as Ives delivers six distinct "shorts" and clearly challenges actors and actresses to handle multiple roles with a variety of witty and changing dialogues. Guest directors Ting Kao (高詩婷) and Andrew Chao (周厚安) have chosen and directed their cast well and found new talent in the process.
James Lo (羅濟豪), one of many newcomers to LAB, is at his best in Words, Words, Words, the classic test to prove the "Infinite Monkey Theorem." In Sure Thing, he had run a gamut of pick-up lines with a blossoming Carrie Mo (莫少宣) and in The Philadelphia, he enjoyed the carefree spirit of being in "Los Angeles," as opposed to Victor Stevenson's "funky Philadelphia." But here as the pragmatic "Milton," he shows how a chimp can manipulate the system to get smokes. At the same time, of course, he argues practically with the plotting Swift, Charlie Storrar, that they should just type "Hamlet" (whatever that is) and get out of there.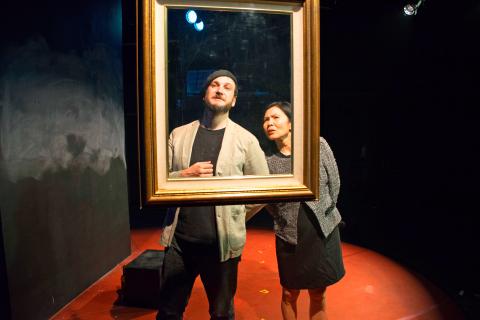 Charle Storrar plays the role of Degas from the short Degas, C'est Moi, while Sharon Landon looks on.
Photo courtesy of Cheng Yi-lee
Out for revenge on the unseen yet "observing" Dr Rossenbaum, Storrar fiendishly plots a poison-tip sword death reminiscent of Shakespeare's Laertes to do the job.
Storrar is not done; he adroitly handles other roles. In Degas C'est Moi, he pontificates as an imaginative and whimsical Degas for a day while other cast members as typical New Yorkers condescendingly ignore him. In Variations, as the pondering, cerebral Trotsky, he seeks reprieve while his inquisitive and "sometimes dutiful," wife Sharon Landon assists.
Not to be ignored in this ensemble is Angela Collengberg. As the more focused chimp Kafka in Words, she actually gets the play done. But her best role is when she transforms from stuttering shyness to masterful "linguist" with the coaching effervescent Stevenson in Universal Language.
The set is minimalist and a merry-go-round concept of entering and leaving provides a neat, systematic way to change sets. This is live theater at its best.
Publication Notes
Performance Notes
What: Ives' Shorts
When: Tonight and tomorrow at 8pm and Sunday at 2:30pm; March 25 and March 26 at 8pm and March 27 at 2:30pm
Where: The LAB Space (實演場), 3F, 9, Beitou Rd Sec 1, Taipei City (台北市北投路一段9號3樓)
Tickets: NT$600, available through www.accupass.com/go/ives or at the door.
Comments will be moderated. Keep comments relevant to the article. Remarks containing abusive and obscene language, personal attacks of any kind or promotion will be removed and the user banned. Final decision will be at the discretion of the Taipei Times.