Lab Space kicks off its season with comedy
Their first performance is the play 'Shorts' by David Ives
The LAB Space kicks off the year with David Ives' delightful comedy Shorts.
Ives, a prolific American playwright, is best known for his clever one-act plays that highlight the interplay of language, existential imagination, word play conundrums and more.
The six "shorts" were chosen by directors Ting Kao (高詩婷) and Andrew Chau (周厚安).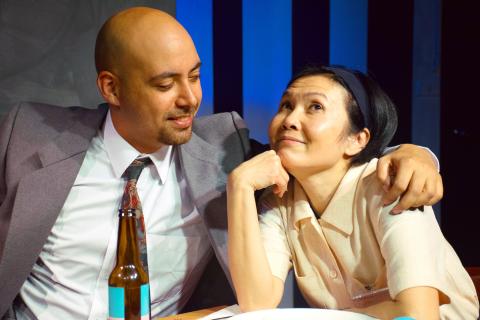 Victor Stevenson, left, and Sharon Landon in a scene from the short play The Philadelphia, one of six shorts from David Ives' Shorts that will be performed this weekend at the Lab Space.
Photo courtesy of Cheng Yi-lee
Who would not wish for a reset button for conversations that go awry? In the Sure Thing, a man and a woman meeting for the first time have that luck. Each time their conversation turns negative, a bell rings and they must start again.
With Degas, C'est moi, a man wakes up one morning and decides he should be the great French Impressionist painter Edgar Degas. But is the world ready for him?
In The Philadelphia, a different man finds himself in a twilight zone where he discovers that he can only get what he wants by asking for the opposite.
The Russian revolutionary Trotsky finds himself being killed over and over again in Variations on the Death of Trotsky. However it is in his conversations with his assassin that he is able to come up with memorable profound statements.
A scam artist invents a new imaginary language, Unamunda, and charges people to learn it in The Universal Language. All goes well until he falls in love with one of his students.
Words, Words, Words. Three chimpanzees named Milton, Swift and Kafka are locked in a room with typewriters to hopefully create Shakespeare's Hamlet through their random typing. What they discuss while doing this is the key.
This production sees the returning faces of Victor Stevenson (Tuesdays with Morrie) and Sharon Landon (A Perfect Ganesh) from last year. Season tickets are available at: www.accupass.com/go/lab2016
Publication Notes
Performance notes
What: Shorts
When: Tomorrow and Saturday at 7:30pm and Sunday at 2:30pm; March 18 and March 19 at 7:30pm and March 20 at 2:30pm; March 25 and March 26 at 7:30pm and March 27 at 2:30pm
Where: The LAB Space (實演場), 3F, 9, Beitou Rd Sec 1, Taipei City (台北市北投路一段9號3樓)
Tickets: NT$600, available through www.accupass.com/go/ives or at the door
Comments will be moderated. Keep comments relevant to the article. Remarks containing abusive and obscene language, personal attacks of any kind or promotion will be removed and the user banned. Final decision will be at the discretion of the Taipei Times.