Do as the lady says
This year's Baishatun Matsu pilgrimage leaves the Gong Tian Temple just after midnight on Wednesday morning. If you fancy a uniquely Taiwanese experience, this 11-day pilgrimage may be the one for you
On March 16th, on the stroke of half past midnight, a palanquin holding a centuries-old Matsu statue, newly washed and dressed, will leave the Gong Tian Temple (拱天宮) in Baishatun (白沙屯), Miaoli County.
Who chose that date? The goddess did. Why leave at such an ungodly hour? That, too, was Matsu's decision.
The 11-day pilgrimage will take in a 200km round trip to Chao Tian Temple (朝天宮) in Beigang (北港), Yunlin County, and back. The arrangements, says the temple's current director, Chen Chun-fa (陳春發), are 70 percent decided by the goddess, 30 percent by the temple committee.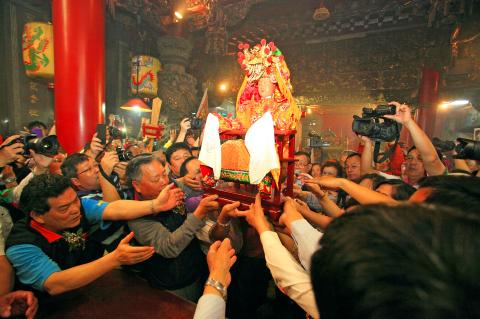 Gong Tian Temple's Matsu statue is held aloft in Baishatun, Miaoli County, in this undated photo.
Photo courtesy of the Baishatun Matsu Web site
Chen says the committee wanted an early morning start to let the pilgrims get some sleep, but no matter how many times they cast lots it was "no" for a morning start.
"We always go according to what Matsu wants."
The Baishatun pilgrimage, the earliest "pedestrian" Matsu pilgrimage in Taiwan, started over 200 years ago, with perhaps 20 pilgrims, Chen says. Today pilgrims come from all over Taiwan, and from Japan. When Chen first attended in 1971, there were some 300 pilgrims. There were no more than 3,000 when he joined the temple 15 years ago.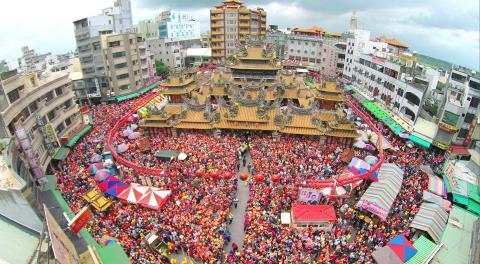 An aerial photo captures the crowds waiting outside Chao Tian Temple in Yunlin County's Beigang during a recent Baishatun Matsu pilgrimage in this undated photo.
Photo courtesy of the Baishatun Matsu Web site
"It has increased yearly since then and ballooned in the last few years. Last year 19,000 people registered; 15,000 have already registered for this year's event."
Unlike the Dajia (大甲) pilgrimage, the route is unknown.
"Lots of police ask us, but we can only tell them that we simply don't know," Chen said.
MATSU'S WHIM
Matsu will tell the bearers her preferred direction whenever they come to junction. In 1978, Matsu decided not to cross the Xiluo Bridge (西螺大橋), and insisted on going underneath, where they chanced upon a family living in a ramshackle hut by the river. The palanquin swayed, lots were cast, and it was discovered Matsu was saying the family should move before the Dragon Boat Festival.
The family moved, heavy rains swelled the river, the shack was swept away.
Neither does the goddess necessarily allot to stay overnight at a temple. Thirty years ago the palanquin stayed at a house in Xiluo. It entered via the front door without problem, but the next morning the owner had to dismantle the doorway to get the palanquin out.
"That year he made a lot of money," Chen said, referring to the popular notion that if you do Matsu a favor, she will reward you.
For a registration fee of NT$700, pilgrims receive clothes, a hat, a talisman, a mention to Matsu and their name read out by Chao Tian Temple priests before the pilgrimage returns from Beigang. You cannot register online; send money and info including your name and size via registered post, and on the day of the pilgrimage you can pick up your goodies from the temple.
You don't need to register to participate.
If you fancy attending some or all of the route, it leaves the temple, near Baishatun train station in Miaoli County, at 12:30am on Wednesday, arriving in Beigang on March 20 and arriving back in Baishatun on March 26.
Food and water are provided free along the route. Bring sunscreen, mosquito repellent, talcum powder and consider a tent. Be prepared for huge crowds.
— additional reporting by louis jia-yu wei
Publication Notes
Pilgrimage notes
What: Baishatun Matsu pilgrimage
When: Wednesday at 12:30am to Saturday March 26
Where: Gong Tian Temple (拱天宮), 8, Baidong Borough, Tongsiao Township, Miaoli County (苗栗縣通霄鎮白東里8號). The pilgrimage starts on Wednesday at 12:30am, arrives at Beigang's Chao Tian Temple on March 20 and arrives back in Baishatun on Saturday March 26. Actual route unplanned.
On the Net: www.baishatun.com.tw and www.facebook.com/baishatunluo
Getting there: Take the Taiwan Railways Administration (TRA) train from Taipei Main Station (台北車站) to Jhunan (竹南) and then transfer to local train to Baishatun (白沙屯). One-way tickets cost NT$300.
Comments will be moderated. Keep comments relevant to the article. Remarks containing abusive and obscene language, personal attacks of any kind or promotion will be removed and the user banned. Final decision will be at the discretion of the Taipei Times.