Book review: A politician for the times
Jon Gnarr founded 'the craziest, wackiest party that ever saw the light of day,' to contest a mayoral election in Iceland's largest city, Reykjavik, and won
Once, when the US radical guru Noam Chomsky was asked who his favorite city mayor was, he replied it was Reykjavik's Jon Gnarr, adding that there wasn't really any competition.
I once traveled to Berlin when it was still surrounded by East Germany, a communist state. The occasion was a festival of London art and artists, and my fellow-travelers were a weird lot, very much the products of the anarchic 1970s. At the East German border, where we'd expected problems, one of them stood on his head. The communist border-guards all burst out laughing, and let everyone through with only a cursory passport examination.
Politics usually involves the clash of two opposing tendencies, but here I realized there was a third way — humor. It isn't often, of course, that there's a chance to put humor directly into action, but the collapse of the Icelandic banking system in 2008 was one such chance. Traditional, gray-suited politics had failed the nation. A professional comedian and punk rocker, hard of hearing and a school drop-out with red hair (that made him immediately recognizable as the heir of Johnny Rotten of The Sex Pistols), Jon Gnarr founded The Best Party. Its slogan was "Why choose the second best when you can have The Best?"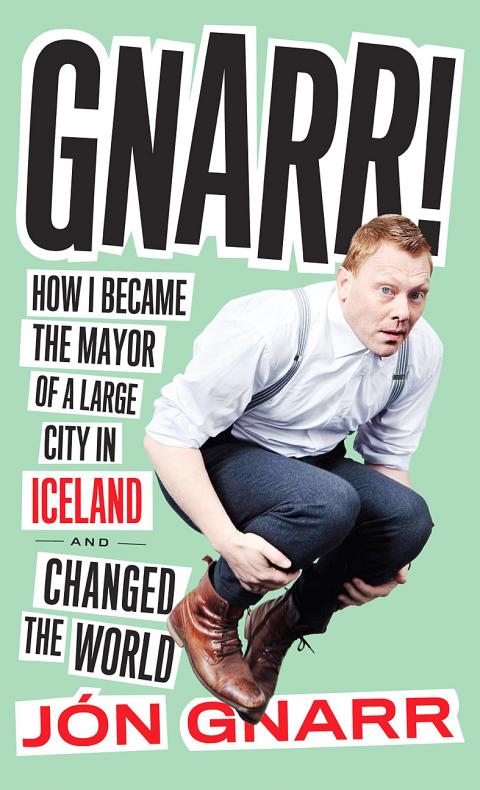 GNARR! : How I became mayor of a large city in Iceland and changed the world, by Jon Gnarr.
Fun is crucial for Gnarr. As he writes here, "As soon as something is no longer fun, it's worthless, pointless, and sick." He continues: "To save democracy, politics must attract a wider range of people. We need scientists. We need artists ... We need shy people. We need the overweight, the stutterers and the disabled. Punks, bakers and manual workers. And above all, we need young people."
So Gnarr founded "the craziest, wackiest party that ever saw the light of day," posting it on Facebook and circulating surrealist prose on social issues using the ugliest typography and the most hideous color combinations he could find. Then he registered it as a not-for-profit organization, the whole thing taking around an hour and costing him US$40.
In the 2010 Reykjavik city elections the Best Party came first, winning 35 percent of the vote, and, after making an alliance with the Social Democrats who'd won 19 percent, they formed the city government. Jon Gnarr was appointed mayor. As a comedian he'd picked up 15 criminal charges for making jokes some people found offensive, but his political alliance adopted policies that proved popular, and he stayed in office until last year.
Gnarr's antecedents are clear — Jerry Rubin and Abbie Hoffman of the American Yippies in the 1960s (Rubin appeared before a committee of Congress dressed as Santa Claus, while Hoffman penned Revolutionforthehellofit, with its slogan "Be realistic, demand the impossible"). John Cleese and the Monty Python team were also influences, and Italy's Beppe Grillo is a parallel figure. But Gnarr is the only one of these to have gained significant political office.
You could, though, make a connection with Chen Shui-bian (陳水扁) dressing up as Batman when he was Mayor of Taipei. Gnarr, too, frequently dresses up, routinely appearing in drag at Gay Pride parades. One year, after his Moscow equivalent had declared any Gay Pride march illegal, he donned a Pussy Riot mask. But the reality is that he's married with five children, and his wife, Joga, is central to his story. Her main principle, she says in an interview reprinted here, is "Go, go, go, go, go, go out of your comfort zone."
There's a Chinese connection, too. Gnarr writes that he's read the most important Taoist scriptures and believes in the principle of wuwei (無為), which in judo means allowing your opponent to underestimate you. (Judo is something Gnarr actively practices). So when in the council chamber opponents accused him of being semi-literate and even retarded, he'd sit there smiling in his punk clothes, and, when they'd finished, reply that their attitudes went back to ancient Rome, leaving his enemies flabbergasted.
As for what the Best Party achieved in its four years in charge of Reykjavik, it re-organized the city's schools to the general satisfaction of parents and teachers alike, promoted the arts, established cycling lanes and instituted online voting by workers involved in several projects run by the city. If there continued to be lobbying by big business, Gnarr writes, at least he wanted it to be out in the open.
Iceland is a country with only 329,000 people, and Reykjavik is its only city. Consequently Gnarr really was what Lady Gaga called him, the "Mayor of Iceland." Bjork was, incidentally, also a major supporter. The country has no army and no armed police. In the unlikely event of anyone invading, Gnarr said, NATO would probably come in to defend them, they'd pay them some money and that would be the end of it. (Iceland's membership of NATO has always been controversial there, and Gnarr has declared himself a pacifist).
Reykjavik remains associated with the Mayors for Peace, a network set up by the mayors of Hiroshima and Nagasaki to pursue the goal of the abolition of all nuclear weapons by 2020. This may seem naive, Gnarr writes, but it's worth every effort to achieve nonetheless. Reykjavik is also the site of Yoko Ono's Imagine Peace Tower, a gigantic beam of light activated annually on John Lennon's birthday, Oct. 9, until the anniversary of his death, Dec. 8.
By and large, it's Jon Gnarr who's the extraordinary phenomenon rather than GNARR! : How I became mayor of a large city in Iceland and changed the world. But despite being patched together with documents (Gnarr's letter to President Obama on his re-election, interviews, manifestos and so on), the book is nonetheless a necessary and valuable tribute to the man himself. And although Gnarr has dissolved the Best Party, and last year declined to run for re-election as city mayor, there's currently a movement to have him made Iceland's next president. After reading this book, you can only wish him every success.
Publication Notes
Publication notes
GNARR! : How I became mayor of a large city in Iceland and changed the world
By Jon Gnarr
Melville House Publishing, 178 pages
[Softback; UK]
Comments will be moderated. Keep comments relevant to the article. Remarks containing abusive and obscene language, personal attacks of any kind or promotion will be removed and the user banned. Final decision will be at the discretion of the Taipei Times.