World-class whisky in the barren heart of Yilan
Nestled in the middle of northeast Taiwan's sprawling rice fields, Kavalan Distillery — which has taken top awards for its single malt whisky — offers free tours and samplings for visitors
The drive along Highway 7 in Yilan County's (宜蘭) Yuanshan Township (員山) appears to lead to rural nothingness. Acres upon acres of sprawling rice fields roll by our car window, while every few meters, a comely, but odd-looking, two-story house peeks out from behind rows of lopsided palm trees. In the distance are thundering mountains stretching high up into gray rain clouds.
It appears that the inhabitants of Yuanshan have developed an ingenious way of sustaining themselves. Besides rice, there is no sign of any other crop or livestock. Not even a 7-Eleven or other convenience store can be seen — just one shoddy betel nut stand after another. A couple of lonely temples where old Taiwanese men with black globs for teeth — probably a sign of decay from decades of betel nut chewing — congregate to escape the heat.
"Are you sure this is the place?" I ask my friend as our GPS leads us down a narrow road surrounded by a field of ferns.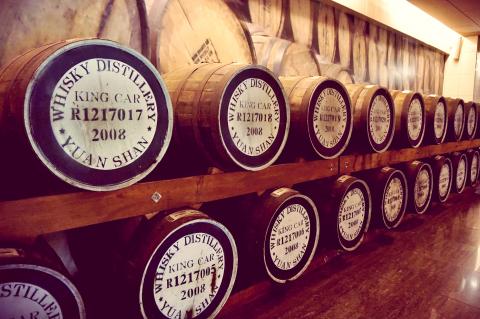 Whiskey is stored inside oak barrels imported from the US at Kavalan Distillery in Yilan County.
Photo: Dana Ter, Taipei Times
'TIS THE SEASON TO DRINK WHISKEY
After nearly a year back in Taiwan, I've learned many things. Namely, that being stranded in the middle of nowhere without food is normal, and that I go to great lengths to find decent alcohol — whether it be a bottle of craft beer in an old sugar plantation converted into a live music house, a swig of Aboriginal rice wine at a festival to appease wandering spirits or, in this case, a glass of award-winning whiskey in the barren heart of Yilan County.
Looking at my surroundings, it's hard to believe that this is where the world's best single malt whiskey, the Kavalan Solist Vinho Barrique, is made. But lo and behold, the nutty, caramel-and-vanilla-infused single cask strength was bestowed the grand title by the World Whiskies Award earlier this year, beating long-standing contenders from Scotland and Japan. Evidently, Taiwanese are not just experts at betel nut chewing. They appreciate a good tipple.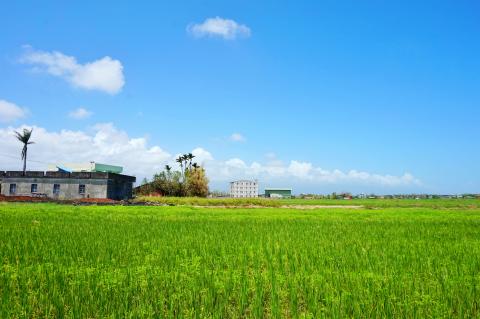 The drive along Highway 7 leading up to Kavalan Distillery in Yilan County is surrounded by vast stretches of rice fields.
Photo: Dana Ter, Taipei Times
Named after the Kavalan Aborigines who once inhabited the nearby plains, Kavalan Distillery (噶瑪蘭酒廠) opened in December 2005. Since claiming the coveted award, the distillery has seen a steady increase in visitors from Taiwan and abroad. It may look like there's not another soul in sight on Highway 7, but the distillery says around one million visitors a year make the trek to enjoy their free whiskey sampling and their bilingual tours.
The distillery is separated into several buildings, including a visitor center, a tasting room and the main distillation building. While the facade resembles a sprawling Northern California country club — vast patches of well-trimmed grass and grandiose buildings with big lobbies — certain touches remind you that you're still in Taiwan. The most striking among them being a tawdry silver-and-blue Christmas tree in the tasting room, a massive Mr Brown Coffee on the upper level of the tasting room that serves rubbery chicken and children running around the distillery, pointing at jars filled with whiskey and begging their parents to buy one.
FROM BARLEY TO BARREL
Along the pathway linking the main distillery and the visitor center are hand-painted barrels of scenes around Taiwan done by local artists. Yu Ching (尤淨), the brand ambassador for Kavalan Distillery, greets us in the lobby of the visitor center before taking us on a tour of the distillery.
"A lot of people in Taiwan just like to drink and ganbei (乾杯)," she tells me, referring to the Chinese expression to down your entire drink after clinking glasses.
"They do this without really appreciating where their alcohol comes from, so we try to provide them with a better understanding of how it's made."
As we walk, Yu points to the mountain range in the backdrop, telling me that while they import their barley from Scandinavia and yeast from France, the water used in the malting process comes from the naturally-filtered spring water in the nearby mountains.
Outside the distillation building are two tall towers where the barley is steeped in warm water, left to germinate for up to two weeks and kilned to achieve a smoky flavor before being crushed into small, granular pieces in the next step, the milling process.
The rest of the whiskey-making is conducted inside the main distillery where the tours begin. Here, visitors can stick their hands inside American oak barrels filled with Scandinavian barley, and have a taste of it (it has a sweet flavor). A cabinet next to the barley displays the various types of whiskeys the distillery produces and the hue it takes after being aged for different amounts of time. Typically, Kavalan's whiskeys are left to age for four years.
The remainder of the tour takes place behind glass walls. As we walk past a couple of cylindrical steel machines with copper tops, Yu explains these are mashing machines. Mashing occurs when hot water is added to the milled barley and turned into a liquid called wort. The wort is then cooled down in large steel vessels, or wash buckets, in preparation for the next step, fermentation. During fermentation, yeast is added to convert the sugar into alcohol. At this point, the alcohol percentage is 7 percent.
Then comes distillation, which Yu says is "the most important part since that's when the alcohol percentage increases."
The distillation room has two sets of large copper steels where the wash is distilled twice until the alcohol level reaches 60 to 65 percent after the second distillation. The new distillate is then poured into large oak barrels imported from the US and sent to the distillery's vast storage area which visitors can only see behind glass walls — although the highly discernible smell of charred, aged whiskey is rather tantalizing.
THE 'SPIRIT CASTLE'
After our tour, we sojourn to the tasting room, or the "Spirit Castle." Design-wise, the tasting room is an absolute eyesore. Besides the aforementioned Christmas tree, the wooden picnic tables and yellow light make it such that you can't do the snobby act of holding your whiskey up to the light to admire its color. Not only that, windows are sparse, which is beyond comprehension, since the view outside is spectacular.
None of that matters when you taste the whiskey though. While most visitors are only allowed to sample the Kavalan Classic Single Malt Whiskey, we had the privilege of sampling a few. However, the whiskey is served in glasses without ice cubes.
"We don't want to dilute the flavor," Yu tells me. It seems like Taiwanese like their whiskey strong.
We started with the Classic Single Malt Whiskey (40 percent alcohol). A clear golden color, with hints of mango and vanilla. It goes down smoothly with only a mild burn. Of course, we had a sip of the world's best single malt whiskey, the Solist Vinho Barrique (56 to 59 percent alcohol). Infused with caramel and vanilla, as well as traces of melon and mango, I was surprised to find it quite sweet, although the dry finish was a nice touch.
My favorite, however, was the Podium Single Malt Whisky (46 percent alcohol). It boasts a complex array of flavors (coconut, mango, green apple, honey, cherry, grapes and white pepper), but turns peppery towards the end. I also fancied the Ex-Bourbon Oak Single Malt Whisky (56 to 59 percent alcohol). A woody aroma with a creamy finish, it has the strongest kick and will satisfy bourbon aficionados.
Four drinks in, and I can't stand it anymore. I ask Yu about the Christmas tree.
"It's for decoration," she says. "To make the place look pretty."
Then I ask about claiming the title of world's best single malt whiskey.
"We didn't think much of it when entering the competition," Yu says. "We just work hard at what we do and were really surprised when they announced at the awards banquet that we had won."
She adds that their goal is to become a bainian jiuchang (百年酒廠), or a "one-hundred-year-old distillery," and to hire more English-speaking tour guides to attract foreign visitors.
I'm certain that Kavalan will achieve that ambitious goal one day. Personally, I would have preferred a more high-end experience though — a giant ice cube in my glass as I marvel at the color of my perfectly aged whisky, some dainty dessert to pair it with, or perhaps a fine dining restaurant next to the distillery that didn't serve cheap food. Yet, it's the small things like these, along with the friendly attitude of people like Yu, that makes the distillery so distinctly Taiwanese. And that part of the experience is priceless.
GETTING THERE
■ Kavalan Distillery (噶瑪蘭酒廠), 326, Yuanshan Rd Sec 2, Yuanshan Township, Yilan County (宜蘭縣員山鄉員山路2段326號), tel: (03) 922-9000
■ It's easiest to drive from Taipei to Kavalan Distillery; commute time is 1 hour and 15 minutes
■ Alternatively, you can take a bus from Taipei City Hall Bus Station (市府轉運站) to Yilan City (宜蘭市) for around NT$100, and hail a cab from there to Kavalan Distillery for around NT$200 to NT$300; total commute time is one-and-a-half hours
Comments will be moderated. Keep comments relevant to the article. Remarks containing abusive and obscene language, personal attacks of any kind or promotion will be removed and the user banned. Final decision will be at the discretion of the Taipei Times.