The Vinyl Word
The hip-hop group 25th Parallel (緯度二 十 五) formed at the beginning of this year and since then there has been a lot of soul searching from the four members about the meaning and realization of their complicated dreams at this stage of their career. On Sunday, 25th Parallel, along with their good friends Puzzle Man, Simon & Sowut and @Fei & JunSheng, will be debuting tracks from their yet-to-be-titled album at Revolver.
"The 25th Parallel is the latitudinal line where you find Taipei, the city that has been a huge influence on all our lives," MC CFB Flobare (real name Jonnie Renard) says.
Consisting of two emcees, a drummer and a guitarist, 25th Parallel is the combination of two bands, Dress Shop — NAT (real name Nat Brody) and Qilin (real name Adam Chen) — and ALL CAPS, which consists of emcees CFB Flobare and Zhidao (real name Jason Chen).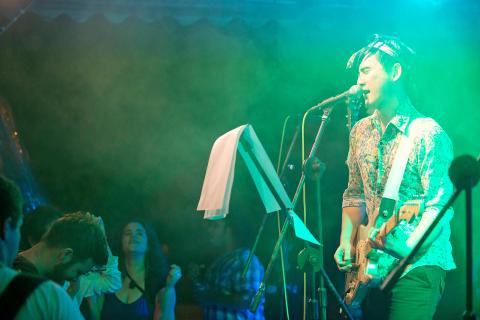 The mad man Qilin of quartet 25th Parallel on guitar.
Photo courtesy of Ryan Chiou
They had their first show in April at Rising Sun's WaiAo Beach festival and discovered that fewer people connect with hip-hop than they do with rock. With that in mind, 25th Parallel is not just making music for Taiwan's tight-knit hip-hop community. They are producing beats that are "diverse, hectic and melodic enough to pique all ears," drummer/beat magician NAT says.
"Our aim is not necessarily to be mainstream, though we want to earn appreciation by music fans and creators, as well as those in the hip-hop community."
For Qilin, who is the guitarist as well as a vocalist, being in 25th Parallel has given him the opportunity to find his own voice and learn from people who he loves making music with. Qilin says that 25th Parallel is about collaboration — from the beginning of the writing process to the stage.
MC Jay Zhidao agrees with Qilin's assessment of the crew. He believes that 25th Parallel is more than just four sweaty guys having fun on stage because they all work well together and they keep adding new things to their live shows when their material is ready to go.
Album preview
Though 25th Parallel has yet to decide the album's title, the group is planning a release date for the fall. Eight tracks are finished and they will be preformed in full at Revolver on Sunday night. NAT said that these songs are about understanding and chasing dreams, the internal and external struggles along the way and choosing to make the leap into the unknown, which is exactly what 25th Parallel is doing by releasing their album.
■ Hip-Hop Night with 25th Parallel, Puzzle Man, Simon & Sowut and @Fei & JunSheng (俊升), Sunday from 8pm to midnight at Revolver, 1-2, Roosevelt Rd Sec 1, Taipei City (台北市羅斯福路一段1-2號). Admission is NT$300, which includes a drink.
Comments will be moderated. Keep comments relevant to the article. Remarks containing abusive and obscene language, personal attacks of any kind or promotion will be removed and the user banned. Final decision will be at the discretion of the Taipei Times.