Hung out to dry?
KMT presidential candidate triumphantly wins one horse race, pledges to return her party to former glory
Oh dear. Bad start. Even the party staffer, roped-in to fulfil MC duties, had difficulty remembering the name of his party's newly-anointed presidential candidate, as he tried to whip party delegates into a frenzy at the start of this year's Chinese Nationalist Party (KMT) national congress.
"Dear comrades, please welcome President Ma Ying-jeou (馬英九), President Ma and, err… Comrade Hung Hsiu-chu (洪秀柱)." Oops.
Hung, the pro-Beijing electoral liability that nobody wanted to win, has amazingly done just that. Most of the conference hall appeared to still be in shock.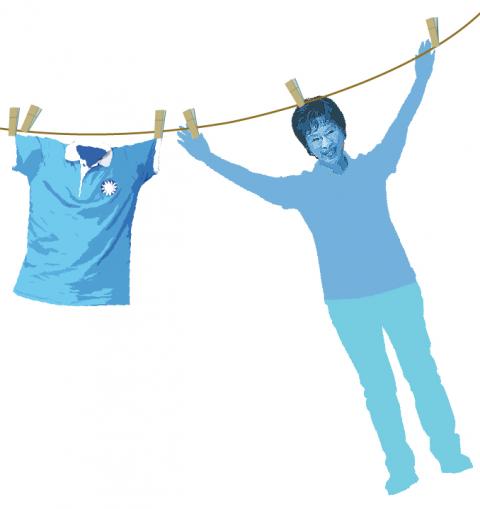 Illustration: Tania Chou
This has to be one of the worst political own-goals of all time. Hung was initially encouraged to run by party elders, believing her polarizing views would force other, more moderate party members to stop prevaricating and throw their hats into the ring. The plan backfired badly. Despite much behind-the-scenes cajoling, nobody else could be persuaded to run. Not one. After the mess that Ma has made, who can blame them?
The orders from on high seemed to be, big up Ma to divert attention from Hung.
"Ma, Ma, Ma, MAAA… President Ma Ying-jeouuuuuu… screeched two female staffers at the top of their voices in an orgy of sycophancy.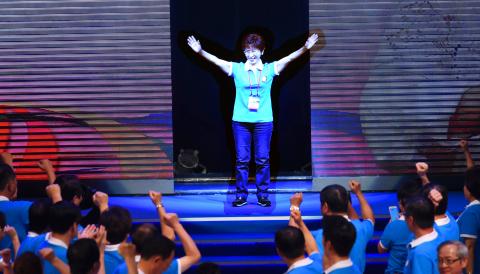 Hung Hsiu-chu channels the Messiah and basks in the adulation of a totally united party during the Chinese Nationalist Party's (KMT) national congress on July 19.
Photo: Chang Chia-ming, Taipei Times
The man himself, sporting a plastic grin and waving to nobody in particular, made his way through the crowd, desperately trying to find someone to shake hands with for the cameras, while a bombastic soundtrack of beating drums hammered away in the background. Boom-ba-boom, ba-boom-ba-boom.
One after the other, party bigwigs filed into the hall to a gushing welcome from the screaming go-go girls. "Hello Wang Jin-pyng (王金平)... Hello Eric Chu (朱立倫) ... Hello Lien Chan (連戰)..." On it went, ad nauseam.
For a fleeting moment, the aging waxworks must have felt like team Chinese-Taipei entering an Olympic stadium in matching KMT-logoed, powder blue polo shirts as they busily pressed the flesh. Clearly, the idea of the dress-down was to give the party a common touch. Unfortunately, many had chosen to tightly cram their polo shirts into their trousers, revealing the pregnant paunches of the well-fed political elite.
But, wait a minute: Where was the golden girl? Hadn't she arrived with Ma? Finally, the camera swung to Hung, as if reluctantly acknowledging her presence. Her petite frame was being manhandled into position by a party minder, so that she would cross the path of former KMT chairman Lien Chan for a perfectly choreographed photo op. They duly clasped hands, and victoriously raised their intertwined digits above their heads like Olympian athletes on the winner's podium. Honestly, what on earth were the party's spin doctors thinking? Loser Lien famously crashed-and-burned during the 2000 presidential election, only managing to gain a feeble 23 percent of the vote and then again in 2004. Still, in the parallel universe of the KMT, Lien's a champion.
Now for the main event: Hung's acceptance speech as presidential candidate for a country her politics doesn't recognize even exists. KMT Chairman Eric Chu and Hung took the stage. A smiling Chu — relief, I think — handed her a massive flagpole to wave, and she did, robotically slashing it back and forth as if cutting down all obstacles before her — an image at odds with her amiable aunty expression — each wave synchronized to hoarse cries of "Hung Hsiu-chu for president!" from the MC.
Back on the front row, the boys were all there, nervously anticipating what was to come. Lien, Vice President Wu Den-yih (吳敦義), his boss Ma and Legislative Speaker Wang Jin-pyng, like the older generation of a dysfunctional family, at a family get-together.
The camera pans. Rabbits caught in the headlights, rigid postures. Ma, clenched fists neatly positioned on his knees, looks like he's having his school photo taken. That's it: School. It's as if they are Hung's family members watching their youngest daughter at a school play, praying she doesn't screw up but relieved, oh, so relieved, it isn't them up there. This election's going to be one hell of a rough ride.
It is unclear whether the party elders are placing a crown on her head or a noose around her neck, but is that guilt in their eyes? They are all avoiding each others' gaze. All except Wu, who sneaks a peek at his boss. Ma's looking a bit lonely there, sitting in isolation between Hung and Chu's vacated seats. The camera hoovers up the unintended imagery.
Hung's at the podium now, a still-relieved looking Chu posted behind her. You have to give it to her, she was pretty convincing. Nice enunciation. Pausing in all the right places. Fist pumping. The background mood music, less so: rousing strings when she talked of the KMT, becoming suddenly ominous when she turned her attention to the opposition.
Hung spoke of the need to work hard and to make sure she was elected. Loser Lien must have shifted uneasily in his seat. She spoke of what a mess the country was in. Ma should probably have squirmed at this point too, having been at the helm for the best part of seven years. It's doubtful he did, though, as he has apparently no need to apologize for anything.
Ma might, however, want to say sorry to Hung for almost dropping off when she was getting into her stride, saying how the Taiwanese will no longer tolerate the shenanigans of the opposition, seemingly unaware that they might be more upset with the shenanigans of the party in power for the best part of the last 65 years.
Hung spoke of how she wanted the KMT to return to its former glory, and the need for unity, unity, unity. She gave a Christmas list of all the nice things she wanted for the country, and then another list of the leadership qualities she wants to have. We need to come together. The country's screwed if it's not us in power. I'm gonna listen to what the public wants, embrace other opinions, welcome dialogue, be humble and listen carefully to the public's criticism. But where was the substance? The speech was a master class in platitudinous vacuity. Is anyone buying this?
Chopped Suey, a satirical column published on the first Monday of every month, will comment on issues related to the forthcoming presidential and legislative elections to be held on Jan. 16, 2016.
Comments will be moderated. Keep comments relevant to the article. Remarks containing abusive and obscene language, personal attacks of any kind or promotion will be removed and the user banned. Final decision will be at the discretion of the Taipei Times.